The Top 10 Interior Trends of 2023
As 2022 comes to an end, we are observing Pinterest's search engines and preparing ourselves for the interior design trends of 2023. Interior design changes much like fashion, mixing old styles with new styles. Based on the most recent search trends, we're expecting a resurgence of last year's trends with even more color, new luxuries, mixed metal finishes, and even flashbacks from past decades.
Let's look at some of the most popular trends expected in 2023.
'60s, '70s, and '90s
Styles we once loved and even once mocked are coming back! Interior design has taken a nostalgic turn, with some of the biggest trends from past decades re-entering the mainstream and taking over our homes. Interior styles have become heavily influenced by our social media feeds as you scroll through your TikTok or Instagram, checking out the hottest new interior trends.
We're expecting a touch of the '60s, '70s, and '90s to pop back up in homes. Are you seeing posters of icons like The Beatles or The Rolling Stones, Rattan furniture and mushroom décor, or bright neon signs? These are just a few staples resurging from these decades. We're anticipating seeing smaller accent pieces from these decadent styles taking place in Midcentury Modern or Post-Modern homes.
2. New Luxe Living
Heading into 2023, luxurious living is at the forefront of our minds. This new luxe living doesn't mean having the fanciest and most expensive pieces; it's focused on refinement and creating a sophisticated, timeless space. In other words, it's being called the "luxury for everyone."
There are a few ways this is being incorporated. The first way is creating "luxurious" spaces out of unpredictable rooms—bathrooms, laundry rooms, and even garages. The second way is utilizing luxe fabrics, like velvets, silk, and other thick, lush fabrics. And lastly, create an overall application of luxury by utilizing mixed metal finishes, jewel tones, and antique golds where you see fit. Whether you're using a pearlcore picture frame, using matte finishes on your kitchen hardware, or have velvet throw pillows, you can spruce your space up to feel elevated and expensive.
3. More Color
We saw bold, bright colors all throughout 2022. Homes engulfed in green and blue hues. This year we're expecting bolder, brighter colors. Pantone Color of the Year was announced as Viva Magenta 18-1750, a stand-out statement color descending from the red family. While Pantone's color of the year will sway many opinions and designs, it's not the only color that companies are predicting to rule 2023.
Dulux chose Wild Wonder, a soft and light yellow. Dunn-Edwards chose Terra Rosa, a warm brownish red. PPG chose Vining Ivy, a subtle transition between neutral-ish greens and blues. Behr chose Blank Canvas, a neutral monochrome hue to represent a starting point of a forked path. Sherwin-Williams chose Redend Point, a dusty blush beige with a desert-like feel. Benjamin Moore chose Raspberry Blush, an unapologetically bold color radiating red and orange coral notes. Graham & Brown chose Alizarin, a rich, stirring auburn hue. And lastly, York Wallcoverings chose Amber, a luscious honey color.
These colors aren't synchronizing and clash aesthetically if put together all at once, so just remember your home's defining color can be whatever you choose; these are just predictions.
4. Gothic Décor
Moody Gothic interior design isn't a newly discovered trend, but with the popular hit-Netflix show, Wednesday, airing, it's really enticed people to add more gothic styles into their lives (and homes). Specifically, we're seeing a rise in Dark Academia design which embraces gothic architecture and dark, moody pallets to create a studious vintage look. Heavily influenced by Oxbridge and Ivy-league schools, it's no doubt that this style has become more sought-after.
Gothic décor is everything from quirky trinkets to Victorian-style furniture, old-world art, and antiques. This style can easily lean toward a spooky-chic Halloween feel, so be intentional with the décor and furniture pieces you choose. Entertain more than just the classic black; play with shades of brown, mustards, and even shades of purple or green. If you utilize these colors with different textures and patterns, you can maintain a sophisticated gothic look.
5. Hellenistic Design
Hellenistic Design was Pinterest's trend prediction for 2022, but it's believed to return in 2023 as well. Hellenistic revival is heavily influenced by Ancient Greece, boasting Corinthian columns, Greco-Roman art, mythical representations of gods, and sculptures. The revival period was in the 1980s when this style oozed luxury. In the 21st century, we're seeing a more modern twist on this style.
Art and sculptures are key elements of this style. You've probably seen Greek statues of David in the occasional home or on your newsfeeds. These statues increased in popularity as we entered a season of celebrating the human body. It's truly an art. Another key component is Corinthian columns which are fluted-like columns that are ornate and usually a white stone. Lastly, Neoclassical-inspired wallpaper, typically imitating chintz and chinoiserie has become quite popular in this interior design space. This trend is fun, luxurious, and perfect for someone who enjoys Greek culture.
6. Reinvented Heritage
Reinvented Heritage, also known as Modern Heritage design, is all about bringing back iconic fashion fabrics and patterns and merging them with classic décor. Revolutionizing the future through nostalgia. Think of an old British manor house with a contemporary feel. This movement celebrates influential craftsmanship, culture, and style.
You'll see iconic patterns like gingham, tartan, and checkers. You want your room to have historic appeal, so keep color palettes and wallpapers in mind. You may see this take form in a bedspread, curtains, pillows, or a rug combined with classic lighting or contemporary artwork. Don't overthink this style, you can be imaginative; there's no wrong way to mix and match patterns! We like to think of this style as replicating Ralph Lauren's Polo Bar in New York City.
7. Natural Stone Finishes
Natural Stone is maintaining its popularity and is expected to continue to peak in homes in 2023. High-contrasting marble was all the rage in 2022 and will continue to be in high demand, but this year we're expecting other stones to be more desired. Aside from marble, onyx and soapstone will be top contenders in the interior design world. These stones are being used as backsplashes, vanity countertops, flooring, and kitchen islands. And to add drama, people are choosing bold-colored stones for their homes.
Onyx is a quartz stone with graphic veining that's known to be the "perfect product of mother nature." Due to its rarity, this stone is very costly. It symbolizes luxury and will instantly increase the value of your home. You will often see this stone in popular colors honey and white. Soapstone is a type of metamorphic rock consisting of talc. Unlike marble and granite, liquids cannot seep into the stone and stain it. Its durability, cost-effectiveness, and aesthetic have allowed soapstone to build popularity in luxury homes.
8. Home Retreat
After almost two years of saying, "Because of Covid," and canceling our flights to luxurious resorts and quick getaways, creating your own vacation abode may not be as shocking as one may think. Yearning for a dose of traveling abroad and relaxing in an old Italian villa has sparked a new interior concept: Home Retreat design. Light woods, airy linen, lots of natural light, and creating the emotion of a breezy space are just a few characteristics behind this style.
Whether you're envisioning a Spanish-style villa or a European cottage, the main goal is to capture the emotion of your favorite vacay location. When creating your home retreat, keep these things in mind: maintain a healthy balance of natural materials and keep an earthy neutral color palette. You'll want to set aside a space that's Zen and mindful; a quiet reading nook or a place for your morning yoga to take your mind abroad! These changes can be as simple as removing clutter from a cozy corner or swapping out your heavy drapes for something light and airy.
9. Curvy Lines
Curves are sticking around! When boucle furniture exploded in 2022, curvy lines and round edges followed. Utilizing curves is a key way to make your space feel more inviting and softening your style. Pinterest continues to see a rise in searches relating to curves, whether it's curved sofas, archways, and even curved kitchen islands. Once a trademark in 1970's homes, curvy lines are trickling down to the masses in the 21st century.
The easiest ways to incorporate curves into your home is through artwork, décor, lighting, and furniture. You don't want to oversell the curvy look, so choose pieces that will stand out and contrast harsh lines. Pair curves with a more neutral palette if you're wanting a serene atmosphere or choose a bold staple piece if you're feeling more daring. The overall goal, whether it's artwork or furniture, is to choose timeless pieces and stay away from short-term trends.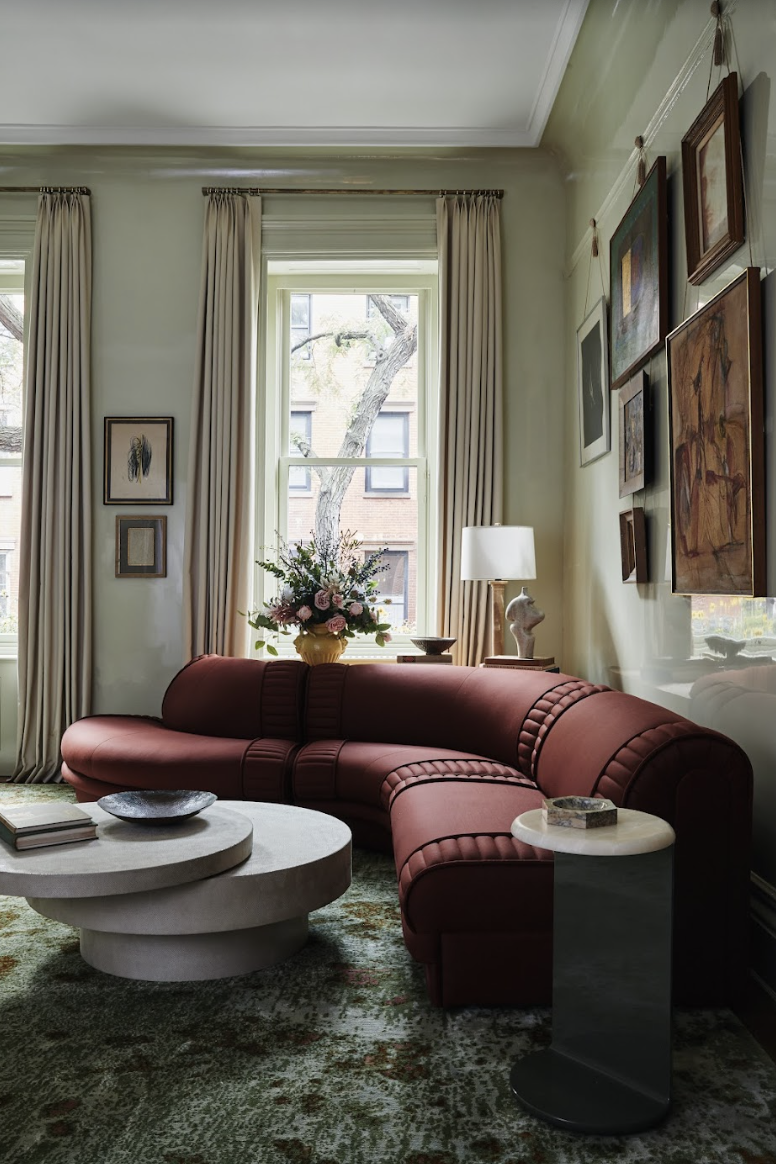 10. Darker Wood Tones
This may be a surprise to many, but we are expecting more dark wood tones to pop up in homes in 2023! Last year we saw a lot of DIY bleached furniture and light wood floors. This year, as dark and moody interiors are rising in popularity, we believe darker wood tones will also become more admired. Specifically, walnuts or antique oaks. These warm tones pair well with lighter granites and quartz stones. Toss in contrasting leather, velvets, and silk to complete a calming oasis.
When designing your space, you want to keep a few things in mind. It's important to remember that dark wood doesn't reflect light as well, so you'll want to consider a good light source or large windows to amplify natural light. To compliment good lighting, you can balance your walls, ceilings, or even your floors with lighter paint colors depending on the placement of dark woods. You want to ensure that your dark woods blend well into whichever interior style you're going for so you don't have an outdated space. Learn how to introduce wood elements into your home here.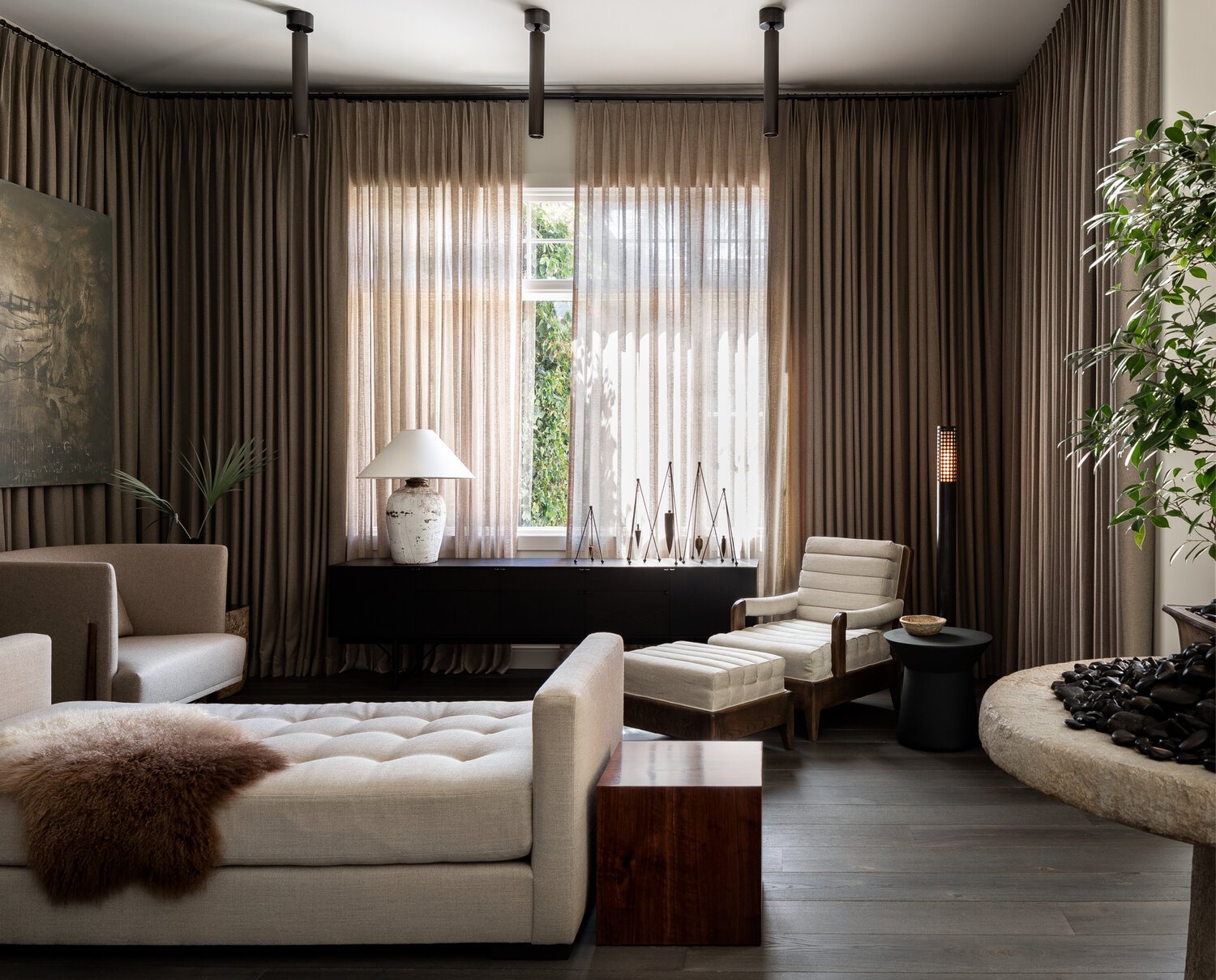 Ours homes and styles are forever changing. It's important to remember to stick to what you like most and what keeps your house feeling like a home. In 2023, we're expecting returning trends and new trends. Whether you decide to switch out a couple décor pieces or renovate your entire home, you want to transition your space tastefully. This guide should help you do just that.
For Inspiration check out our 2023 Interior Design Styles Pinterest Board and make sure to follow us on Instagram, Pinterest and Facebook ! Follow us @WeAreWoodgrain