How to Achieve a Dark Academia Home Library
If you're a fan of literature, history, and classic architecture with dark moody vibes then Dark Academia may be your new favorite interior design.
Dark Academia is a sultry interior design style that embraces a studious vintage look. Influenced by Oxbridge and Ivy League schools, this interior design is a resurgence of intellectualism. Think of grand libraries and gothic architecture.
What exactly is Dark Academia?
The word Academia is defined as "the environment or community concerned with the pursuit of research, education, and scholarship;" hence, why this style was inspired by Ivy League schools like Oxford, Harvard, and Princeton. With the newest hit Netflix show airing, Wednesday, this style is quickly catching wind and becoming more sought after.
Historically, Dark Academia is mostly influenced by the Renaissance and Baroque styles. This unique design romanticizes art and knowledge, making any home library the perfect space to achieve this trend-setting style.
Architecture
As previously noted, this design embraces gothic architecture. Older historic homes typically boast extensive ornate woodwork, ceiling details, and intricate trim work. Think of wainscoting, coffered ceilings, and built-in bookshelves.
Dark Academia is aesthetically dedicated to the scholarly, which is why books play such an integral part of the image. If you don't already have a home library, no worries! Morgan from PalmettoHighway guides you step by step on how to create beautiful custom built-in bookshelves using Woodgrain products here.
A bookcase is a perennial favorite for any Dark Academia room. It's a great place to display your most prized possessions, whether that's an impressive collection of rare books or simply a stack of old magazines you want to keep handy for casual reading. You can add your own intricate touch to any bookshelf using moulding from our DecraMold® & BlockShop® lines. Check out decorative moulding ideas here.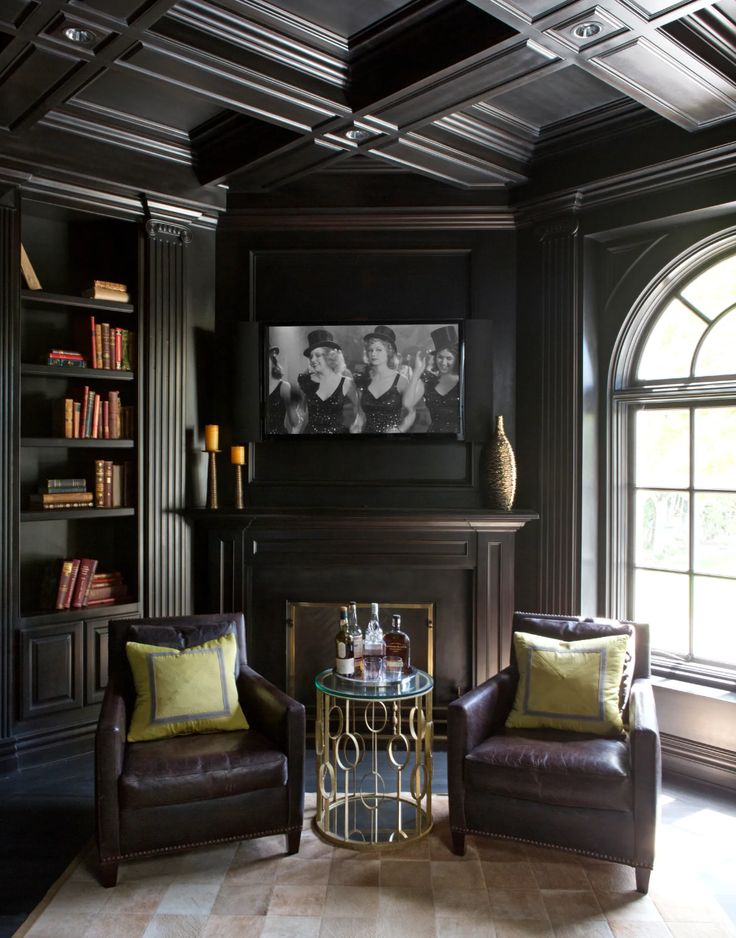 Windows
No library is complete without large windows to allow natural light in; however, Dark Academia libraries can't just showcase any regular window, they showcase cathedral-like windows. Natural light mixed with dark, moody colors will create the chic and dramatic atmosphere you're trying to achieve with this style.
Cathedral-style windows are tall and narrow with a pointed arch. They're often made of stained glass, creating an ethereal glow when the sun streams in. If an arched window feels too grand, Windsor Windows provides many window styles to choose from.
Fireplace
Creating a cozy atmosphere is essential for your home library, and what better way to do just that than a nicely lit fire. Adding a fireplace not only warms up your space, but also creates that wow factor your library needs.
A fireplace is one of the most common focal points in any Dark Academia library, surrounded by dark wood mouldings and a black marble or stone mantel.
Décor
Much like British Colonial décor, Dark Academia embraces décor that tells a story. Think of globes or quirky trinkets. Antiques and ornate accessories form the backbone of this style.
The most common décor you'll find throughout is dark upholstery, leather furniture, rich velvet curtains, and Old-World art. Old World artwork is typically associated with periods from European civilization such as the Renaissance and the Dutch Golden Age. You can find these classic historical pieces of artwork at any antique shop or consider buying from Sotheby's. Imagine an Old World Art gallery wall placed in antique gold frames, articulately placed over your wood-burning fireplace. The drama.
Furnish your library with old vintage pieces like leather couches or antique mahogany desks. Make use of your great-grandmother's vintage display case, boasting collectibles of your Dark Academia décor. And most importantly, at the heart of this design, having lots and lots of books.
Color Pallete
This prep-school-meets-Gothic-design style is rooted in deep wooden tones that are perfect for creating a moody atmosphere. Darker woods tend to be more formal than light shades and are perfect to set a moody studious tone.
Differing from moody-gothic design, Dark Academia entertains more than just the classic black. You can play with shades of brown, mustards, and even shades of purple or green. Check out paint colors for a Dark Academia aesthetic by Sherwin-Williams here. Utilizing these colors with different textures and patterns can really sophisticate your home library.
If you enjoy reading and learning and have always wanted to live out your Hogwarts dream, then Dark Academia interior design will suit you. This academically centered interior design style harmonizes moody colors and leather-bound books, perfect for the preppy nostalgic. When achieving this unique style, remember to use rich, deep-toned colors and decorate with ornate accessories. Romanticizing art and knowledge, your Dark Academia home library will soon be the perfect space to enjoy your favorite classic works of literature.
For Inspiration check out our Dark Academia Pinterest Board and make sure to follow us on Instagram, Pinterest and Facebook ! Follow us @WeAreWoodgrain