Our Heritage
At Woodgrain, we are committed to delivering quality wood products that will last through whatever life throws your way. We facilitate each step of our supply chain. That's how we've achieved quality production and responsible sourcing for over 65 years.
1954
Dame Lumber and Moulding Company is founded in Utah
1963
Dame Lumber and Moulding company moves to Lakeview, OR.
1969
Corporate Offices move to Fruitland, ID.
1973
Dame Lumber and Moulding company renamed and becomes
Woodgrain Millwork Inc.
1974
Reed Dame takes over as CEO of Woodgrain Millwork.
1985
Woodgrain Doors is started with the acquisition of Meridian Wood in Nampa, ID.
1987
Windsor Windows and Doors acquired in West Des Moines, IA.
1993
Windsor Windows and Doors opens a new facility in Monroe, NC with the acquisition of Heritage of Monroe.
1995
Woodgrain Millwork opens a new mill in Albany, GA.
1996
Woodgrain Millwork opens a new mill in Marion, VA.

Woodgrain Doors increases product offering with the acquisition of Jessup Doors.
1997
Woodgrain Chile is formed out of a partnership with Promasa moulding plant in Los Angeles, Chile.
1998
Woodgrain Millwork acquires Brown Moulding in Montevallo, AL adding another mill and starting Woodgrain Distribution.
2000
Woodgrain Millwork acquires Atrium Patio Doors in West Des Moines, IA, now known as Ashworth Doors by Woodgrain Millwork.
2002
Woodgrain Millwork expands their product offering with the acquisition of DecraMold in Oklahoma City, OK.

Woodgrain Millwork invests in Craftsman Manufacturing Inc., A moulded door skin company.
2003
Woodgrain Chile builds a door plant in connection with Promasa in Los Angeles, Chile.

Third Generation family members join operations in various Woodgrain divisions.
2005
Woodgrain Doors acquires Passages to open a facility in Eagan, MN.
2007
Woodgrain Millwork acquires Monarch Windows and Doors in Anniston, AL.

Woodgrain Distribution moves headquarters to Atlanta, GA.
2008
Nature's by Woodgrain is started with the installation of the first pellet mill in Prineville, OR.
2009
Kelly Dame becomes CEO of Woodgrain Millwork.
2011
Woodgrain Millwork and Woodgrain Distribution launch Finished Elegance moulding brand.
2014
Woodgrain Millwork opens a mill in Lenoir, NC.
2015
Woodgrain Millwork opens a sawmill in Emmett, ID.
2016
Woodgrain Millwork acquires Triwood in Americus, GA.
2017
Woodgrain creates Woodgrain Lumber with production beginning at the sawmill in Emmett, ID.
2018
Woodgrain Millwork acquires product lines WoodGuard and EcoForm.

Woodgrain Lumber expands with the acquisition of 2 sawmills and a particleboard plant from Boise Cascade.

Woodgrain Distribution opens new facility in Jackson, MS.
2019
Woodgrain Millwork establishes new sales office in Meridian, ID.

Woodgrain Millwork consolidates all divisional brands under the name Woodgrain creating one brand. All product brands changed from "by Woodgrain Millwork" to state, "by Woodgrain."
2020
Woodgrain purchases log shaving operation to expand production on Nature's by Woodgrain.

Woodgrain launches Accents by Woodgrain, a wood wall tile product.

Woodgrain starts sub-company Woodgrain Transportation LLC.
2021
Expanding upon its partnership, Woodgrain acquires 100% ownership of Promasa in Chile.

Woodgrain acquires two Lowe's door shops – Lexington, NC & Whitehouse, TN.
Woodgrain acquires Independence Lumber in Independence, VA & Elkin, NC.
2022
Woodgrain's Distribution division acquires Huttig Building Products.
Family Owned & Operated
Bud Dame founded Woodgrain in 1954 passing the torch off to his sons Reed Dame in 1974 and then Kelly Dame in 2009. Kelly Dame continues to grow Woodgrain with the third-generation leading the way. Woodgrain is proud to be family owned and operated for over 65 years.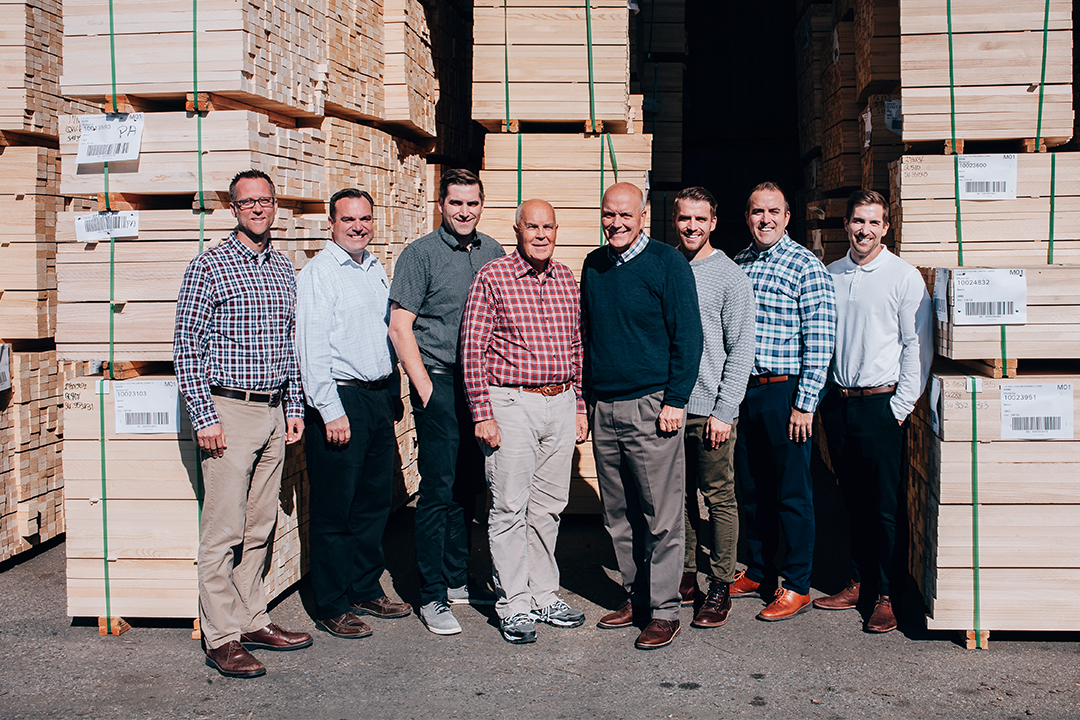 Our Values
We value open and honest communication, accountability for our actions, and conducting business respectably. Our relationships are built on trust, and hold utmost standards for quality and efficiency. This is what drives our success — success for ourselves and for our customers.
Our core Values
| | | | | |
| --- | --- | --- | --- | --- |
| Safety | Integrity | Servant Leadership | Respect for People | Customer Focus |
| We choose to place safety and keeping each other safe above all else. | We are honest and believe in doing the right thing every time. | We lead best by serving and understanding others. | We treat others as we would like to be treated. | We listen and exceed customer expectations. |
Family of Companies
It's all in the family. The Woodgrain family of companies is dedicated to creating exceptional customer value through the relentless improvement of our people, products, and processes.
Our Mission
Leverage vertical integration to deliver specialized solutions and building products at premier service levels. The way we treat our employees instills pride in themselves, their company, and ultimately the customers they serve.