How to Emulate the Coastal Grandmother Style
Intro
Coastal Grandmother has taken the summer season by storm. This phrase brings memories of slow mornings, walks on the beach, and a good book with afternoon tea. The poster child–or should I say, poster grandmother– of this movement is Diane Keaton in her blockbuster hit: Something's Gotta Give. Her famous outfits featured white linen, chinos, and a sun hat. This took TikTok by storm and has been easily translated into an interior design style. You don't need to be an older lady with grandchildren living on the coast to incorporate this style into your home. Think plush seatings, pastel blues and soft pinks, detailed drapery, and your grandmother's fine china! Despite its name, it won't have a mass of seashells and beach-related items littered around the space. Yes, this style hints at beach life, but it's all about creating a timeless, elegant, yet relaxed feeling to your space. Homes that grace the Nantucket shorelines reflect the richness and coziness of this style. A Coastal Grandmother interior is reminiscent of the Grand Millennial style, with a touch of coastal.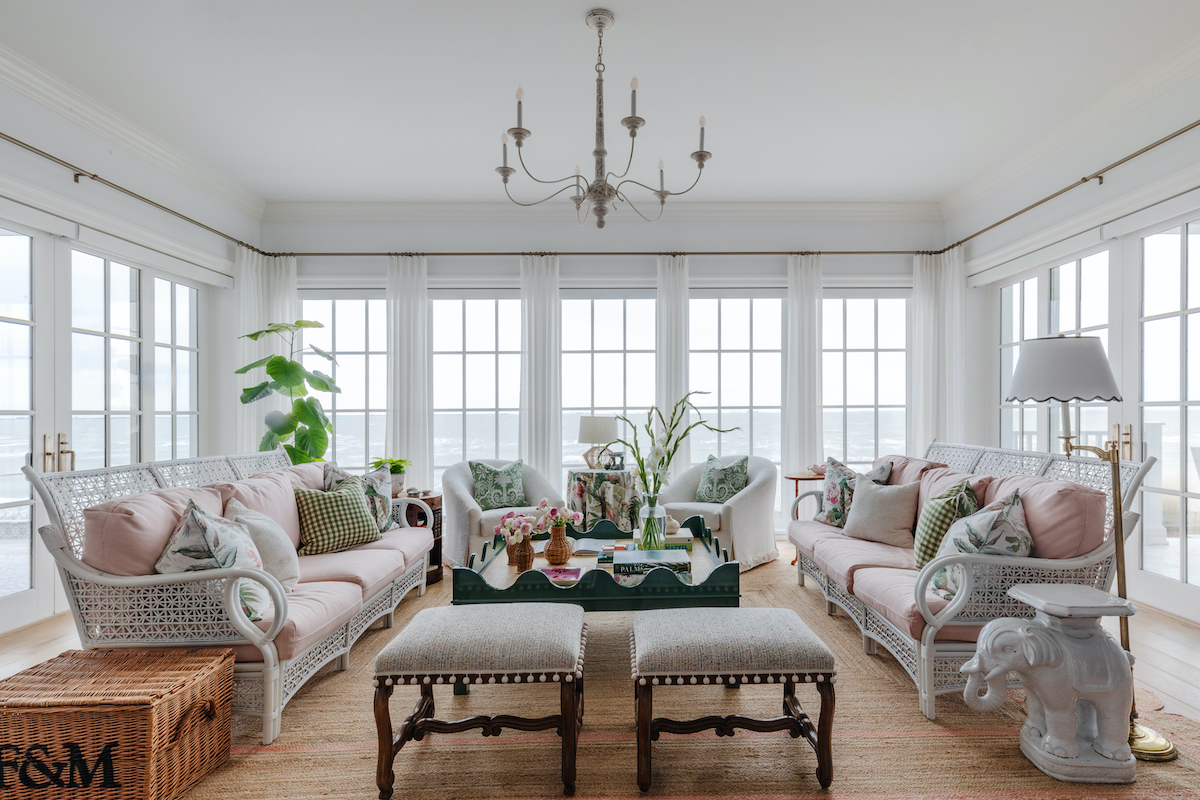 Characteristics
Wood
Build a good foundation by selecting wood that complements the colors found in this style. Light or honey-colored wood is the best option for your space. Add similar toned natural wooden elements like furniture, flooring, décor, and accents for cohesiveness. Douglas Fir, Knotty Alder, and Oak are key species you'll find in this style. The coastal theme is all about taking in beautiful ocean views, and keeping a space feeling airy and light! Transform your existing space by getting doors that provide a way to bring more of the outside in! Common doors seen in this design style are French doors and Louver doors. French-style doors with a light-colored stain give off a snug look perfect for this style. Doors with an ample amount of window panes like 620 and 627, bring in more natural light and elevate the style of your home! Doors like 730, provide a stylish way to promote privacy while allowing good air flow circulation through your home.
Moulding
Make a statement by adding an accent wall that features moulding. Moulding sets the tone for the style of your home and takes your space to another level, adding depth and character. Coastal Grandmother was formed from tradition but revised for a modern time. Wainscoting with chintz-printed wallpaper emulates that timeless feel seen throughout this style. Our Calming Coastal collection showcases some options to add this style to your home while using our products. Accent walls like shiplap, coastal lean, wainscoting, and coastal chevron add decadence to an empty wall. For added detail, place D-ROPE4 moulding from our DecraMold and BlockShop line along your ceiling. This detailed moulding complements traditionally styled homes, leaving a clean and coast-inspired gorgeous finish.
Sunrooms
Outdoor living is ingrained in this style. Take some time and add the outdoors to your living style. Sunrooms are a charming addition to a Coastal Grandmother style home. Sunrooms offer a seamless transition between indoor and outdoor living, allowing you to enjoy the beauty of nature while being protected from the elements. When decorating the room, incorporate light and airy materials like linen and colors like periwinkle blue. Include plenty of plants to add nature and create a refreshed feeling. To enhance the cozy feel, add some comfortable seating options, such as wicker chairs, a cotton upholstered chaise daybed with rolled arms, or cloud-like sofas with a multitude of accent pillows that boast comfort and feature floral or sea-inspired designs. Whether you want to enjoy your morning coffee surrounded by greenery or bask in the sunlight while reading a book, a sun room provides the perfect space to do so.
Choose the Right Tone
The Coastal Grandmother look embraces an effortless way of softly living. To set the right tone in your home, choose colors that accentuate the style. Base your color palette on an array of neutral tans, beiges, grays, and the like with hints of colors. Layer on calming pastel colors like Garden View, First Peach, and Lovely Blue Sky in the furniture, decor, and accents around the home. Coastal Grandmother hues evoke a calming spirit around the room that make the inhabitants feel at ease. Cozy and soft living doesn't mean boring. For instance, these colors can also be found in nature-inspired print wallpapers. Repetitive prints depicting flowers, stripes, or chintz printed wallpaper are a fun way to add flair, while still staying elegant.
Textures
Coastal Grandmother boasts natural and organically sourced materials. Textures are made up of organic materials gleaned from the coastline like sisal, rattan, bamboo, and seagrass. Use vintage pieces from your family home or your local thrift store! An easy way to implement texture and fun to your room is a woven item. A woven basket with an elegant selection of magazines for light reading embodies "coastal-grandmother-esque. " A common theme you can find in this style is rattan or scallop-patterned items. Whether it's dining seats, carts, bed frames, or more, these woven textures scream Coastal Grandmother. This material is both durable and aesthetically pleasing and will flow well with the Coastal Grandmother interior design style. Bringing back the nostalgia from our grandmother's home, frilly and ruffled features are showcased all throughout this style. Oftentimes, we'll see these appear in the form of frilly curtains, ruffled pillowcases, and frilled out bedskirts. These feminine details provide a vintage ambiance that is a delightful accent.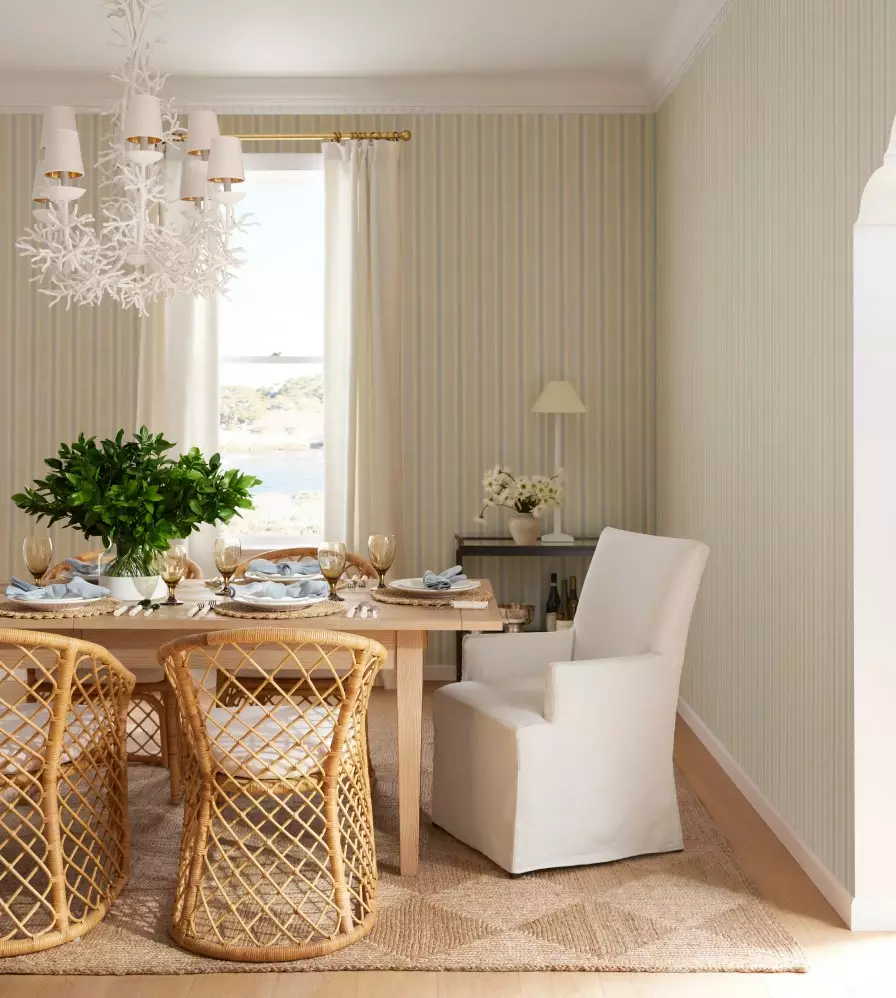 Décor + Furniture
The focal point of this style is refined comfort, and the best form of that is choosing inviting and plush seating. When selecting furniture, lean towards more feminine pieces like a dining table wrapped in rattan and graced with a lacquered marble top. Savor the simple life and serve your delectable meal with a set of scalloped patterned placemats and gold silverware! A home is meant to be enjoyed and essentially an extension of yourself. Choose high-quality items that make you feel your best! Coastal Grandmother interior values the details that make a home, a home! In the kitchen, add an allotment of fresh in-season flowers like hydrangeas and peonies to bring in a positive ambiance and aromatic scent! Each and every room can be enhanced by adding a few key pieces based on the room. Sink into your bedroom with cool cotton sheets and traditionally framed as a nod to your grandmother! A four-poster bed with a cloud-like upholstered headboard is a great option. Extra points if the upholstery is floral patterned! Continuing with the easygoing theme, try either taupe or sea green removable cushions with a rattan build for easy cleaning and a worry-free way to have many guests over!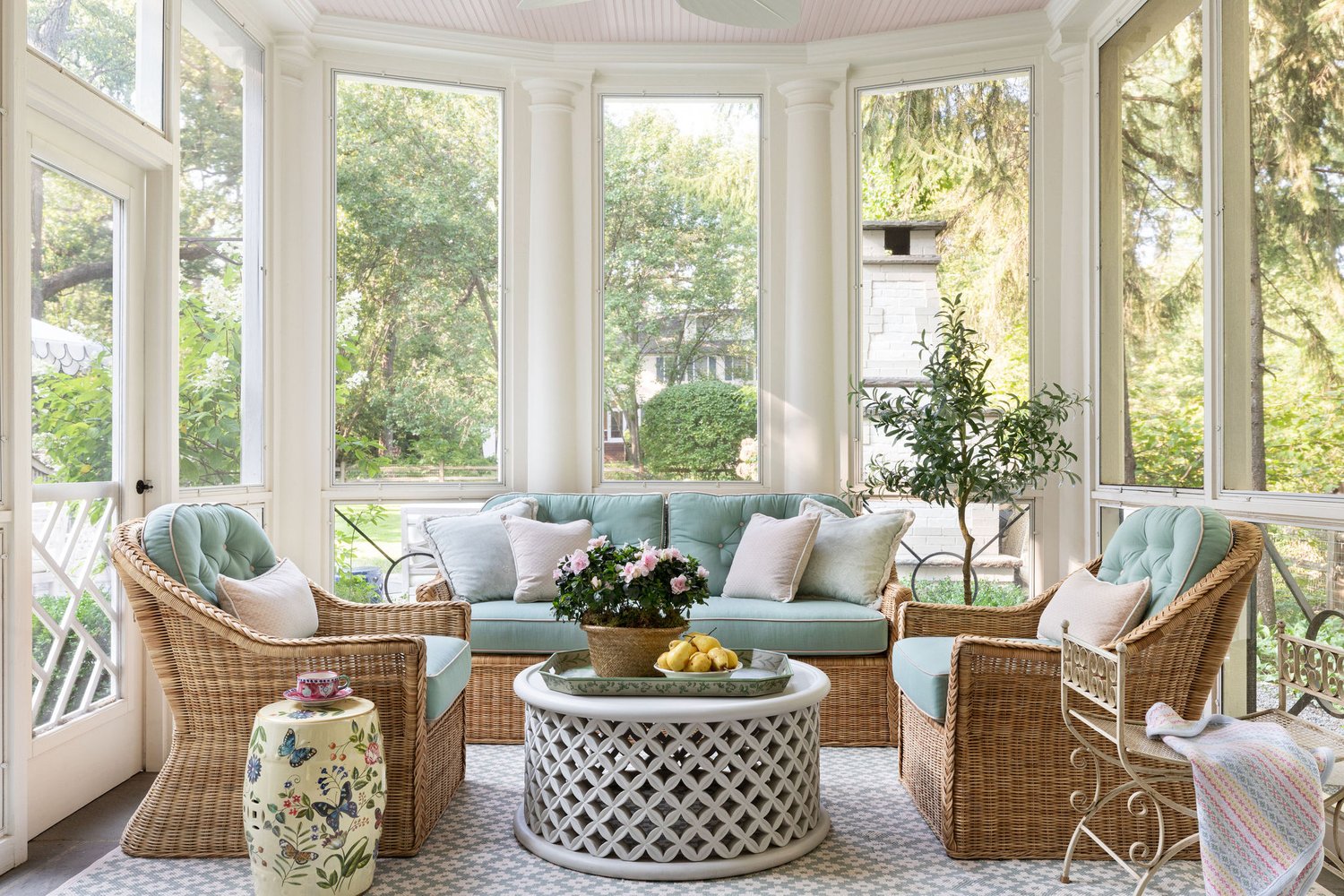 Now its your turn to kick back and relax in the summer vibes of Coastal Grandmother interior design! For more inspiration check out our Coastal Grandmother Pinterest Board and make sure to follow us on Instagram , Facebook @WeAreWoodgrain!