Choosing Furniture for the Top 5 Interior Styles
Finding the perfect furniture to match your interior style can be tricky! Do you find yourself leaning towards straight clean lines, curves, or even a mix? Choosing furniture and décor is the highlight of designing any space; "the cherry on top" so to speak. It's the key component to tying a room together. With so many new interior styles emerging, it's important to learn the key components for choosing furniture to compliment your overall look.
Let's discuss the key elements of choosing furniture for your interior style.
Art Deco
Are you romanticizing a glamour-filled home? Art Deco is unapologetically bold and full of glam, boasting the roaring 20s and all its luxurious qualities. It survived the 20s, 30s, and 40s, and is still highly sought after in modern day design. This opulent style is known for its curvy lines, shiny details, and bold (and contrasting) colors. Don't forget the geometric wallpaper and whimsical décor. Art Deco interior design should be eye-catching!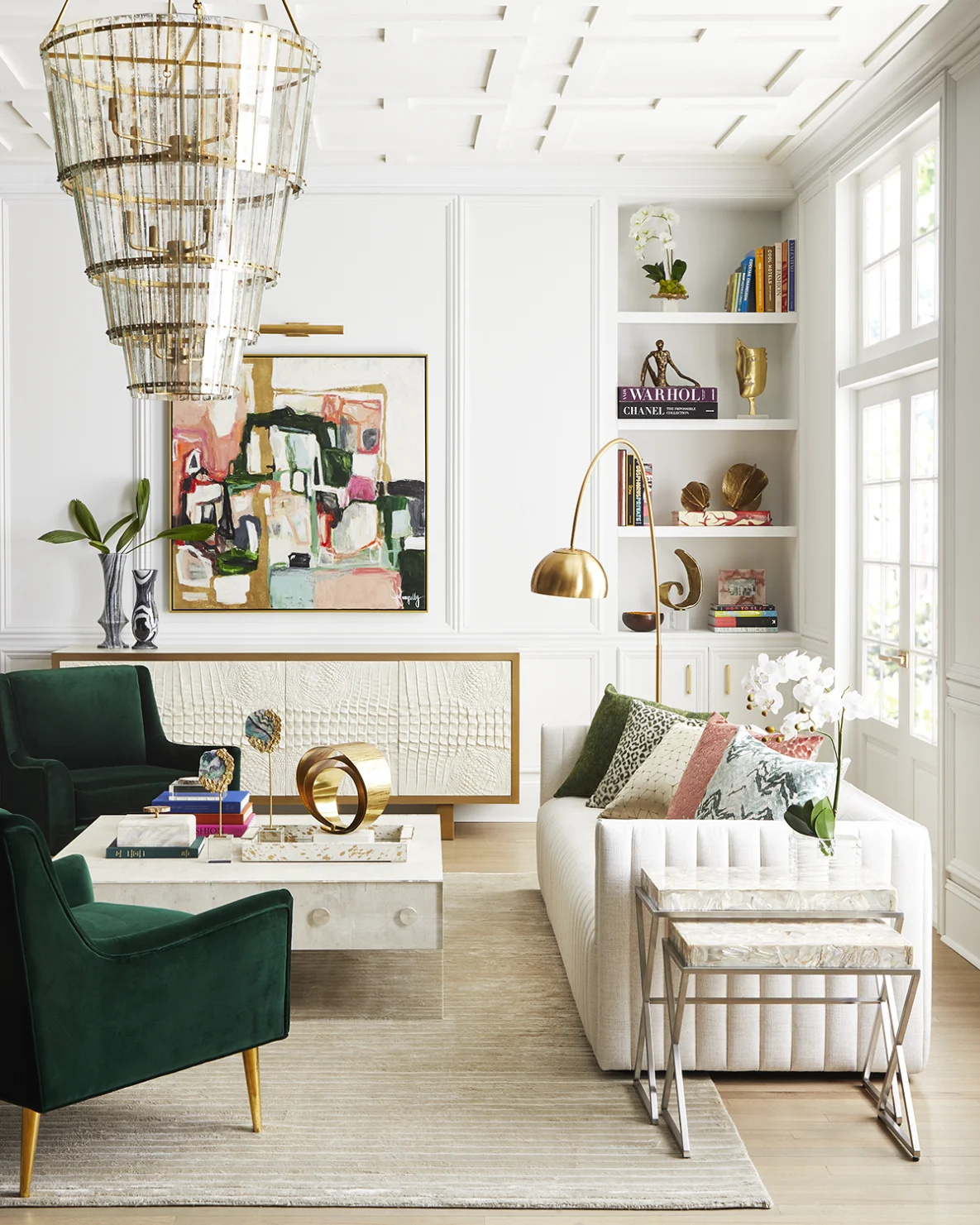 This style may feel complex, but it can be achieved through a few guidelines. To begin, choosing oversized-statement lighting is pivotal for your space. Stick to gold, brass, or crystal fixtures. Art Deco furniture is meant to be elegant and unique, often velvet with polished gold or silver accents. Some awe-inspiring options for your home are the Parker Curved Sofa by Jonathan Adler or chic scalloped accent chairs. Stick to bold colors like navy, black, greens, pinks, or soft creams, and don't be afraid of patterns! Glass material or abstract marble is essential to elevating your Art Deco room. Add the Tree Dwelling Coffee Table from Anthropologie for instant enchantment and compliment it with the Lacquered Regency Dresser. Symmetry is key in this style to avoid feeling overly maximalist.
Shop Jonathan Adler's collection for more inspiration.
Midcentury Modern
A subset from the early 1900s, Midcentury Modern is still in high demand and adored in the present day. Today, it emulates its original classic style while also incorporating touches of retro design, organic elements, and rustic notes. This style is defined by clean lines and simple, geometric shapes. When designing your space, you want to allow your furniture pieces to shine while maintaining cohesiveness and minimalism. Remember, you want this style to feel modern first and foremost!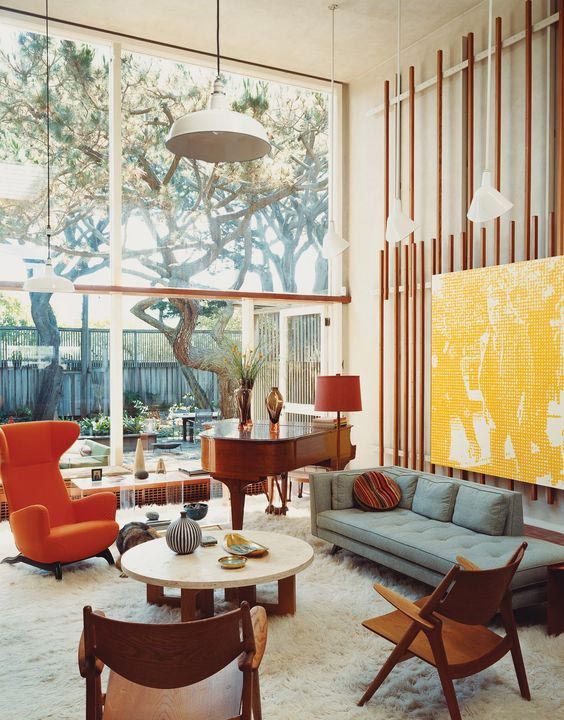 Midcentury Modern furniture tends to be practical, wooden, and oftentimes vintage. You'll want to choose versatile and timeless pieces. When you think of this style, you often think of the iconic Eames lounge chair. A staple that was originally created in the 1950s showcasing the highest level of craftsmanship, and is found in many Midcentury Modern homes today. Dark leather and exposed woods are attributes to keep in mind when picking out your next couch or chair! Pair this with the perfect rustic glass coffee table atop a light-textured rug and a dramatic floor lamp to truly immerse your home in this style. Don't be afraid to thrift shop or refurbish old furniture if purchasing brand new is out of your budget.
Check out West Elm's Midcentury Modern collection for more inspiration.
Grand Millennial
Grand Millennial is a modern refresh on our grandparents' more traditional homes, incorporating old-fashioned colors, patterns, and textures along with vintage décor. Also known as "granny chic," this style re-exploded in the 21st century. Do you remember your grandmother's pleated lampshades, chintz wallpaper, her favorite China set, or her decadent chinoiserie armoire from her first home? This style oozes femininity. Imagine pastels, dark wood antiques, gorgeous millwork, and floral patterns.
A few characteristics that are indicative of Grand Millennial furniture are sticking to dark, rich wood tones, natural woven accents, choosing pieces that are scalloped or have bullion trims, and saying yes to monograms and needlepoints! Pair your pastels with this Scalloped Velvet Bucket Chair by Mecox and an Antique Victorian Black Walnut Carved Settee by Chairish! Traditionally, the use of cotton and linen were highly encouraged, but now we're seeing more velvets and silk to add more spunk to your space. Compliment your space with a 1970s Hollywood Regency Chinoiserie Dresser with a gorgeous Gleaming Primrose Vanity Mirror and a Bow Table Lamp flaunting atop. "Everything in moderation" is the perfect approach to introduce a modern twist on the Grand Millennial style.
Check out Society Social for more inspiration.
Industrial
This classic style originated in the 18th century when products were created with function in mind. Industrial design typically features metals, concrete, and exposed brick. This style became iconic throughout lofts in major cities. The Industrial style at its core is compatible with several other styles and utilized in designs like Industrial Farmhouse or Urban Rustic. Aside from the general architecture and layout, this style is defined by a few key elements. Known for its open floor plan layout, it allows for a lot of furniture, but the attraction to this style is its minimalism. Since this style is most prevalent in city lofts, utilizing your space is essential.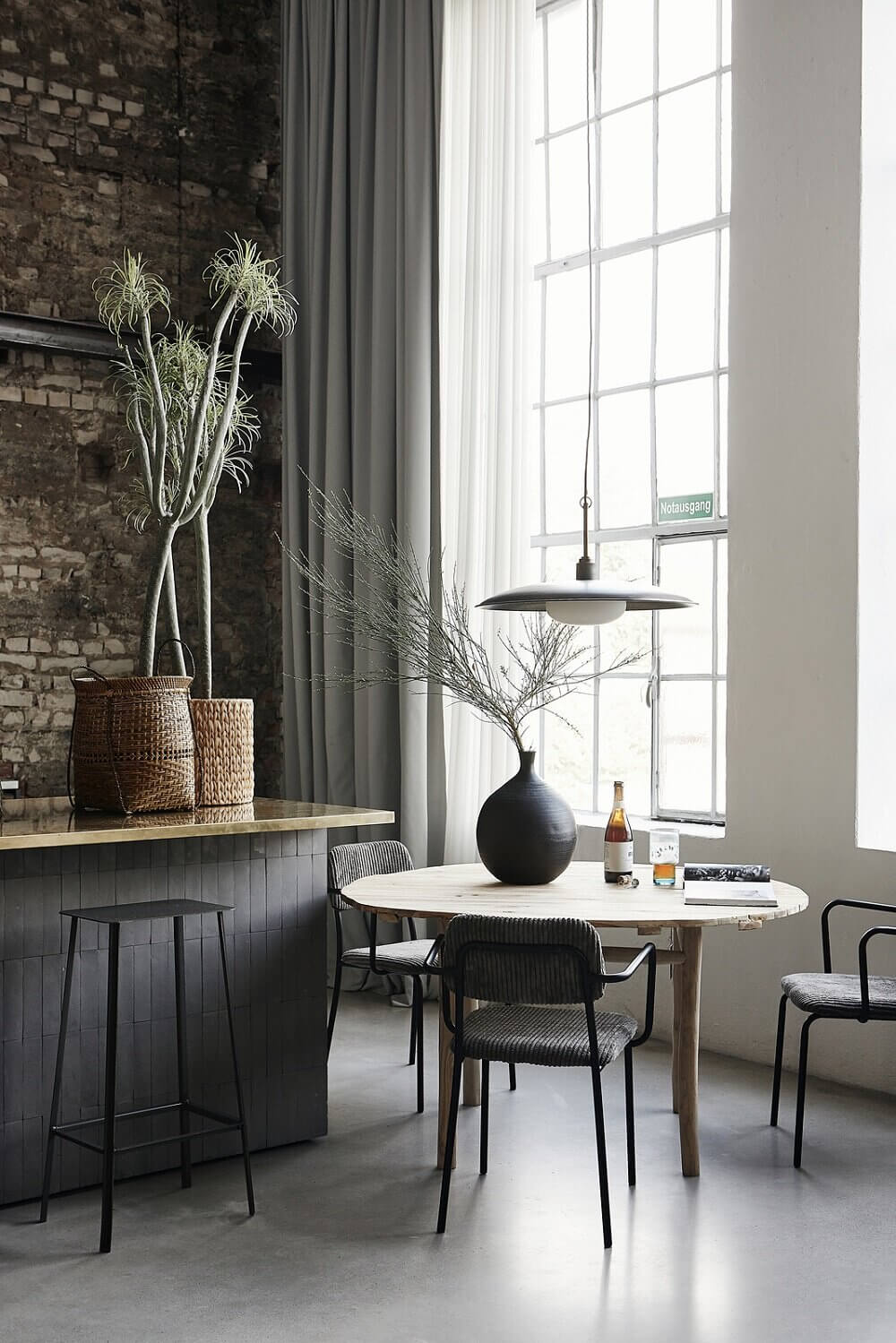 If you're looking to incorporate Industrial style into any space, you want to add furniture that is leather, wood, metal, or stone. Stick to clean, straight lines but don't be afraid to dabble in some soft, round edges to lighten the overall feel. Add the Leopold Upholstered Club Chair from Joss & Main in genuine warm leather with the Nalia Accent Stool to add interest. Neutral earthy tones, browns, and creams are the main colors throughout this style, but feel free to add an accent color to show some personality. You often see Edison bulbs hanging from ceilings in Industrial lofts, but cage-lighting fixtures are a chic alternative. Build on this style with a 4D Concepts Anacortes Bookshelf from Hayneedle or toss a Faux Leather Beaded Pouf Ottoman for flare and function. This style is the perfect remedy for mixing old and newer styles, staying minimal, and bringing raw materials into an already-weathered space.
Check out Joss & Main's Industrial collection for more inspiration.
Modern Farmhouse
Modern Farmhouse at its core is inviting and comfortable with a touch of "southern charm." When you think of Modern Farmhouse, you think of designers like Joanna Gaines and her Magnolia Home collection. This style is meant to be cozy. You often see neutral colors, feel-good décor, reclaimed wood, shiplap, and big comfy furniture. Modern farmhouse resembles Japandi interiors, where the outdoor elements are brought indoors, so you'll want to gravitate to natural materials when choosing furniture and décor. Stick to linen, cotton, natural woods, stone, wrought iron, and leather.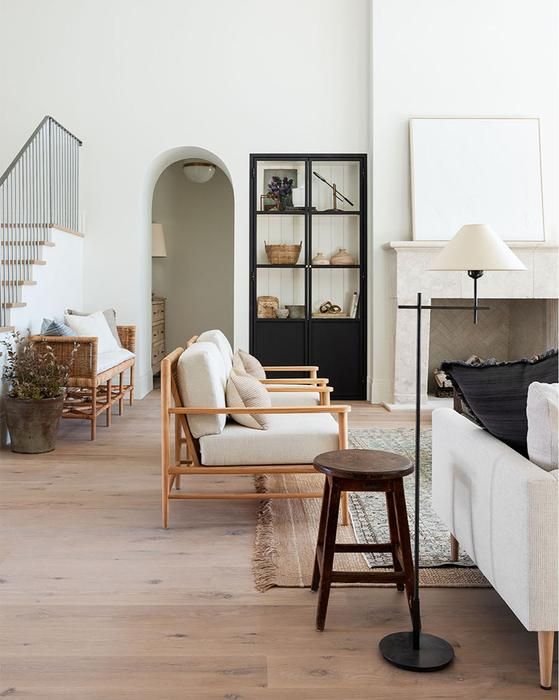 Modern Farmhouse has transitioned away from distressed furniture, farmhouse-style signage and décor, excessive barn doors, and mason jars. Now we're envisioning this style to be more sophisticated and contemporary. Instead of a distressed cabinet, get the Britt Cabinet, a black drifted oak cabinet by Magnolia Home, or the Clea Cabinet, an elegant arched silhouette for a lighter feel. When choosing a coffee table or even a dining table you want to go with natural woods, like the Modern Farmhouse dining table by Pottery Barn. Stick to similar wood tones throughout your home, so your space doesn't feel tacky. Then pair a neutral light and cozy couch with rustic industrial lighting for the perfect recipe.
Check out Pottery Barn for more inspiration.
As new interior design styles continue to arise, we can easily say there's an abundant number of ways to decorate a home. Having a style in mind or creating a mood board may give some direction, but choosing furniture for your space can still feel overwhelming. Regardless of your interior style, you must always focus on an overall plan to properly design a space to feel cohesive. Each style has its own key elements and characteristics to follow to make designing your desired interior design style easy!
For Inspiration check out our Pinterest Board and make sure to follow us on Instagram and Facebook @WeAreWoodgrain!