The Ultimate Guide To Achieving An Urban Rustic Interior Design
If you love Industrial design and minimalism, you may need to consider an Urban Rustic interior style. Urban interior design has become a popular trend in recent years for design enthusiasts living in major cities. While it may seem like a contemporary style to some, it's been around for a long time. While "rustic" and "urban" are contradicting terms, the Urban Rustic style perfectly blends the city with the countryside.
Let's learn about this unique style.
What is Urban Rustic design?
This unique style blends industrial and minimalism together, creating the perfect environment for those who want a city-like living situation and the comfort of minimalism.
Rustic elements include wood, natural materials, and traditional designs. These are paired with industrial elements like concrete and steel to create an overall look that's relaxed, yet chic. For example, you could choose to add a wooden dining room table in your living room or combine leather couches with an industrial lamp next to it.
Characteristics
The overall look of Urban Rustic design is very mellow. Just like Industrial design, urban interiors focus on emphasizing their raw, natural materials such as exposed brick or stone while also allowing copious amounts of natural light to be let in. Because natural light is essential to a modern urban rustic interior, one of the main features of this style is high ceilings and large windows.
High ceilings not only give a room a sense of grandeur but also create an open and airy feeling. We often want our urban spaces to feel bigger than they are to make them seem more spacious and comfortable. Along with high ceilings, you want quality windows that will complement your home. Windsor Windows provides top-of-the-line windows and offers a large selection of styles and shapes to choose from to achieve your perfect look.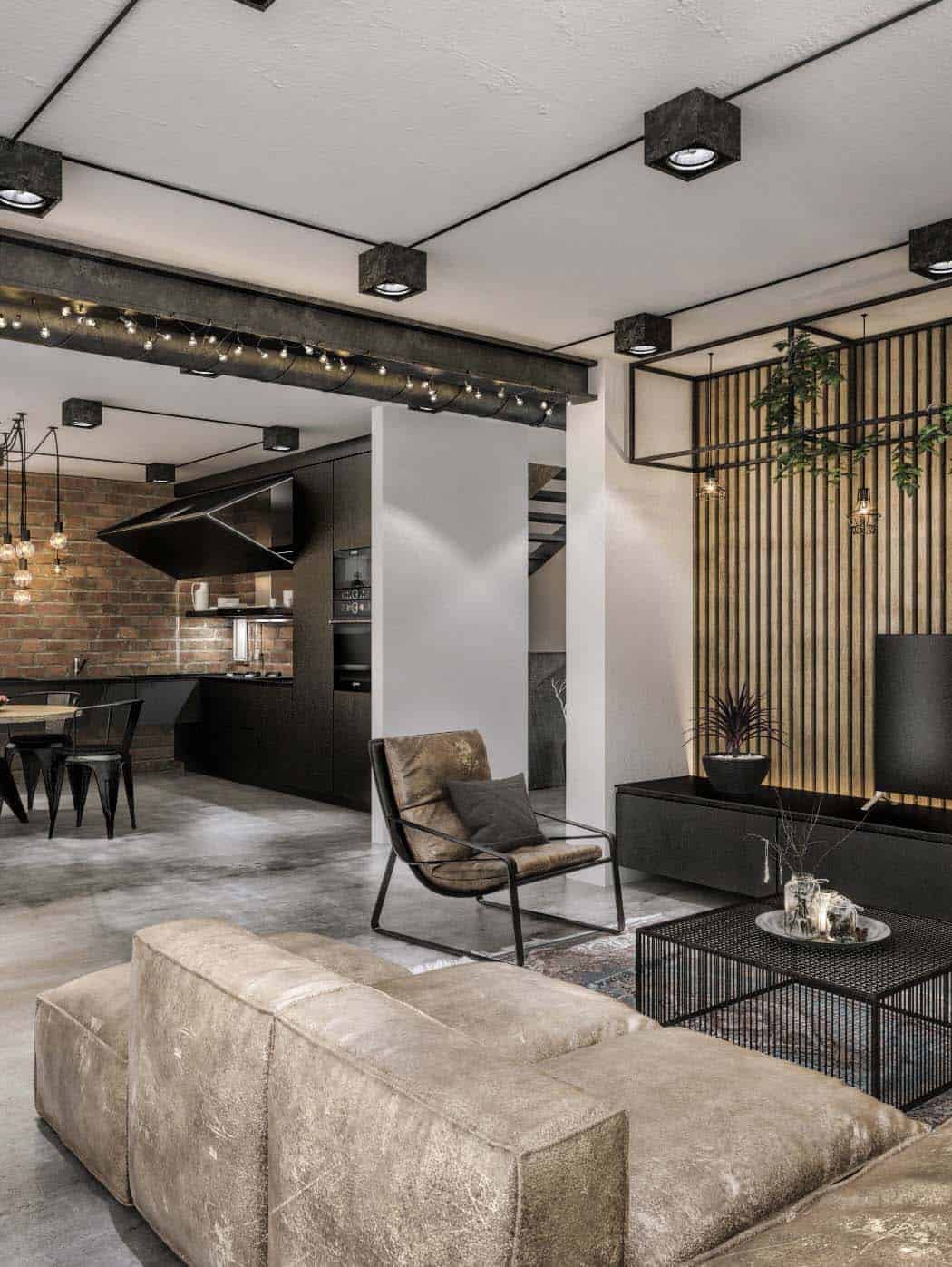 As previously mentioned, Urban Rustic design emphasizes natural materials. Exposed beams are a popular way to add rustic charm to your modern industrial interior. They can be painted, stained, or left as is. For a more DIY-friendly project consider installing a modern slat wall. The goal here is to maintain the natural elements in conjunction with symmetry and clean lines.
Minimalism
This style attracts those who love the aesthetics of living in the city, who probably don't have much time to deal with clutter. They want to come home to a haven that isn't overwhelming, meaning not too much décor or anything that may seem impractical. The key to achieving an urban minimalist design is to focus on what's needed for function without any extra adornments that may cause clutter.
While many may think minimalism solely focuses on white washed walls with little to no décor, that's not the case with Rustic Urban. Minimalism in this capacity simply means an open layout to allow the rooms to seem bigger with multifunctional furniture. Since lofts tend to be smaller, utilizing extra space is essential.
Learn more about minimalism here.
Color Palette
Urban Rustic design is all about creating an upscale, serene atmosphere. To achieve this, the main colors used are neutral earthy tones, browns, and shades of off-whites mixed with occasional reds and blacks.
Reds and browns can be found in the natural architectural materials that make up the home. Think of exposed bricks or natural wooden materials used to decorate. Steel black or grey found in traditional industrial light fixtures contrast against the light earthy tones found in wood or other furniture pieces.
Furnishing
A striking difference between Industrial and Urban styles can be seen in their choice of furniture. While Industrial prefers metals and harsh clean lines, Urban opts for softer and more comfortable furnishings seen in minimalist designs.
When selecting furniture or décor pieces, consider options made from natural materials and earthy tones. These are essential to achieve an Urban Rustic interior style. Vintage pieces are perfect to decorate any Urban Rustic interior since they are often made from leather or other natural materials. These old timepieces are typically sturdy, durable, and have a classic look that never goes out of style.
Besides natural furniture, it's important to note that metal touches are a popular choice for completing this style. Whether used in furniture or accents, metal can be a great alternative to wood.
Make sure to use a variety of textures throughout your living area so the overall look isn't monotone. Cement floors decorated with natural woven rugs, paired with soft, round couches make the space feel less uninviting.
Lighting
If you want to add some traditional industrial style to your home, nothing beats a great pendant light. Industrial-inspired pendant lights can be installed in any room and look amazing. They're also incredibly functional, so they're great for spaces like the kitchen or dining area where you need to have plenty of light on hand. With many different shapes and sizes available, it's easy for anyone who wants a rustic urban interior design theme in their home.
Traditional industrial light fixtures are made from dark-toned steel that's usually distressed and typically feature exposed bulbs, metal shades or wire cages. Originally they were used for their functionality; however, over time they're appealing and timeless style made them popular among industrial lofts.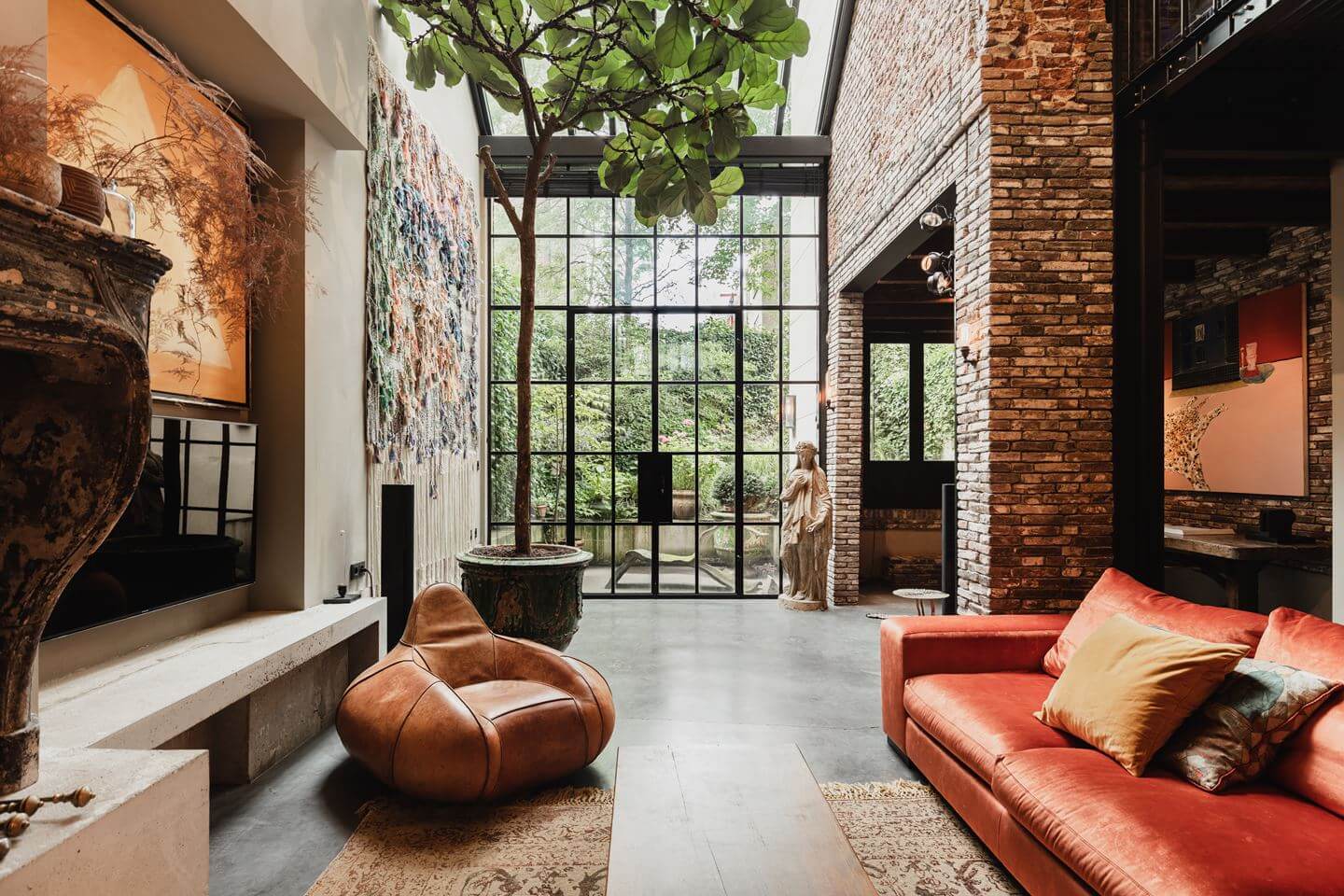 Urban and Rustic are two opposite design styles that you might think could never go together, but that's not the case. As you can see, these two very distinct styles do a phenomenal job at complimenting each other when you mix them together to create an Urban Rustic interior design. The creative use of metal and concrete, organic lines, and interesting shapes make it easy for urban designers to create an exciting look for any home.
For Inspiration check out our Urban Rustic Décor Pinterest and make sure to follow us on Instagram, Pinterest and Facebook ! Follow us @WeAreWoodgrain