Modern Tuscan Villa Interior Design
Are you dreaming of a Tuscan getaway but can't seem to get away? Bring the Italian style into your home and let the warm sun shine through! This style is based on the Tuscan villas in Italy from the 1600s. Similar to Spanish Interior Design, Tuscan villas sport stone exterior walls, terracotta roofs, wooden elements, mosaic tiles, and feature outdoor living spaces. Add textures, warm up your color palette, and add some rustic charm to your décor to embody this cozy style. Before you know it, you'll feel like you're back in the Italian countryside…just without the pasta-induced food coma.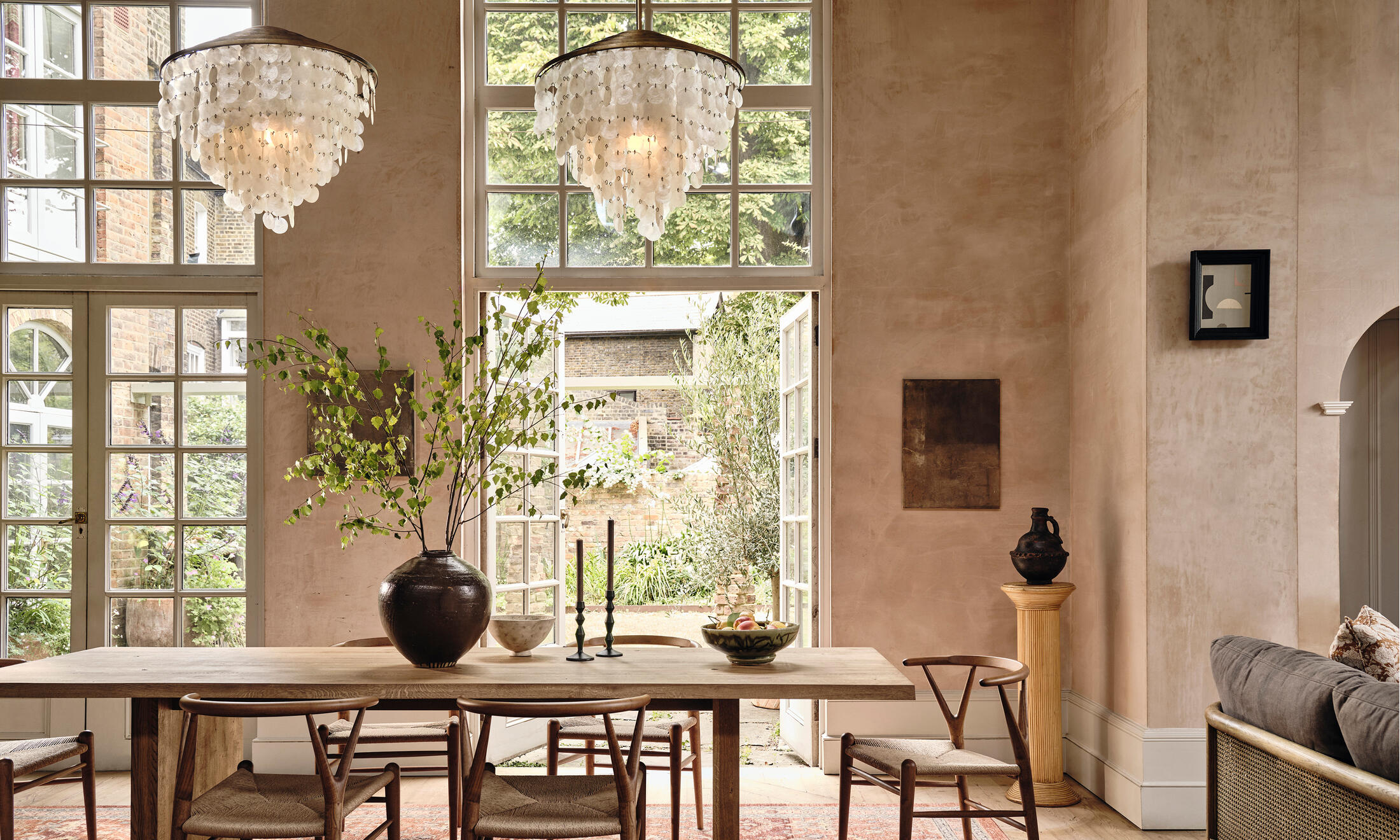 Traditional vs. Modern
Traditionally, Tuscan homes had thick stone exterior walls typically made of limestone, sandstone, or marble. These homes boast natural elements, blending the structure with its breathtaking natural surroundings. Exposed wooden beams throughout the home or brick archways were common trends in traditional Tuscan design. Carved marble was used as an accent piece over windows and doorways. You'd see warm, rustic doors and an inviting ambiance prompting your guests to enter and share a meal.
But as most know, it's hard to recreate the traditional look and feel when you're not countryside in Italy. A contemporary Tuscan interior features lighter and minimalistic colors. You can incorporate clean lines, mix woods, or even add darker features without losing sight of the true traditional style. Incorporate curves in your artwork, your furniture, and even your windows or doors if arched entryways are out of the equation. Modernizing a style with such long-standing traditions doesn't mean dismissing what's traditional, it simply means incorporating modern touches while keeping its true calming and peaceful foundations.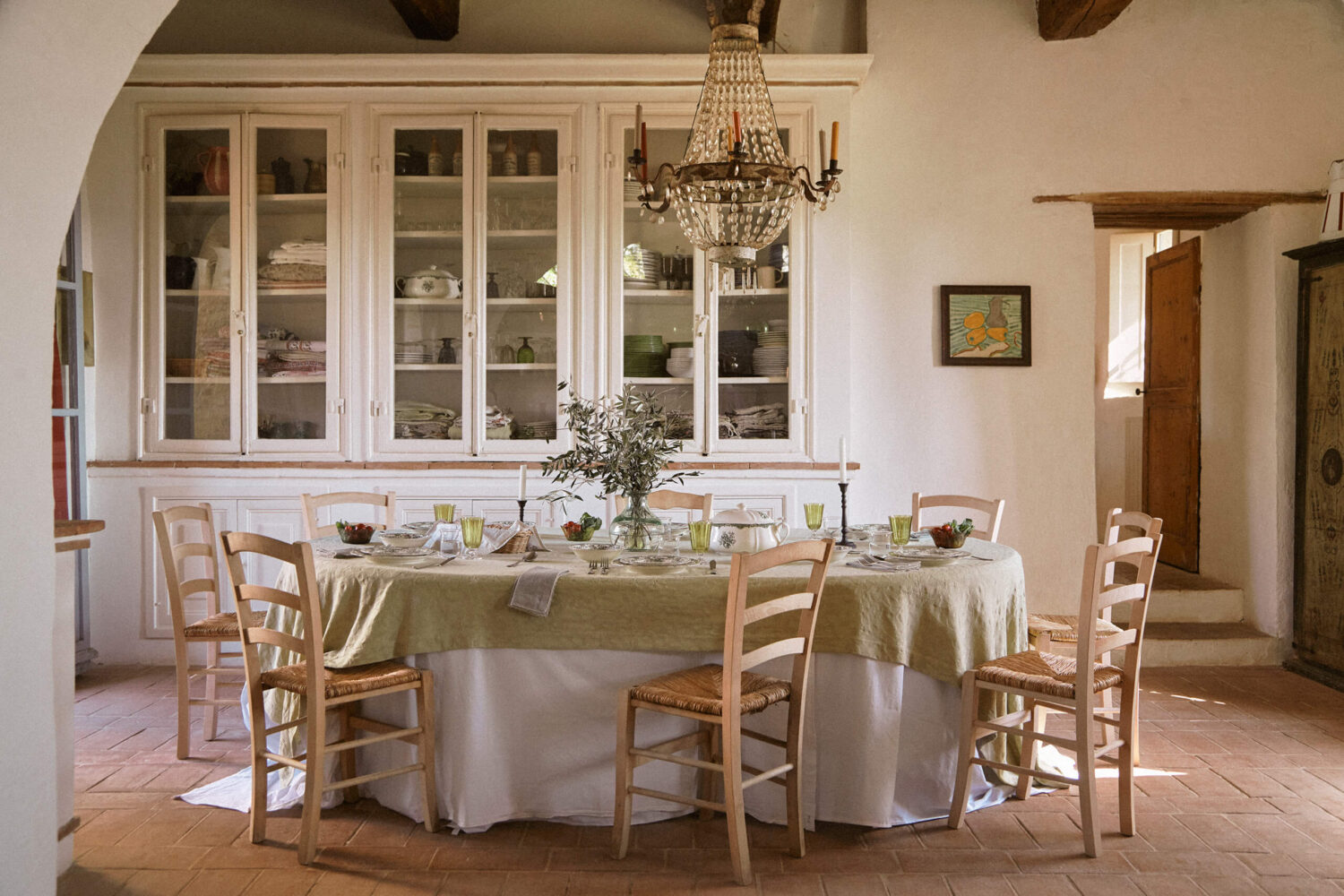 Colors + Materials
Tuscany is known for its rolling hills, spectacular sunsets, Michelangelo's "David" sculpture, and many more works of art. The beauty supplied in this region is unending. The colors of this style are influenced by the Tuscany region and architecture. Traditionally, shades tend to be warmer than not. Instead of completely drenching strong and warm colors like rustic reds and dusty greens, incorporate subtle shades like Terracotta and Athenian Green, for an updated take. Play with neutral colors and darker wood tones. If you want to add a bit more color to your space, don't go too bright, stick to more muted colors. This mixed palette balances hues; equally bringing in the old-world European charm while still staying on top of the contemporary trends.
Fabrics are typically natural materials, like cotton or linen, and on the more detailed side, you can find velvet and damask prints. Linen is the most used fabric in this style. You can find linen gracing curtains, bed sheets, and upholstered furniture. Its airy and sheer fabric accentuates the room, letting in light through its woven strands. Damask print should be used sparingly, only utilized for an accent piece like a throw pillow or an ottoman in neutral colors. For additional interest, try integrating more texture with rattan furniture or boucle furniture.
It's All in the Details
Add warmth and character by implementing subtle details that exude the rustic charm of Tuscany! Natural materials are the building blocks of Tuscan interiors. Go for stone, brick, and wood materials for foundations. Tuscan-inspired floors include terracotta tiles, tumbled stones, aged wood, and bricks. Whitewash your brick to lighten the look and feel. Use brick in other areas of your home, on your fireplace, your kitchen backsplash, or maybe as an accent wall. Simplicity is the charm of this style, with its neutral colors, natural elements, and textures. Textured walls are woven deeply into Tuscan interior design; recreate the look of texture by plastering and lime-washing your walls! Traditional doors in this style were crafted similarly to the 100, 4526, and 4106 designs, but the addition of doors like 822, 840, and 811 will keep that Italian charm while staying modern! Choose lighter shades of wood like Oak, Knotty Alder, or light Mahogany.
Tuscan villas were crafted from stone and stucco, which made them extremely durable and last for centuries. The same thing applies to the items inside the home. Lighting was typically made of durable dark wood and iron fixtures with ornate details. Simplify these aspects for a contemporary feel. Think wrought iron stairs, industrial lighting, or go bold with crystal and dainty chandeliers. Metal finishes will add personal style to the home. Choose brass or gold finishes for your wall sconces, your hardware, or décor to create a luxurious feel. Accent pieces made from wood or metal, like an iron-lined wooden bookshelf or mini tree centerpiece for your coffee table, create a sense of tranquility.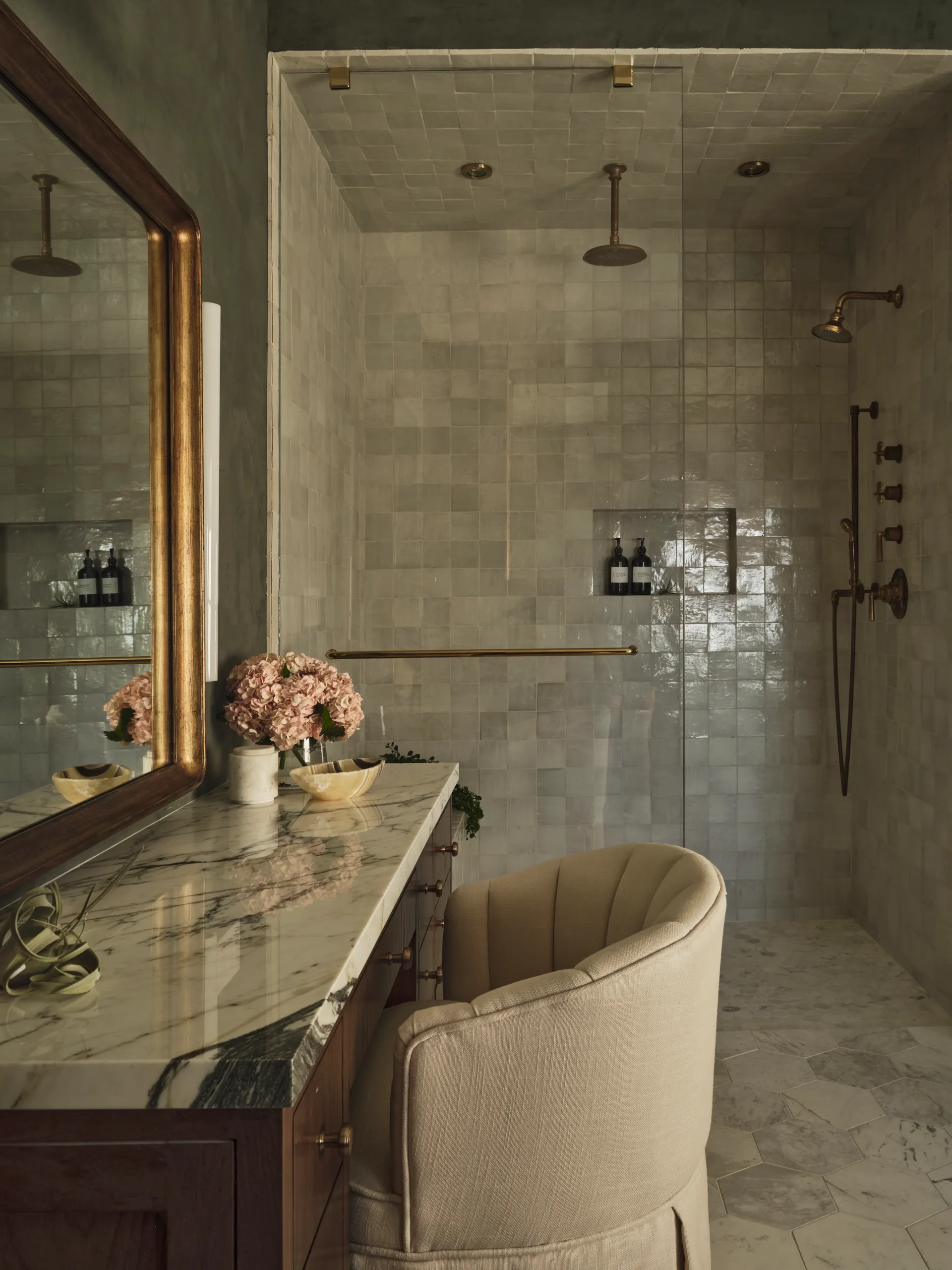 How to Add Tuscan Interior Design to Your Home
This Italian style is elegant but not excessive or crowdy. It oozes a simplistic and dreamy atmosphere. The true Tuscan way is structured around family. Spaces are functional, spacious, and comfortable. Create a space where people can gather and enjoy life together. Larger and more grandeur furniture allows more people to congregate together, it's a substantial way to create the Tuscan ambiance in a room. Think open floor plans and heavily focus on key focal furniture that doesn't crowd the room. Pick out light-colored fabric couches or accent seating in an ivory color. A boucle-styled sofa with wooded legs is the perfect mix of traditional and contemporary! Incorporate modern art depicting nature or monochromatic abstract pieces for a fashionable look!
Greenery is an essential part of this nature-inspired style. Plant connoisseurs should add lavender, rosemary, and Italian cypress to create contrast with the warm color palette! Another way to add greenery is by using a large leafy plants like an elephant ear philodendron or fiddle leaf fig. Choose plant pots made from cement, rattan, or wicker in neutral colors for a sense of balance. We can't mention Tuscan décor and greenery without outdoor living spaces. Italians live and breathe the alfresco lifestyle, which means taking place or being in the open air. In many Tuscan homes, eating outside is a must. Leisure outside is just as important as leisure inside, so keep all the modern characteristics in mind when designing either space. Sit back and relax in front of a fire or check out the stars at night with the perfect rattan chair and a light linen blanket!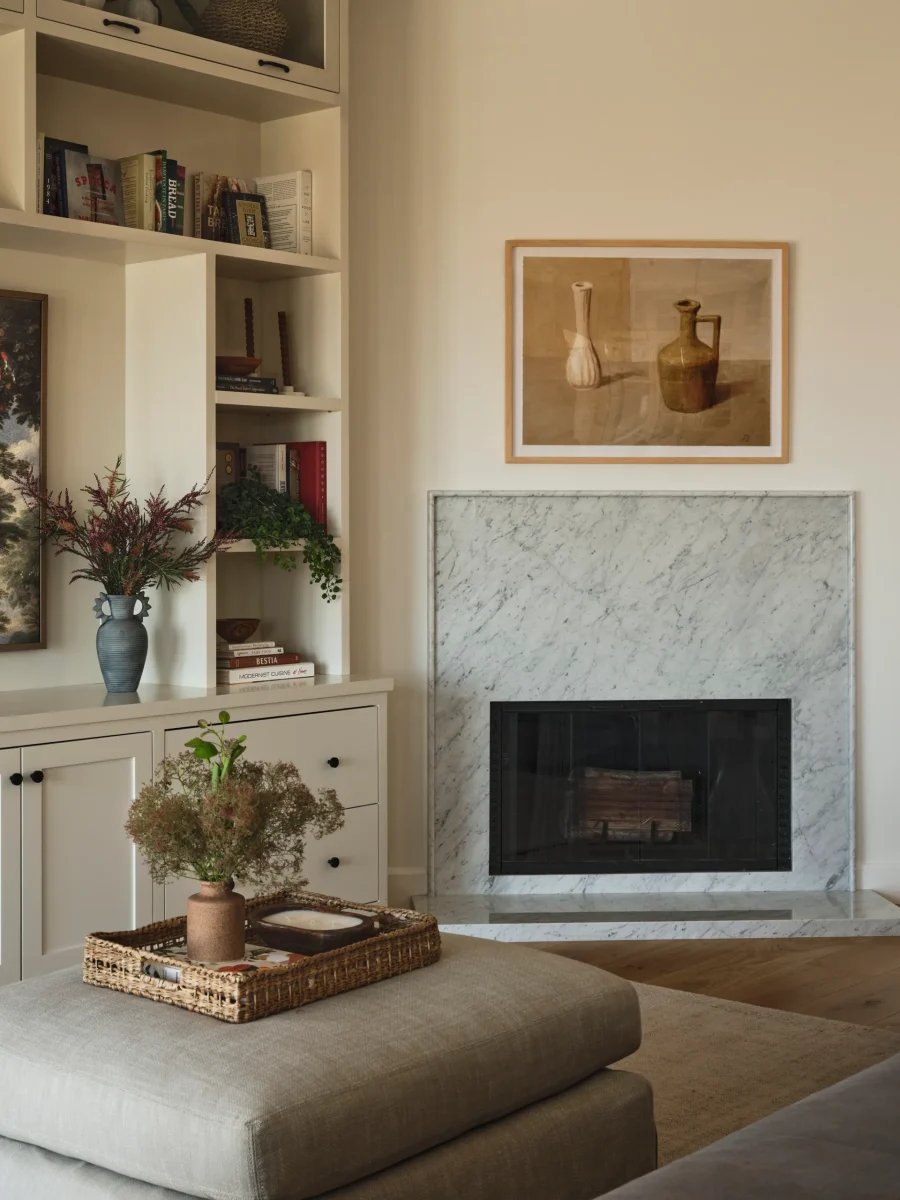 Ready to tap into your inner interior designer? Blend the old with the new! Choose accent pieces with an industrial look and gilded accents. Ensure to add details with a modern feel to keep a sleek and updated look for your home! It's time to give your home a revamp with some Italian charm! You've got all the tools you need – now go and create something beautiful!
For Inspiration check out our Tuscany Villa Style Pinterest and make sure to follow us on Instagram and Facebook @WeAreWoodgrain!