Decorative Wall Moulding Ideas
Interior moulding can drastically change the look and feel to any interior space; it's what brings architectural interest to a room. In recent months, interest in decorative moulding has spiked, specifically crown and dentil moulding, which are typically seen in Victorian, Parisian, and Modern Baroque styles. These interior design trends are resurfacing in popularity, and we couldn't be happier!
People are adopting decorative moulding to create accent walls like board and batten, fluted wall panels, and decorative build-ups. They're also being used for furniture, stairways, and to enhance doors and windows.
Our DecraMold® & BlockShop® lines have intricate detail pieces to enhance any room in your home. Below are some ideas on how to add architectural interest using decorative moulding around your home.
It's All In The Details
Our extensive line, DecraMold ® which is made from solid pine, ranges from base, fluted casing, chair rail, crown, general purpose, and door and cabinet trim. Perfect for any home project, DecraMold® installs the same as traditional moulding and can be finished with paint, stain, or varnish.
BlockShop® can be used with any traditional moulding as well, offering a complete selection of blocks for no-miter installation, which eliminates the need for difficult miter cuts. This line allows for a quick and easy installation at an affordable price
Below we explore the various types of moulding and how they can be used to elevate your home.
Dentil / Crown
Add drama to your living area by creating a coffered ceiling accentuated by dentil moulding. Coffered ceilings are becoming popular among open concept areas since the layout tends to be bigger. They feature sunken panels or coffers to add depth to your living area. By adding dentil moulding or any type of crown/decorative moulding to the ceiling, it instantly adds a more luxurious look. Besides their beauty, coffered ceilings are guaranteed to add value to your home.
Morgan from @palmettohighway did an amazing job transforming her entry way simply by adding a coffered ceiling as seen in the pictures above. If you are as in love with her ceiling as we are then make sure to read her easy step by step guide that walks you through every step of this project.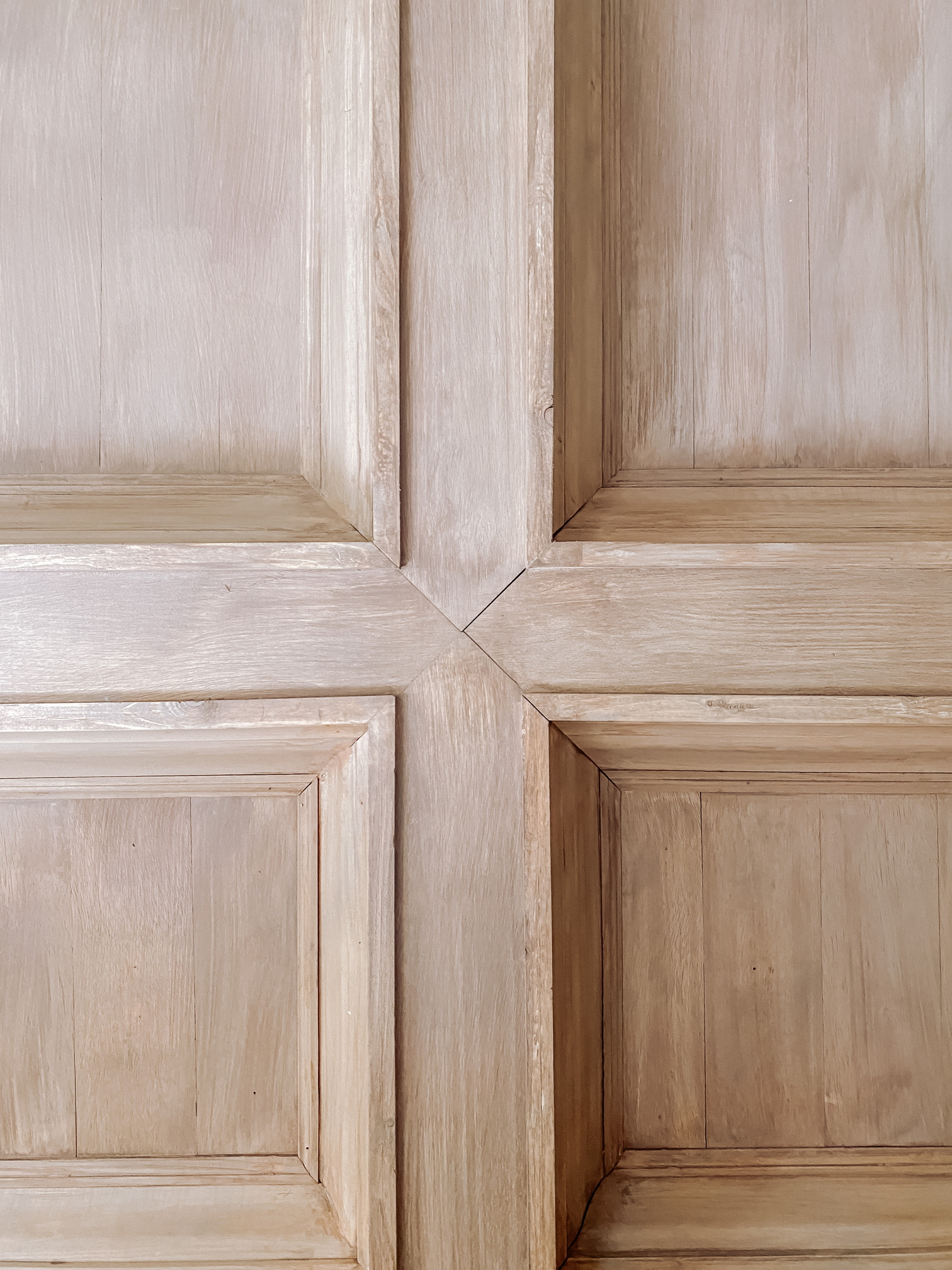 Older historic homes typically boast extensive ornate woodwork, ceiling details, and intricate trim work as seen in Jonathan Scott and Zooey Deschanel's newly purchased home. It took the couple two years to fully renovate the sprawling five -bedroom home. To preserve the integrity of the house, Jonathan and Zooey added custom touches using Woodgrain's decorative moulding to recreate the original feel of the home. They replaced all the doors and added beautiful baseboards, casing, and crown moulding to create a finished look in their home. Head on over to Reveal Magazine where the couple goes into more detail about their home journey!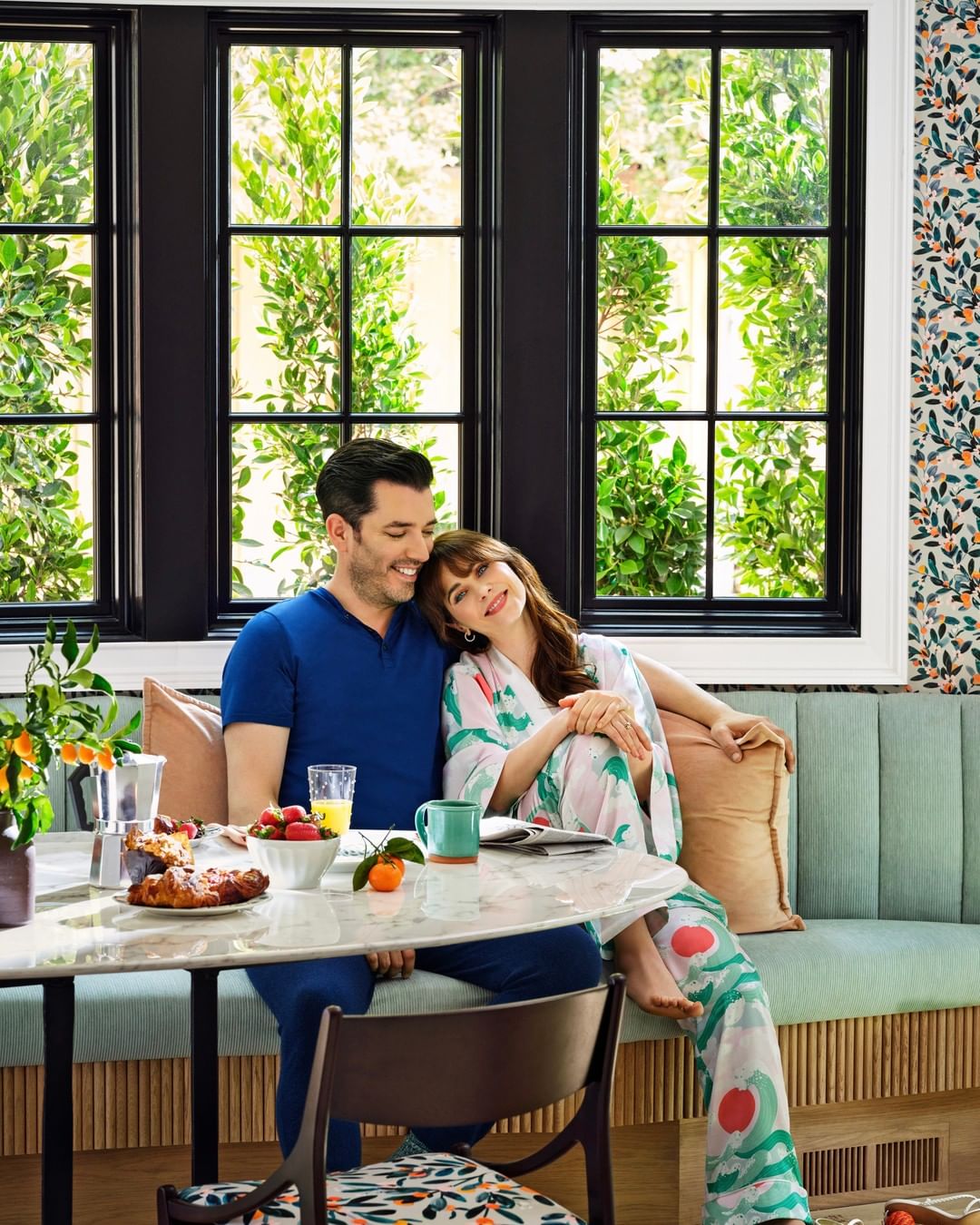 Chair Rail
Heavily used throughout the years in some of the finest homes, yet often overlooked is chair rail moulding. This piece of decorative moulding serves as both a protector and refiner. Initially, chair rail was created to shield walls from being harmed by furniture. However, more recently it has been utilized as an embellished separator between paint, color, wallpaper, or wainscoting. They run along the wall about 24 to 72 inches from the floor, though you can decide whatever height you wish. These designs help to prevent scuffing along the walls caused by furniture and careless foot traffic while also adding detail to the home. Below is an example of how you can build an ornate design that will get all your guests talking!
Normally seen in hallways, Van from @percivalinbloom decided to add chair rail moulding into her room and we are in awe of the results! She lined 3 of her walls with chair rail to give her room a more traditional, historic feel.
Casing
A home's entryway makes a crucial first impression, which is why you should consider enhancing your doors and windows with casing. Casing can act as more than a decorative feature. On windows, decorative casing helps prevent hot and cold air from entering the home. On doors, it helps conceal the gap between the wall and the door frame. Installing decorative casing adds texture and depth, in addition to creating an illusion of space in smaller areas of the home.
We love how Kelsie Emm from @kelsieemm incorporated our casing around her door and windows below to make them stand out more. It also creates the illusion of bigger doors and windows.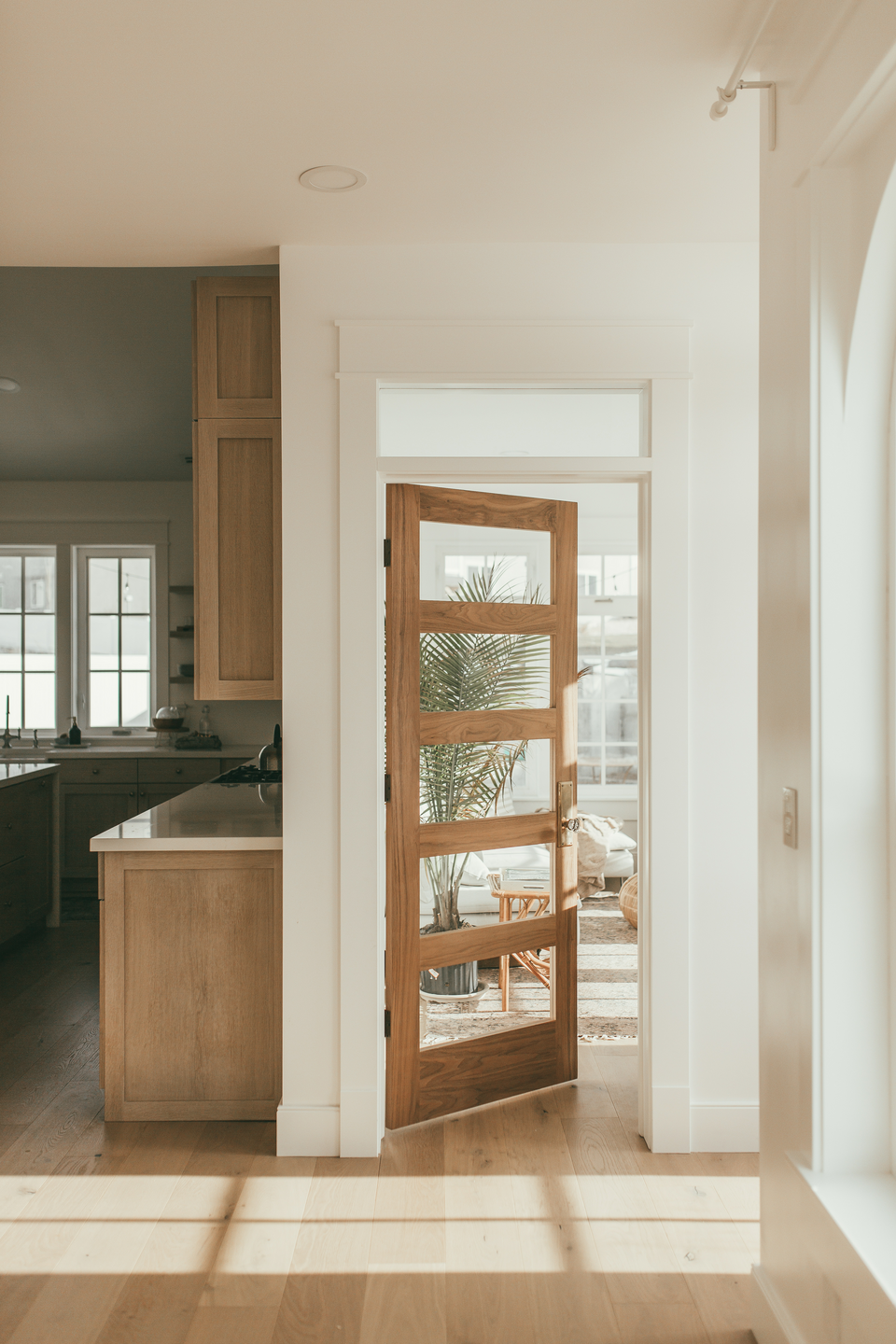 BlockShop®
Our BlockShop® line features a variety of corner and divider blocks seen in several home styles. Below are few that can be found in Our Collections:
Inspired by luxury and opulence is our D-R375FLR Rosette block typically seen in Victorian styled homes. It's one of our most popular Rosette blocks. Next, keeping a beach theme in mind, we created the perfect block for any Coastal home, our D-R-375STR Rosette block. This block features a carefully crafted starfish in the middle to give you that beach vacation feel. Lastly, we have our classic Colonial but versatile block, the D-R-350 Rosette suitable for any home style.
Let's look below at how Jessie from @thesalthaus mastered luxury with our blocks when she redesigned her dining room area.
The walls boast beautiful golden picture frame panels along with decorative moulding on the inside. Typically used in ceiling or door corners, Jessie got creative with our Rosette blocks. She carefully placed it on the inside corner of the panels of the wall to add that extra bit of drama!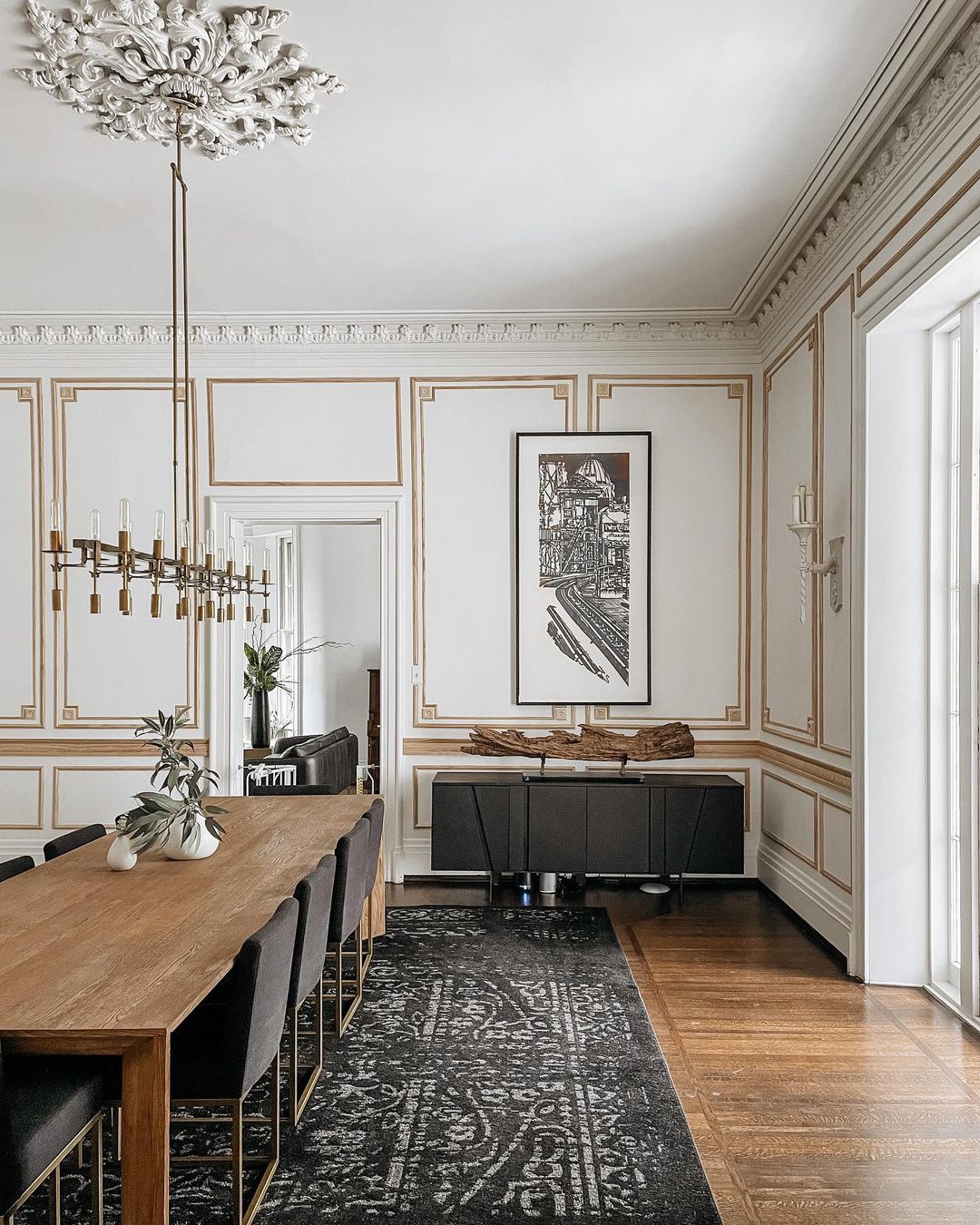 As you can see, any home can be enriched and enhanced with the installation of decorative moulding. Our large selection of DecraMold® and BlockShop® offers a variety of styles for any home project, whether that's adding drama to your ceiling or creating a simple accent wall to enhance a bedroom. The possibilities of design are endless! Not only does moulding add a truly authentic and personalized look to, it's also a cost-effective way to dress up your home and add value to it.
Make sure to check out our collections to see which best suits your home needs!
All the products found on this blog can easily be found at Home Depot, either in store or online.
For inspiration for your next project make sure to follow us on Instagram, Pinterest and Facebook ! Follow us @WeAreWoodgrain