A Blast From The Past: Retro Revival
A Blast From the Past
Retro interior design is making a comeback and it's groovier than ever. It's a mix of generation's past with a modern twist. Its distinct style encourages playful colors, chunky shapes, and funky décor. In the 1950s, the first mass-produced paints became available to the public. Everyone wanted vibrant colors to express themselves, not in only their clothing but also the interiors of their homes. People wanted anything and everything to be an elaborate showcase of self-expression.
This interior design style continued through the 60s and 70s, morphing and mixing alongside the social movements and political climate. Due to crises and wars, young people wanted to break from the status quo and promote peace, and thus the hippie movement was born. In the 60s, bright primary colors, paisley swirl print, and of course, the Beatles, were all the rage. Color palettes expanded in the 70s; groovy shapes, warmer colors, and psychedelic prints were popularized. In 1956, Kay Thompson famously sang, "I want the whole country pink… banish the black, burn the blue, and bury the beige!" She was singing out the hearts of the American people, and it was a beginning of a color revival that is the Retro style!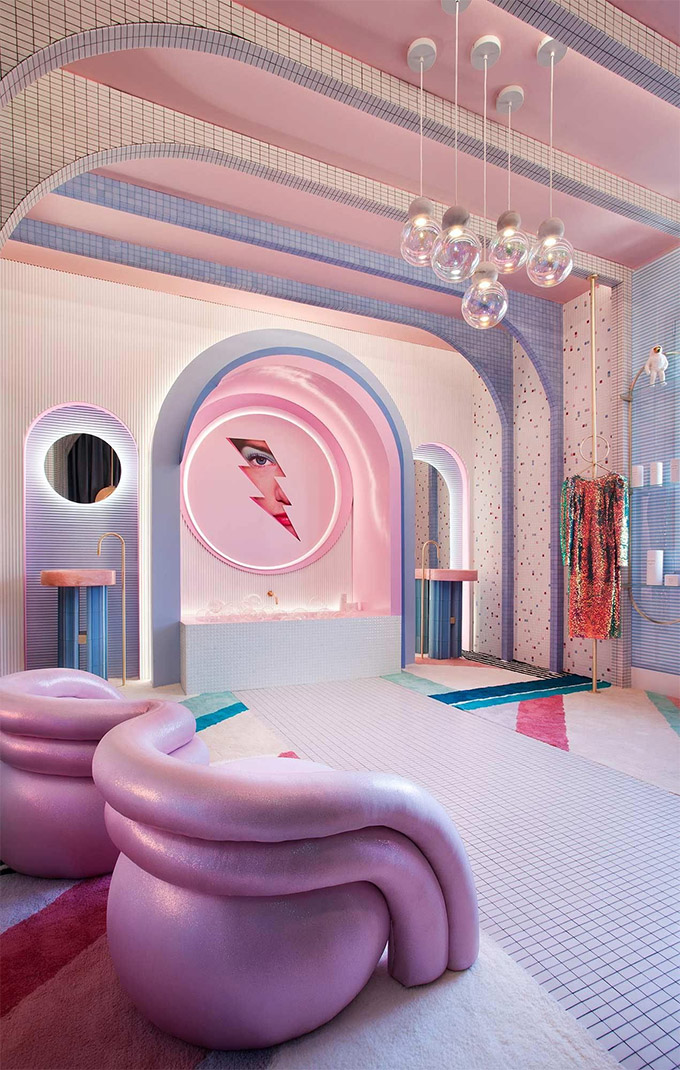 Markers of Retro Interiors
We all love the Retro style, but most of us aren't ready to fully commit to the 60s monochromatic look. Or maybe you are; don't fret, there is room for everyone in this trend. Instead of decking out your place in all things Retro, add different staple pieces to compliment your space or play with nostalgic colors and patterns. This style is known to merge metallic, velvet, and all variants of colors into one room. Retro has found its place through numerous decades with a modern take in the 21st century.
Here's how to mix and match and add Retro flair to your space:
Furniture
The Retro interior style is comfortable yet stylish. A rare commodity. A couch is like the centerpiece of a living room. Designers like Charles and Ray Eames, as well as Pierre Paulin championed the furniture style of this time. Pierre Paulin created a range of items from lamps to rugs and couches to tables. Paulin's couches were often shapeless yet sturdy, while his tables and storage pieces were hard and had a funky structure. Shop vintage and get an authentic piece like the Orange Slice Chair by Pierre Paulin from Kudzu Antiques. The married duo Eames created a feeling of luxury and comfort in one chair! Looking for a glamorous but practical statement piece? Add this Eames Lounge Chair & Ottoman from Living Edge for a classy feel.
For your smaller seating choices, go outside of the norm. Think hanging pod chairs, bean bags, day loungers, and oversized footstools. The Eero Ball Chair from Modern In Designs provides a fresh and futuristic take on the Retro design style.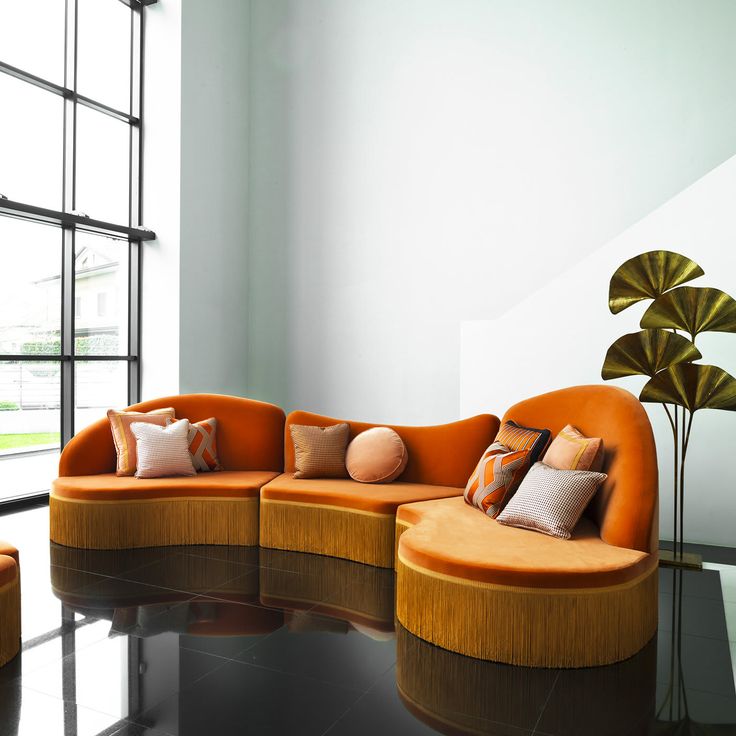 Its All in the Details
Colors & Patterns
The Retro design style is filled with textures and prints that are colorful, patterned, and bold. It meshes modern styles with rich materials to create fine craftsmanship. Fabrics, shapes, and textiles easily give you character. An easy way to add to life on a empty wall is to create an accent wall. There is no better ode to the Retro style than a Geometric Accent Wall. Follow this tutorial to get the lowdown on how to recreate this in your space. There's no going wrong with adding colors with this style. The hues are a mix of Art Deco, Mid-Century Modern, and Post-Modern. Paint with all one color or sprinkle different parts of the rainbow to every corner! From warm honey hues to cool forest greens, Retro has room for everyone! Here are some colors to use to get headed in the right direction: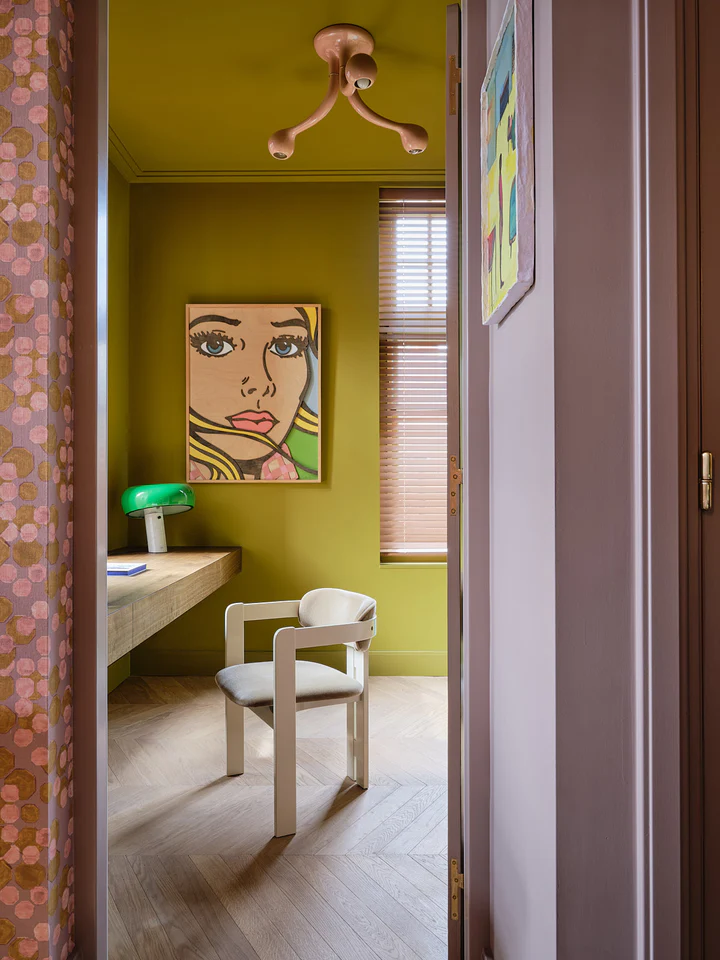 Patterns, patterns, patterns, galore! Patterns, patterns, we want more! You can't mention this style without acknowledging funky prints. Add wall patterns to transform your home into a funky wonderland! If you're feeling loud and proud, and you're ready to dip into your flower power, add this Groovy Wallpaper from Happy Wall. For a more subtle look, let this Geometric Wallpaper grace your living room walls, or add this vibrant Navy backsplash to your kitchen from Burke Décor! Eye-catching colors and shapes and geometric patterns, these patterns will help add flair:
Checkered
Retro Stripes
Terrazzo
Kaleidoscope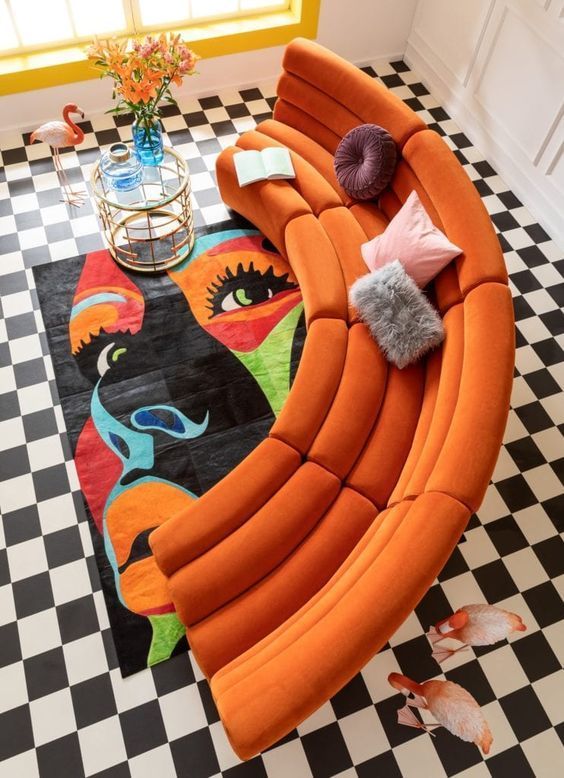 Art + Décor
When placing art to embody retro, think big! The Retro style isn't complete without abstract art. Oversized paintings, especially abstract, gives off that energetic vibe from the 70s. Pop art is an easy way to bring this trend into your abode. Add some color with this Colorblock Set from West Elm. But remember, that abstract piece does not have to be confined to your walls! Utilize different-shaped items like this Wavy Rug from Design Within Reach for an understated addition.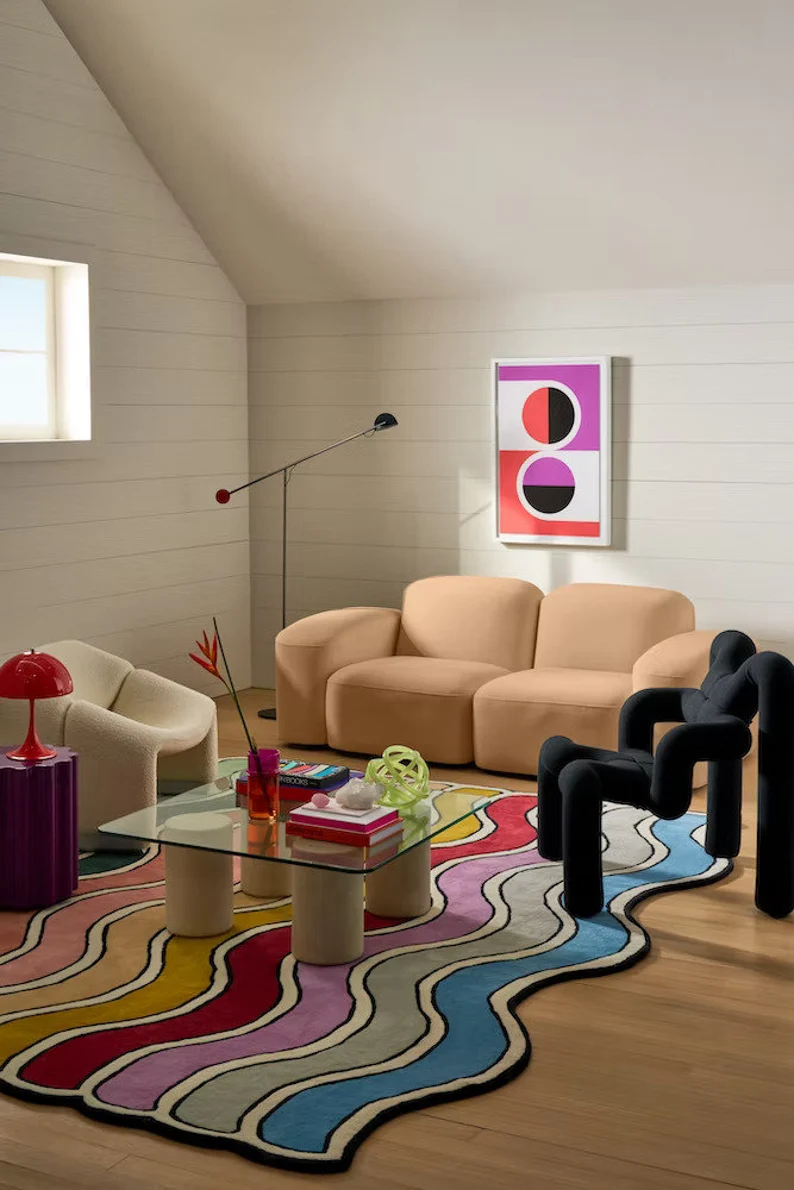 Unusual shapes and color combinations are the norms for this style. Incorporate textures like leather, velvet, plastic, and metal to encompass that nostalgic feeling. Have an open walkway? Add this Bamboo Decorative Curtain from Burke Décor to transport your room back in time. This metallic Kartell Stool from Bloomingdales offers unique seating for you and your guests. This style is not limited to your décor. Add it to your everyday life with this Smeg Drip Coffee Machine from Neiman Marcus! Opt for either Cream, Red, or Pastel Green to fit the Retro feel perfectly. Like every trend, there is always a comeback. According to Business Insider, vinyl records were 70% of all physical music sales in 2022. Millennials and Gen Z are flocking to stores to grab their own vinyl record player to live out their retro dreams and encounter a sense of nostalgia that their parents and grandparents experienced.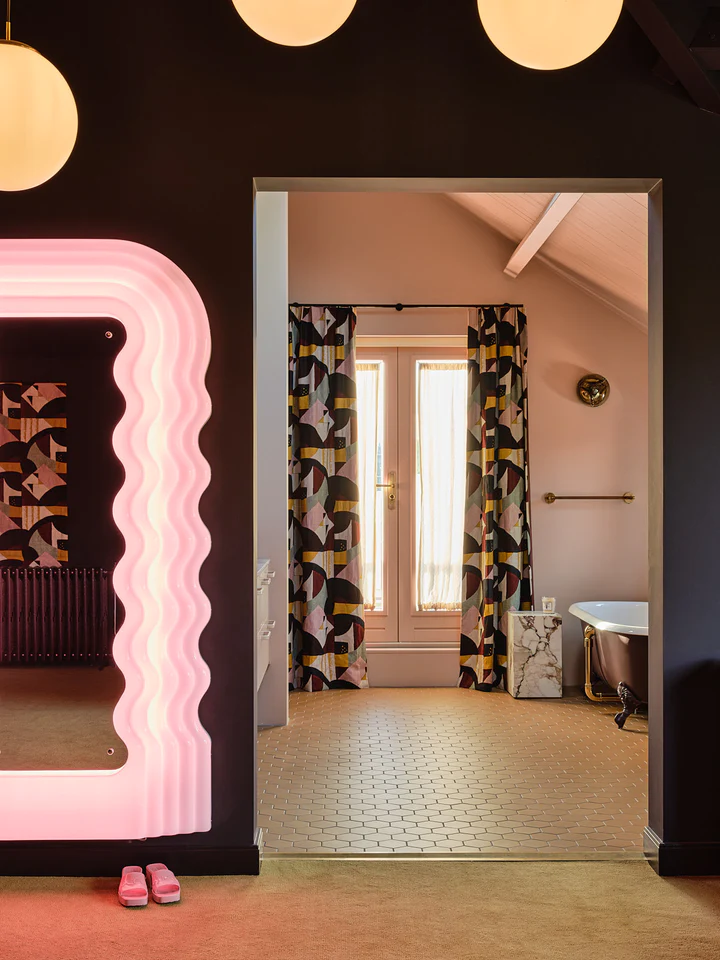 There are so many different ways to incorporate Retro interior design into your space so grab something new or something borrowed, it's up to you!
For Inspiration check out our Retro Interior Design Board and make sure to follow us on Instagram and Facebook @WeAreWoodgrain!