Victorian Homes and Keeping Their History Alive
Victorian interior design emerged during the reign of Queen Victoria—the name a nod to Her Majesty—and greatly influenced design trends across Europe and America. Victorian style is known for its ornateness, orderliness, and eclectic approach by compiling different textures and materials into one gorgeous motif. Due to the Industrial Revolution years earlier, the world saw a boom in technological advancements. Factories quickly jumped at the ability to manufacture furniture, moulding, and fabric easily and cheaply. For the first time in many people's lives, they could get everything they wanted in their homes. As a result, art, décor, and furniture pieces were placed in every corner, along with moulding, elaborate curtains, whimsical wallpaper, and more! From there what we know as Victorian interior design was born.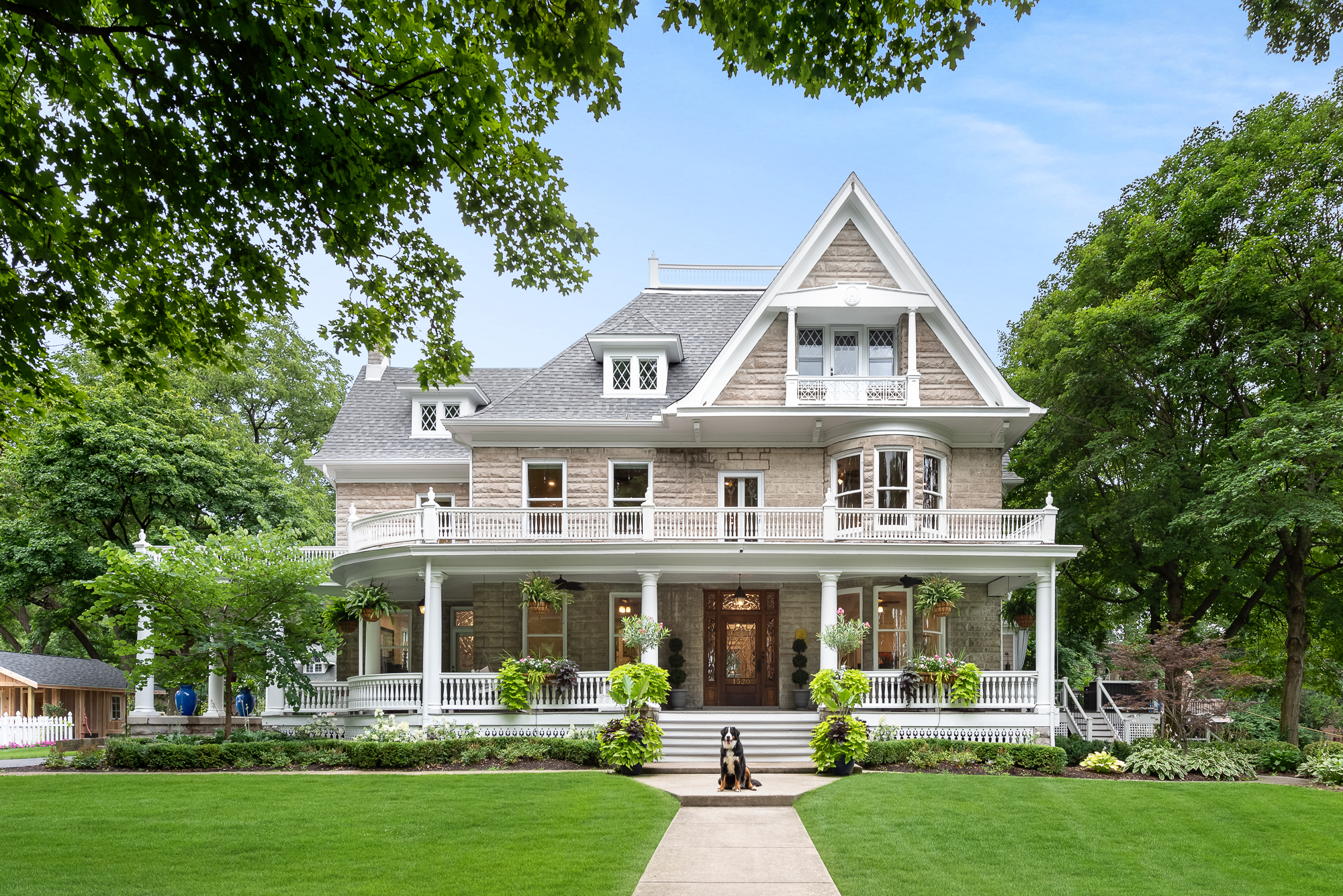 What is Victorian Architecture
Victorian homes are everything opposite of what modern-day homeowners are looking for: small odd-shaped rooms, closed floor plans, historic architecture, and traditional design. Picture a Victorian home, and you'll likely envision a multi-story structure with a complexity of forms and textures. The exterior is a symphony of details, featuring a mix of steeply pitched roofs adorned with intricate gables, ornamental brackets, and woodwork. The high-pitched roofs, often punctuated by pointed gables and turrets, create an imposing verticality, while bay windows and balconies add both charm and character. These homes boast an array of textures and materials, from brick and stone to wood siding, creating a visual tapestry that's both inviting and richly textured. Large windows serve as essential elements, welcoming ample natural light while adorned with decorative accents that add elegance. The distinctive stained glass, a hallmark of Victorian design, transforms sunlight into a captivating display of colors, creating a timeless and enchanting effect that bridges the indoor and outdoor worlds.
The interior is a maze of small yet uniquely shaped rooms, a stark contrast to the open floor plans of today. Moulding traces the contours of walls and ceilings, serving as a testament to the era's dedication to craftsmanship. Elaborate ceiling designs command attention, often featuring intricate patterns that draw the eye upward. Rooms are interconnected through elegant archways and supported by stately columns, creating an air of sophistication that permeates every corner. If you could boil down the Victorian style to one word, it would be opulence. Reflecting the societal status at the time, this style showcased the best of the best. Overall, the Victorian interior is lavish and attentive to detail, reflecting the affluent and prosperous nature of the era.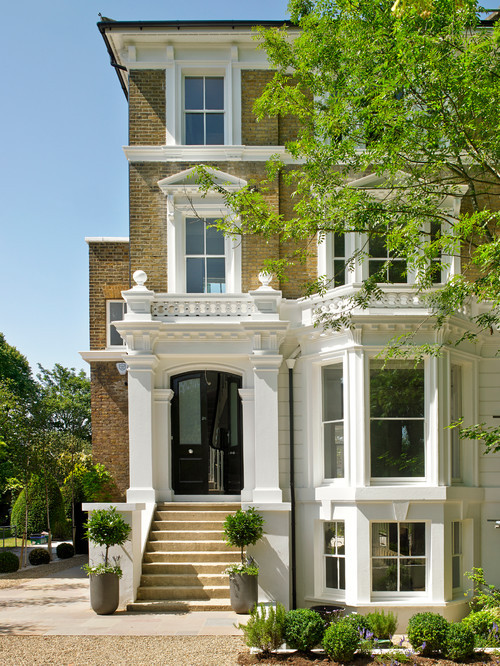 Make It Your Own
Doors
In this style, panel doors are commonly used in the main entrance and bedrooms, and feature raised or flat panels, giving them a classic look. Victorian-styled panel doors come in all shapes and sizes. A door like 5553 or 5703 features gracefully curved panels that exude luxury. The gentle curves of the panels add fluidity to the door's appearance, creating a visual contrast to your entryway. French doors often graced the entrances to living rooms and parlors, where they created a seamless transition between these formal spaces and adjacent areas like gardens, balconies, or verandas. The glass panels allowed abundant natural light to flood the interiors, enhancing the overall ambiance and offering glimpses of the outdoor scenery. In grand Victorian homes, formal living and dining rooms often featured pocket doors. Fun fact, pocket doors were born in this era. These doors slide into a wall cavity when opened, saving space and providing a seamless transition between rooms. Specifically made for the Victorian aesthetic, they were entryways to libraries, sitting rooms, and dining rooms. Pocket doors allowed these spaces to be enclosed when privacy was desired and opened to the rest of the house when not in use, maintaining an openness. These hidden doors maximize the space and separate floor plans, providing an easy way to divide spaces in your home to stay true to the Victorian style. Panel doors, French doors, and pocket doors provide a way to add Victorian beauty to your home while maintaining the historic structure of the interior design style.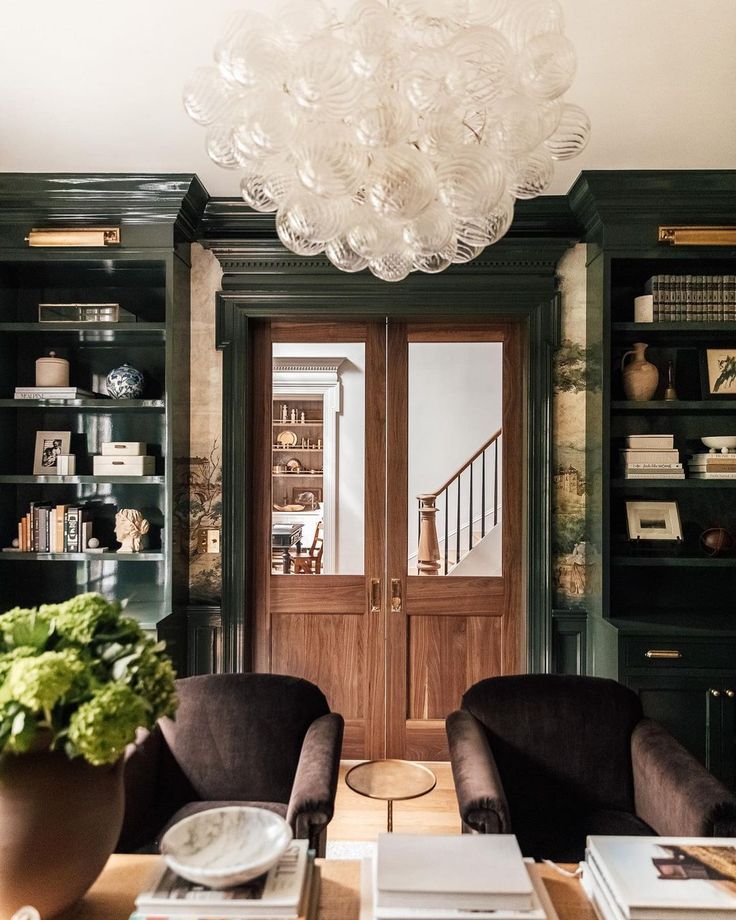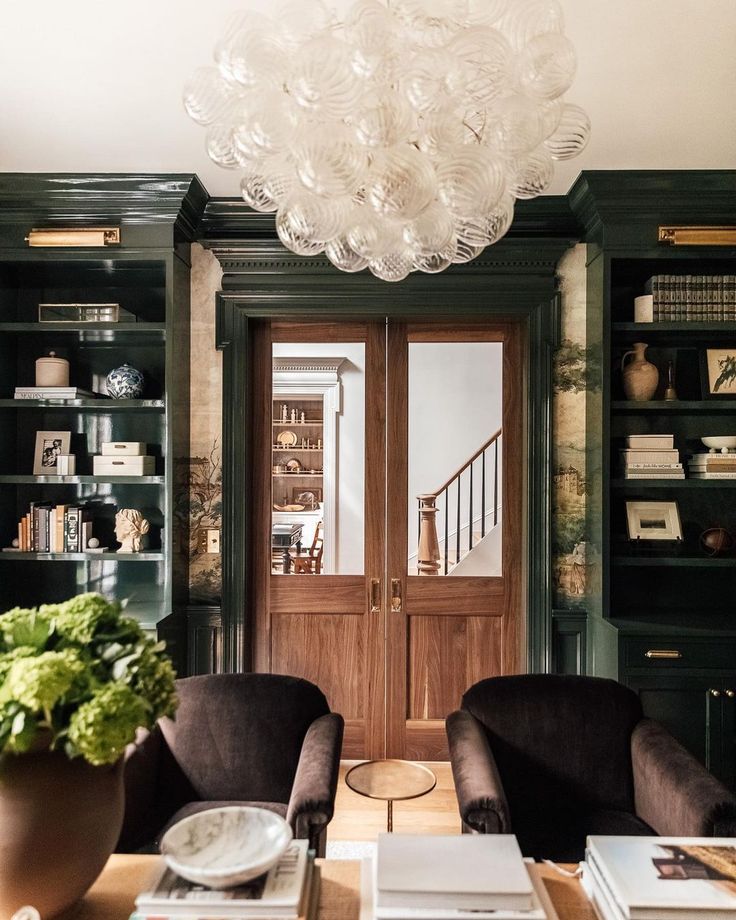 Moulding
One of the most iconic features of Victorian design is detailing and woodwork. Moulding plays a significant role in enhancing the overall aesthetic of the space. From intricate ceilings to wall treatments, the use of moulding adds elegance. Ceilings were often adorned with intricate patterns and designs, showcasing the artistry of the time. These intricate ceilings become a focal point in the room, drawing attention upwards. Dentil moulding, a hallmark of this era, was a popular choice. Fluted casing presents an another excellent option for moulding, featuring its recurring column design that suits this style. This type of moulding featured a repeating pattern of small, rectangular blocks resembling teeth, creating a repeating visual along the edges of ceilings. To further enhance the charm of Victorian ceilings, plinth blocks, and rosette blocks were often incorporated. Plinth blocks served as decorative corner pieces that framed the intersections of mouldings, adding intricacy. Rosette blocks, on the other hand, were circular or floral motifs that were positioned where mouldings intersected or met the ceiling. The combination of dentil moulding, plinth blocks, and rosette blocks created a harmonious interplay of geometric patterns and decorative motifs that elevated the room into a work of art.
In the Victorian style, chair rail and wainscoting went beyond the concept of "accent walls." These elements were indeed widespread, gracing all the walls within a room rather than being confined to a single wall. Chair rail, positioned horizontally along the wall, and wainscoting, which covered the lower portion of the wall, were consistent design features that contributed to the cohesive and elaborate character of Victorian interiors. Their presence throughout the entire room added not only texture and depth but also intricacy to the overall decorative scheme. These elements were essential to Victorian interior design, embodying the era's dedication to detail and refined aesthetics. This Victorian Elegance collection was specifically curated to mimic the traditional moulding that was found in Victorian homes. Overall, moulding in a Victorian home helps to preserve historic characteristics while adding visual interest to the room.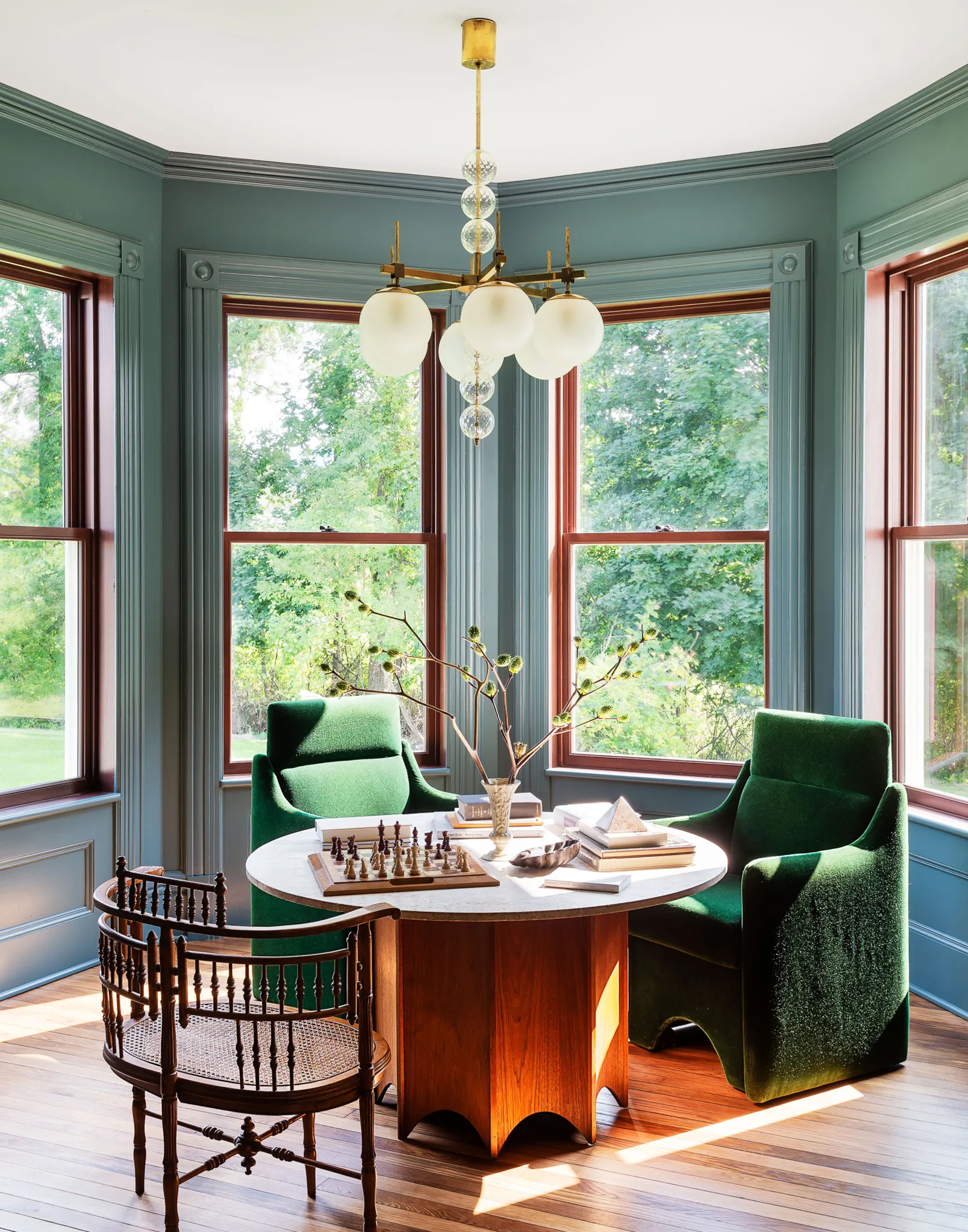 Embrace Bold Colors and Patterns
In this style, colors are masterfully utilized to create an atmosphere of splendor. These rich hues were pervasive, adorning walls in deep tones such as burgundy, forest green, navy blue, and sumptuous red. These colors found their way onto ceilings as well, where intricate patterns with gold and metallic accents elevated the lavishness of the space. Extend those colors to fabrics, where upholstery, curtains, and draperies display intricate patterns and rich colors, to create a tactile and visual delight. Hardwood floors embraced the era's palette, stained in deep shades that harmonized with the overall ambiance. Furniture, too, played its part, often draped in luxurious fabrics with patterns, or carved in dark woods to accentuate the grandeur. Here are three wallpaper options that can add Victorian elegance to your space:
Damask: rich, intricate patterns and a deep color palette. The symmetrical motifs and ornate details will channel the opulence of Victorian design, while the textured finish adds depth and visual interest to the walls.
Floral: floral wallpaper featuring lush, realistic blooms. Look for patterns that harken back to the era's fascination with botanical motifs. The interplay of intricate flowers and scrolling vines will infuse your space with the romantic charm that characterizes Victorian interiors.
Toile: showcases narrative scenes against a solid backdrop. Toile patterns often depict pastoral or historical scenes, capturing the era's love for storytelling through design. This wallpaper choice will bring visual intrigue to your room.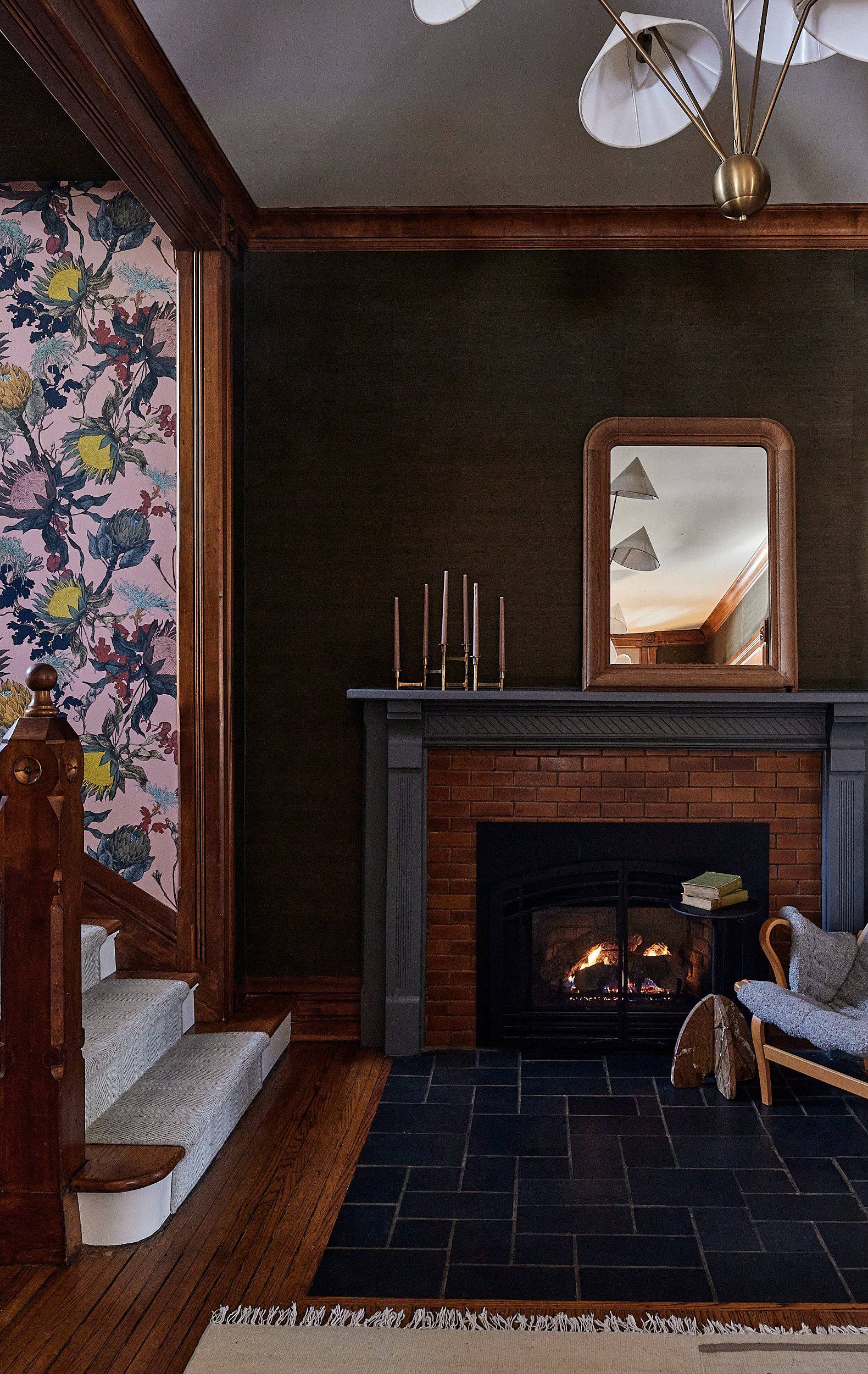 Fabric
Velvet, silk, and brocade are popular fabric choices in Victorian interiors. Brocade is an elegant design with a Gothic influence, like the damask pattern. It is a rich fabric with a raised pattern, typically colored silver or gold. Instead of using it in fabric, go outside of the norm, and add it as a wallpaper within a picture frame accent wall. Victorians loved layering different textures and patterns in their interiors, so don't be afraid to mix textures and patterns like silk, velvet, and lace. The true magic happens when these textures come together in your space. In your living room, elevate your furniture with the plushness of velvet, creating an atmosphere of refinement. In the dining room, let the daylight shimmer through silk curtains, infusing the room with grandeur. Embrace the Victorian tradition of mixing textures and patterns by layering silk, velvet, and lace in cushions, drapery tiebacks, and decorative items. This fusion of textures encapsulates the essence of Victorian design, enabling you to curate a living space that resonates with the lavish charm of a bygone era.
Furniture
Preserve the Victorian style by updating your furniture. To achieve this look, start by selecting key pieces of Victorian furniture that complement your existing modern decor. Look for embellished details, rich wood finishes, and plush upholstery to capture the essence of Victorian design. Mix vintage Victorian furniture with your up-to-date pieces. This produces a balanced and eclectic look that is unique to your style. If you already have a couch you love, reupholster it in a Victorian-inspired fabric such as velvet or brocade. This instantly transforms the piece and ties it in with your overall design scheme. To incorporate this style in a smaller way, add pieces such as accent chairs or side tables. For example, an "etagere." An etagere (another Victorian-era creation) is an open shelving unit often made of wood and metal, perfect for displaying decorative objects. These pieces add just enough Victorian influence without overwhelming your space. By carefully selecting and integrating Victorian-style furniture like an antique armoire or a chaise into your modern home, you can make a truly stunning and unique interior that combines the best of both worlds.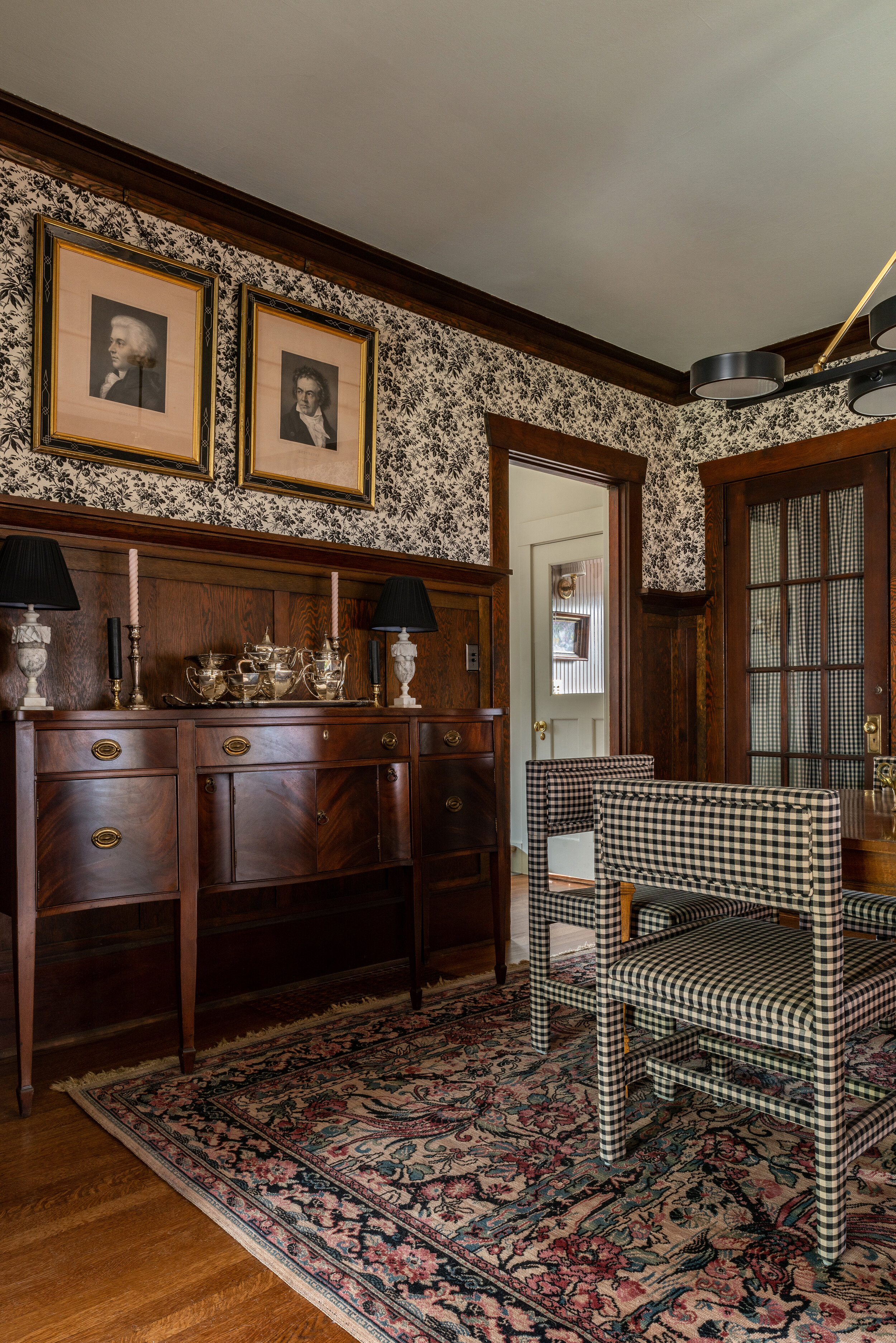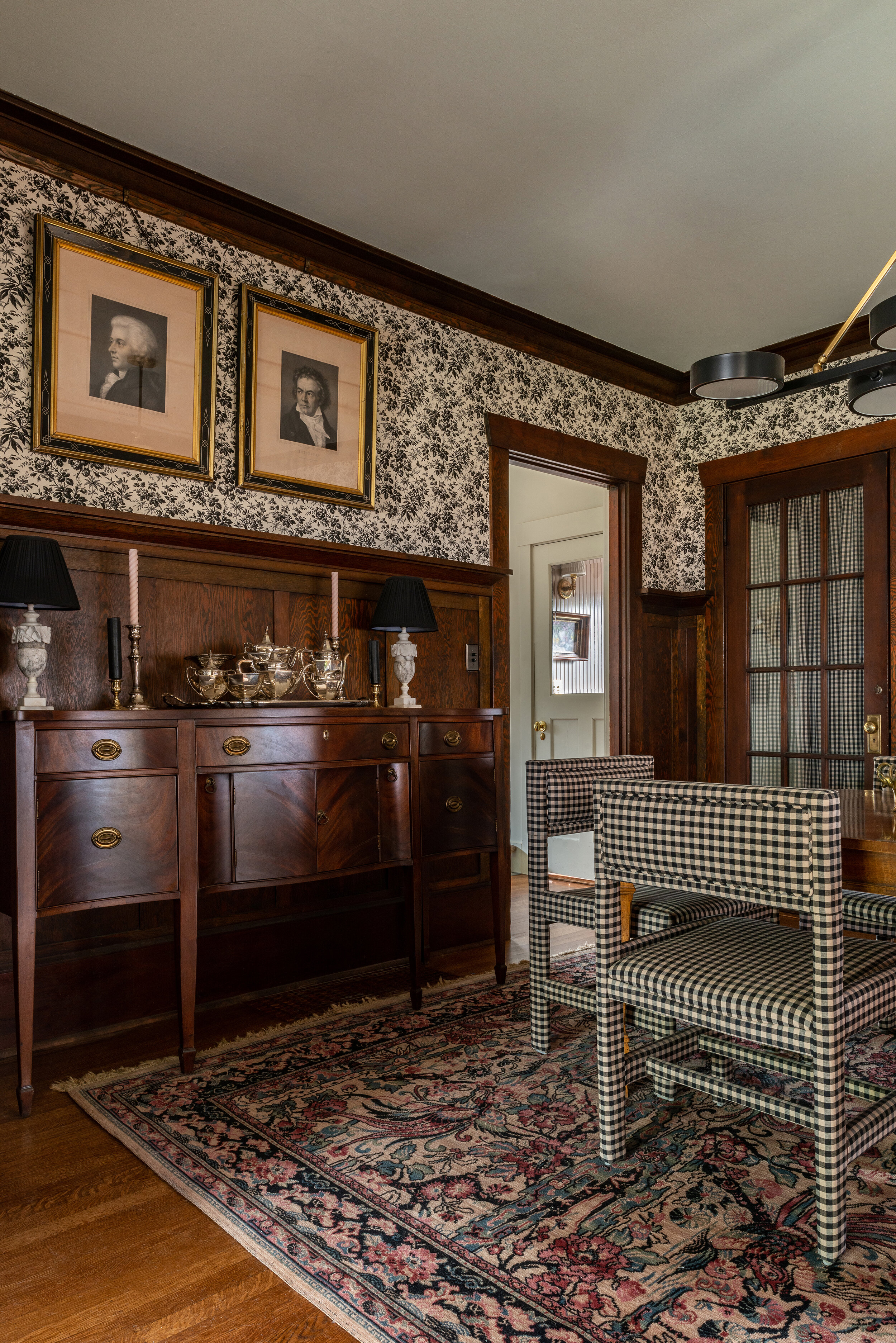 More and More Décor
Channel the essence of the Victorian era into your living space by immersing yourself in the finer points. One approach is to introduce paintings that mirror the intricate detailing and romantic themes characteristic of Victorian artistry. Seek out artwork that boasts intricate imagery, vibrant hues, and subjects reminiscent of the Victorian age, like landscapes and portraits. Another pivotal aspect involves your choice of lighting fixtures. Elevate the room's ambiance with crystal-adorned chandeliers or wall sconces featuring intricate metalwork, instantly transforming the space into a Victorian-inspired haven. Infuse a hint of romance and femininity with vases showcasing delicate floral arrangements. Additionally, pay attention to your table settings. Embrace vintage-inspired china, silverware, and linens to encapsulate the very essence of Victorian style. Here are a few décor options that will allow you to effortlessly incorporate Victorian style:
Lavish Picture Frames: Highly decorative picture frames adorned with intricate patterns and designs showcased family portraits and artworks.
Collectibles: Victorian interiors were known for their collections of unique items, such as exotic figurines, sculptures, and small decorative objects.
Crystal and Glass Ornaments: Crystal vases and chandeliers, glass figurines, and decorative bowls graced mantels and tables, adding a touch of sparkle and luxury.
Bookcases and Shelves: Wood-carved bookcases and shelves housed a mix of books, collectibles, and decorative objects.
Lampshades and Tassels: Lampshades adorned with tassels and fringe added a touch of luxury to lighting fixtures.
Clocks: Elaborate mantel clocks or wall clocks with intricate woodwork and decorative detailing were often found in Victorian homes.
Remember that when incorporating Victorian design into your home, it's important to strike a balance between modern comfort and historical aesthetics. By carefully selecting key elements that capture the essence of Victorian style, you can create a timeless and sophisticated interior design scheme. For Inspiration check out our Victorian Homes Pinterest Board and make sure to follow us on Instagram and Facebook @WeAreWoodgrain!