Save Time and Money this Holiday Season with DIY Wooden Holiday Decor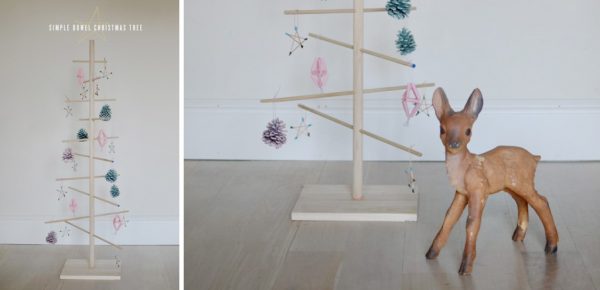 Is it already December? It's hard to believe, but winter holidays are upon us, and my wife has been happily decorating our home for Christmas. Her enthusiasm inspired me to share some easy DIY holiday ideas using wood you may find around your home or that can be purchased inexpensively at your nearby Home Depot or other hardware store.
This first project idea came from a festive purchase my wife just made: a dowel Christmas tree. If you have some basic tools and 30 minutes to spare, you can follow this excellent tutorial from lifestyle blogger Rubyellen of Cakies. Don't have dowels around? For a selection of dowels to purchase for the project, click here.
Did you just replace your old moulding with Finished Elegance? Don't throw it away just yet! Courtney from Diamond in the Stuff recommends using scrap wood and moulding to create a festive Christmas tree. Add different shades of green paint for a quick and fun way to recycle leftover pieces. For a Hanukkah celebration, follow Randi's advice from Sowdering About in Seattle to create an antiqued Happy Hanukkah sign with scrap wood.
Need a centerpiece for family gatherings? Robin from Happy at Home has a quick tutorial for a custom wooden statement piece using scrap 1X4s and 1X2s. She decorated her centerpiece with stones, but you could use wide candles, greenery, or ornaments. A versatile piece, no matter your occasion.
I hope this list inspires you to be creative this holiday season. Comment below to let us know how your projects turn out!