On Nature's: Delivering Quality Bedding with CellPro South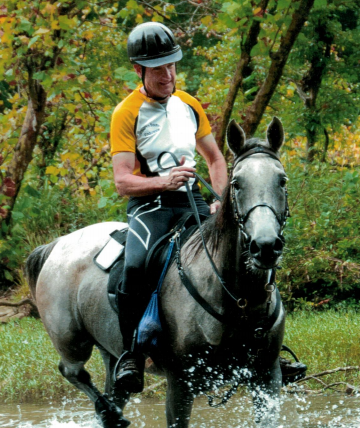 We talked to Matt about his company, CellPro South, his passion for Arabian horses, endurance riding and his most unique customers who just can't seem to get enough of Nature's Bedding.
How did you get started in this business?
Back in 2010 I started CellPro, which stands for cellulose products. I had several horses at the time and was actively riding in endurance events and thought, 'I'll start this part-time business selling shavings and pellets and then that'll sort of help offset the cost of the horses.' Now, I ride occasionally and sell pellets and shavings full time.
Tell us about your horses.
I have two endurance Arabians, Mahogany Rose and Peekaboo Dancer. They have a lot of personality. Arabians are a little high strung for some folks, but I've always enjoyed being around them. They're almost like big dogs. They follow you around and want you to scratch them and rub their heads. I also have a couple of Quarter Horses on my property that belong to my son and his wife.
How did you first get interested in horses?
I was raised on a small farm in Middle, Tennessee. We mostly raised cattle, but I always loved horses. As I got older my dad let me buy one. When I went to college I sold my last horse, but I told myself that I'd get back into riding someday.
When my son got interested in horses, I thought it was a great chance to jump back in. After watching the movie Hidalgo, I wanted to get into endurance riding. At the time I was racing bicycles and I thought, 'that's gotta be easier.'
There is a certain amount of technical skill required to race bikes, but when you introduce a horse into the equation and try to ride far and fast, that's a whole different story. It really opened my eyes to the fact that it wasn't just me that I needed to worry about, which was much more rewarding.
What exactly is endurance racing?
Basically, you have three different distances. You can do 25 miles, 50 miles or 100 miles. You're not doing the distance all at once. You might ride 12 to 15 miles and then stop for a vet check to make sure the horse isn't in any kind of distress. If they see a problem, they'll stop you and suggest you don't continue the race. After 40 minutes or so of rest, you go back on the trail and do another section.
When I started, 25 miles seemed long, but I worked up to 50. I never made it to 100. At my level of competition, you could do a 50 miler in about four to five hours. On the very top competitive level, racers will do 100 miles in not much longer than that.
It's just a thing people love to do with their horses.
Why are you such a big fan of Nature's Bedding?
When you've got the right kind of bedding, it promotes the health and well-being of the animals. If you go to a sawmill, you get shavings that are already pretty wet. That makes the horses susceptible to things like pneumonia. You don't have those issues with dried shavings, like what you get with Nature's Bedding.
My customers really like Nature's Bedding. I've introduced them to other manufacturers' products when I'm out of stock. But, they all refused and wanted to wait until I got more. It's a great product and my people are just crazy about it.
Who are your typical customers for Nature's Bedding?
There are a lot of older folks, particularly ladies and farms, that depend on me to help them get their bedding. I've also got several customers who raise and show guinea pigs.
The reason they like Nature's Bedding is because it's made out of white pine, as opposed to yellow. The people who raise white guinea pigs complained that the yellow pine was turning their animals' paws brown. They insist on buying the white pine shavings because they don't cause any discoloration. I've had clients with guinea pigs buy as much as 25 to 50 bags a month.
What do you like most about what you do?
It would have to be the people. My customers are like family to me. So, when I make a delivery or sales call, it feels like I'm spending time with old friends more so than doing business.
Thank you, Matt, for speaking with us about your passion for horses and for being a Nature's Bedding distributor.