Nursey Accent Walls
Decorating your nursery is a very personal and special aspect of having a baby. Parents spend a lot of time in their nursery so it's important to make it a space you truly enjoy and will feel the most comfortable in. Accent walls are a relatively low-cost way to make a big impact in your nursery room by creating a focal point in the space.
But where do you even start when it comes to deciding what design to go with? If you know you're planning to stay in your current home for a while, consider designs that your baby can actually grow into. Don't think this means your baby's room needs to be boring, quite the opposite. One of the best things about designing a nursery room is that they are meant to be a little more playful, you can really tap into your inner child when coming up with the design. There are so many cute themes you can find on websites like Pinterest.
Shiplap
Shiplap is a great option for a nursery room, especially if you are going for a more farmhouse or seaside theme. Not a fan of the farmhouse or seaside look? There are also many ways to incorporate shiplap into a room that aren't the traditional designs you typically see. Try painting each panel to create an unexpected ombre look in the space. We have a step-by-step guide on out to make a shiplap accent wall yourself here.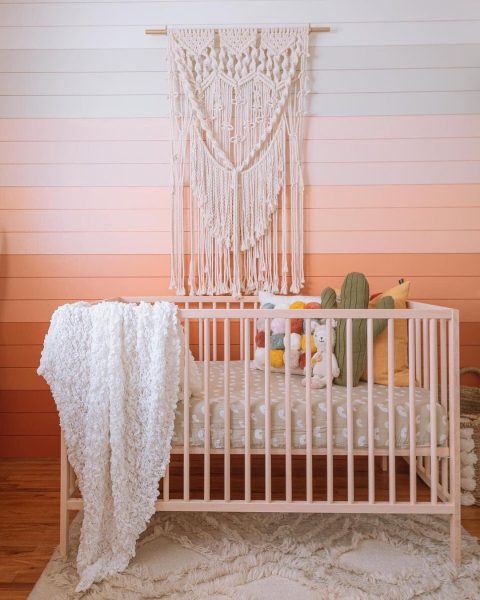 Mix Cute Wallpaper with Moulding
People already know and love the adorable wallpaper you often see in nursery rooms. For a more elevated, sophisticated look, add moulding to go with wallpaper you're already planning to put up. Use picture moulding to frame the wallpaper or add wallpaper to the top half of a wall and wainscoting to the bottom half. This will bring more dimension and texture to an otherwise flat wall.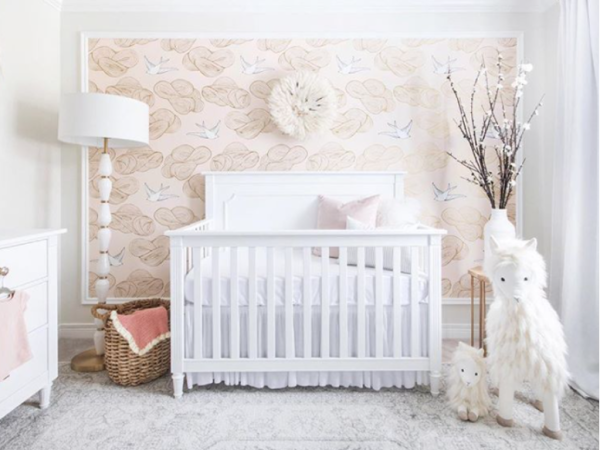 Slat Wall
If you are looking to do a more modern look for your baby's nursery a slat wall is a great option. Slat walls are an especially perfect DIY project for parents who are looking to complete an accent wall quickly or have never done one before. We created a step-by-step guide on how to make one that you can find here.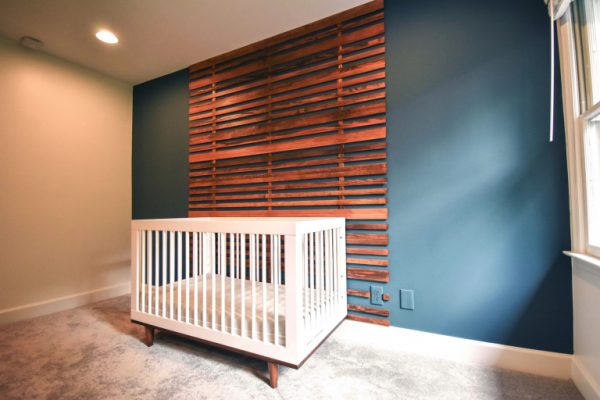 Dark Tones
Darker colors have been popping up in nursery rooms lately. Sage green and navy blues are replacing the light colors you typically see. If you're going with a darker paint color try creating a simple geometric accent wall design. When picking out a crib, be sure to choose a lighter color to keep things balanced.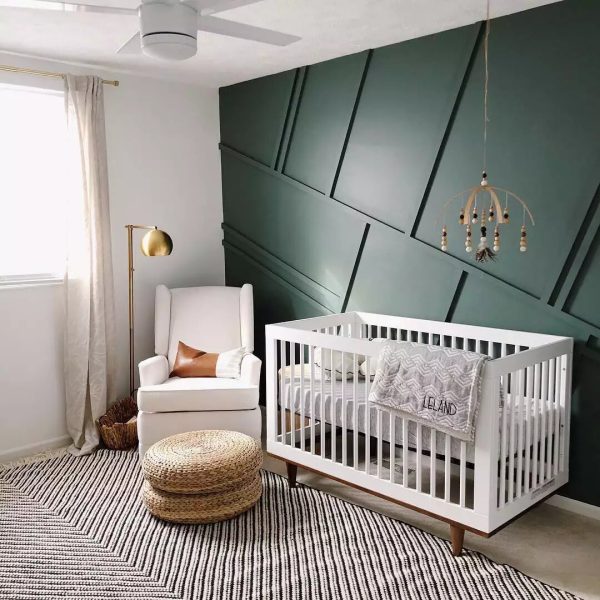 For more tips and home inspiration, follow us on Instagram, Pinterest and Facebook! @WeAreWoodgrain