How To: Boho-Chic Design
A Little History
Boho-chic is just that, Bohemian style with more glam and elegance. When you hear the name, you immediately think of eccentric artists and hippies with long skirts and flowers in their hair. The style is so loved not only for its astounding fashion but also its interior design style and art. It's meant to be whimsical and romantic while also being comfortable. Boho-chic is heavily focused on the use of woven materials, funky bold furniture, rich wood tones, exotic patterns, and so much more!
The Bohemian style emerged in the 19th century and took the world by storm with its irregular design. Originating from the Romani nomads, this style is everything the typical standard of visual appeal isn't. It embraces an eclectic, creative, and unconventional design. This style is truly timeless with its dreamy motifs and emphasis on self-expression, and continues to secure its spot as a loved design style.
Hues For You
This style uses natural and bright colors but also uses muted, tranquil colors. Boho Chic mixes different culture's forms of art like metals, wool, and wood to create a carefree artistic feel. Mixing and matching different materials and colors are a staple for this style. Boho-chic does not have any unbreakable rules; you are free to design an overall look as complicated or as simple as you wish. Warm earthy colors are common bases like Barely Beige. Add bright colors like Orange, Brilliant Blue, Crushed Berries, and Yellow Hibiscus for a vibrant feel. If loud and proud isn't your style, choose subdued and natural shades like Wind's Breath paired with Oak Grove and Drift Wood.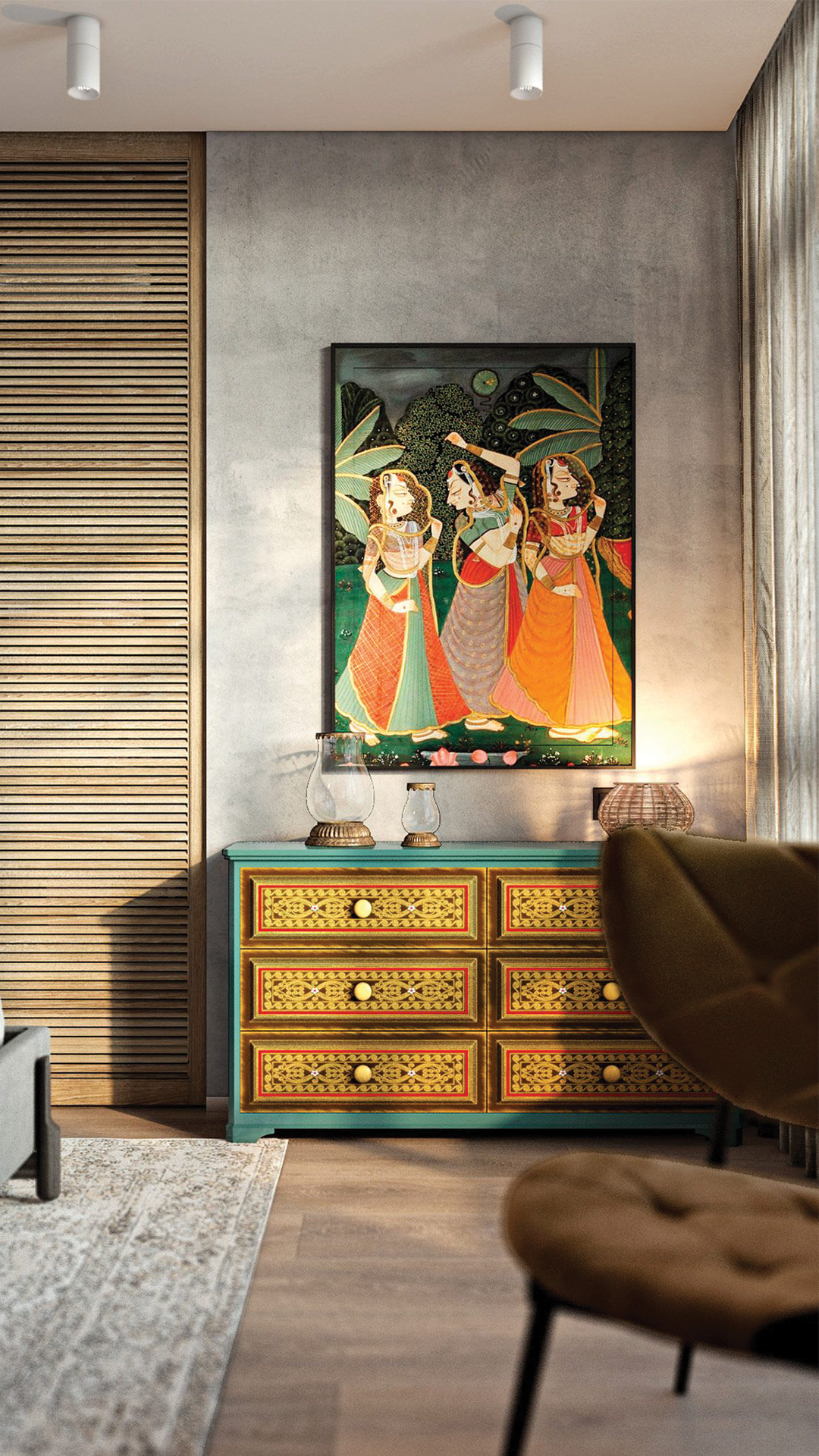 The Feels
Many examples of Boho-chic include numerous amounts of patterns and textures in one room. Patterns and textures are essential to this style and embody the essence of the Bohemian art form. The Boho-chic style takes from organic elements and nature. Paisley print mixed with geometric patterns and florals add that eclectic feel to the room like this Paloma Shower Curtain from Pottery Barn. Yes, you can even add this style to your bathroom. For a more muted feel, adding a piece like this Harland Modern Brown Cowhide Rug from Burke Décor will add the Boho-chic flare without overpowering the space.
One thing about the Boho-Chic style is that it looks well-traveled and experienced—much like its origin—so opt for a more "well-loved" look. Adding woven materials that look slightly worn exudes a "homey" feel to your space. This woven Panama Mirror is the perfect example!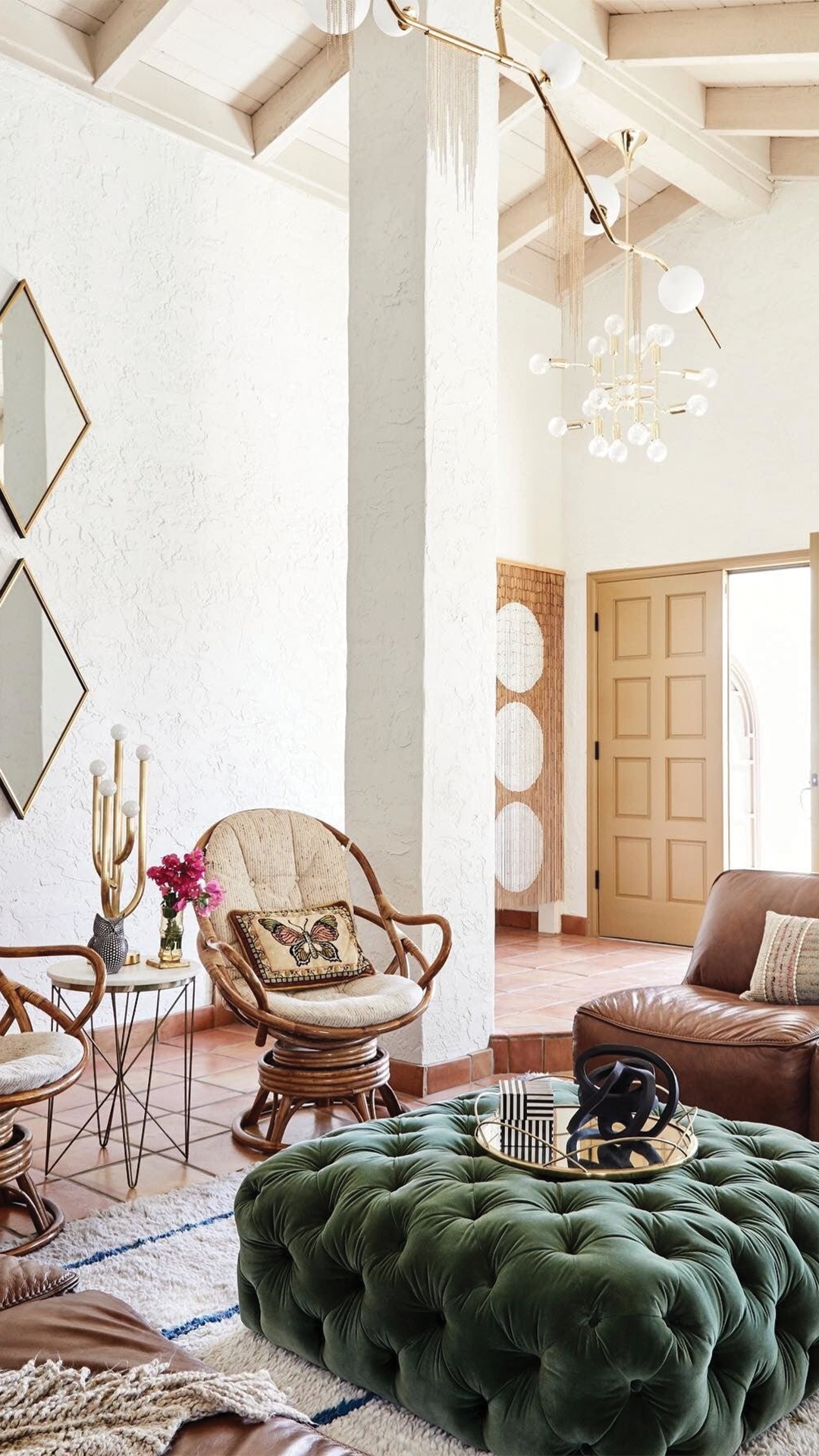 Do-It-Yourself
You can recreate this timeless style in your space today. Think low couches, plush vibrant pillows, linen and macramé, and patterned rugs.
Woods + Doors
Adding wood is the way to go with this style. Rich colored wood like Walnut or Mahogany creates contrast with the Boho-chic interior design style. Teak wood is commonly used in this style for its durability and elegance. With its teak wood base and rattan-covered doors, add this Dolores Teak Buffett to complete your overall look.
Aside from wooden furniture and décor, doors are a great alterative to introducing wood elements into your home. Doors can be an essential part of giving your space the atmosphere you want and are the entry point to every room. Selecting doors like 5021 or 5114 will transport your guests into your Boho-chic paradise.
Furniture + Décor
Make sure you incorporate the perfect amount of Boho and chic to tie this design together. Add a few varying textured throw pillows to your couch or lay a patterned rug to add an extra dynamic. The well-known brand Anthropologie is the leading brand in Boho-chic style, a brand focused on the personal approach to creating harmony in a home. Shop their home collection for inspiration.
Get inspired by the world around you! Instead of a typical wall print, choose a tapestry that sparks life into the room. Run to your local craft store and create your own woven masterpiece to add to your home. Hang a glamorous chandelier in the dining room or add dainty unique vases throughout your home.
Two words: travel trinkets! Any souvenir you can pick up from different parts of the world or even the different parts of the city you live in fit the Boho-chic aesthetic! Placing small décor like trinkets creates a personality for your abode.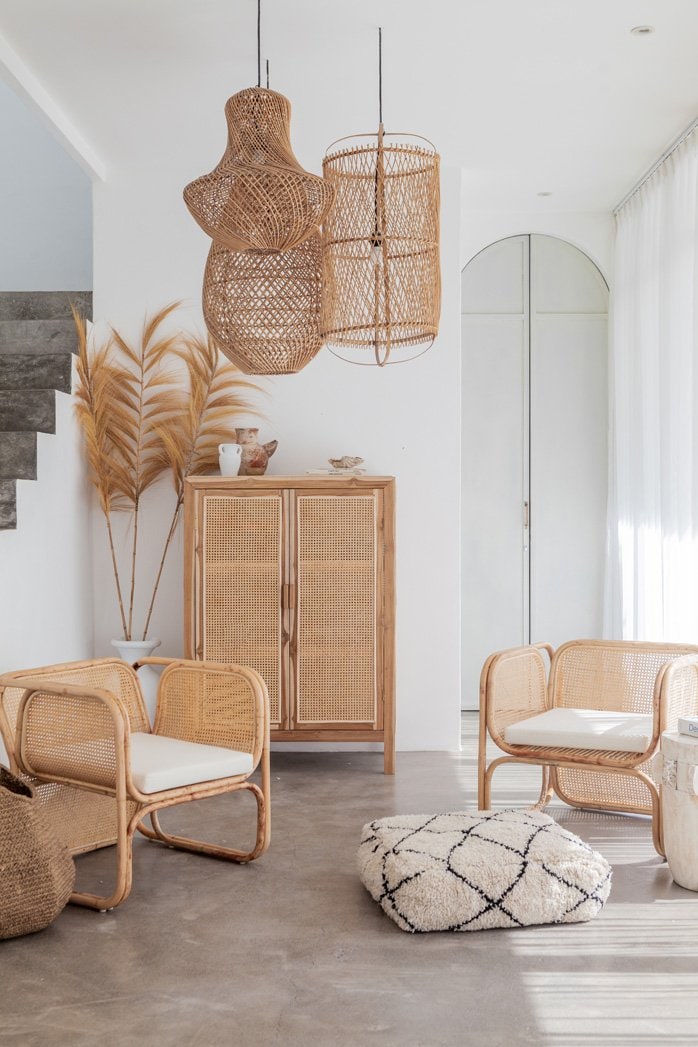 Whether you lean more towards being bold and colorful or muted and chic, Boho-chic is a style that can be transformed to fit your taste! It's whimsical and romantic while also being comfortable. It embraces an eclectic, creative, and unconventional design. It's meant for someone who wants to showcase self-expression through their interior style!
For Inspiration check out our Boho Chic Pinterest Board and make sure to follow us on Instagram and Facebook @WeAreWoodgrain!