Creating the Look with GordonDunning Interior Design: Light & Lovely Living Room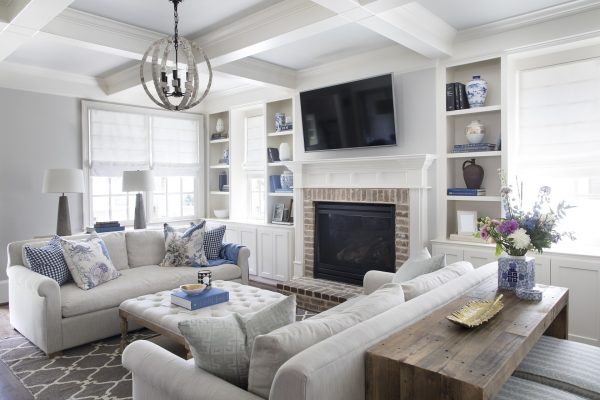 HH: Talk a little bit about the client's vision and how you brought it to life.
Cate: This client is ultra-neutral. Not scared of color, but definitely against it. So, one of the things that was really important in this space, and why molding is so important in this space, is that when you lose color it's almost like losing a sense that we use in our bodies like sight, smell or taste. So it's like your other senses need to be heightened.
If you take away the coffered ceiling, fireplace and built-ins, the space becomes very bland and one dimensional. So, this living room really needed all of that texture and interest.
Lathem: Also, this was a new construction, so it needed an architectural sense of place.
Cate: Yeah. Originally, the space was just drywall, drywall, drywall and gray. It was a bummer.
HH: What are your favorite details about this space?
Cate: I love that the built-ins are surrounding a window, rather than the built-ins happening and then a window being a second thought. It's more composition altogether.
Lathem: Sometimes the work can be badly placed in a space. It's really important that the moulding is thought of in a cohesive project; and I think that's here.
HH: What was your thought process behind the light fixtures?
Lathem: There are three main light fixtures in this whole space because the living room and dining room are completely open to each other, which are completely open to the kitchen that needed pendants in it. So, that was an interesting challenge to make sure that the lights were pretty but didn't fight with each other. The homeowner really did not want any of the lighting to be overly stuffy, fussy, fancy, any of those –
Cate: Really bad words for pretty.
HH: How did you come up with facing the sofas toward each other, as opposed to pointing them towards the TV?
Cate: We kind of all came together on that.
This is the main entertaining space, and this client entertains a great deal. So, we designed it so that they'd face each other for a more conversational function.
We also included—you can see in the bottom right corner of the photo—there are two tiny benches. Those can be pulled out and used as an additional pair of seats. So, if the event is something like football-watching party, then it kind of rounds out the space to be able to watch television if someone really needs to be straight on and can't live without watching their game-winning touchdowns.
Lathem: And not every sofa would work for this configuration. This space kind of chose this configuration because it's very shallow. So, in order to have more than just one sofa in the room, so you could only have two or three people, they had to face each other, but we had enough space that it could be really deep.
If you take those back cushions off, it's almost the size of a twin bed.
Cate: We really had a good time with pillows in this room, as you can tell. We love getting floral any time we can. So, we love the hand-blocked pillows by Kari Fisher Designs, a local artist here in Atlanta.
HH: How do you deal with keeping the light colors clean?
Cate: We used an outdoor fabric on those. You can pour bleach all over those sofas.
Lathem: Thank goodness for outdoor fabric.
HH: Thanks for your insight ladies!
Stay tuned for future blog posts as Cate and Lathem share their perspectives on designing an open-concept kitchen and "fresh traditional" bedroom.