DIY Accent Wall: Victorian Diamonds
If you're obsessed with the Victorian look, this accent wall is the perfect addition to your home!
Watch our video and follow the steps below!
New to accent walls? Check out our DIY Accent Wall: Quick Start blog post to learn the basics!
Materials:
Boards: Stop and Base

Caulking (2 tubes)

Caulking gun

Measuring tape

Level

Spackle, joint compound, or wood filler

Paint (1 gallon)

Nail gun and finishing nails (2" nails)

Paper and tape to cover up areas for paint

Saw to cut moulding

Paint sprayer or brush and roller

Sandpaper/Sander (220 Grit)
Profiles:
No. 254: 1/2" X 3/4" X 16' Primed Finger Joint Pine
No. 268: 1/4" X 1 1/8" X 16' Primed Finger Joint Pine
Linear Board: 187' (10% added to linear board feet to cover waste and board off cuts)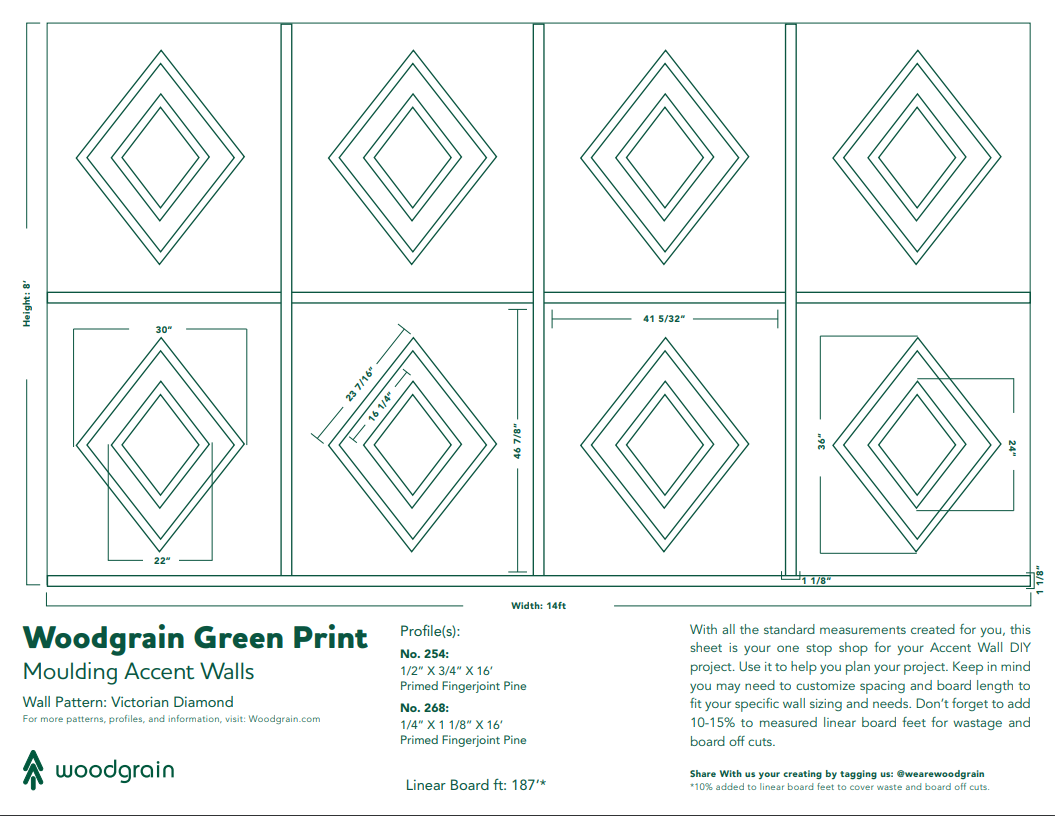 Use this Green Print as a guide, but feel free to be creative with your design! Note: the size of your wall and the moulding used will affect the placement of the moulding.
How to install: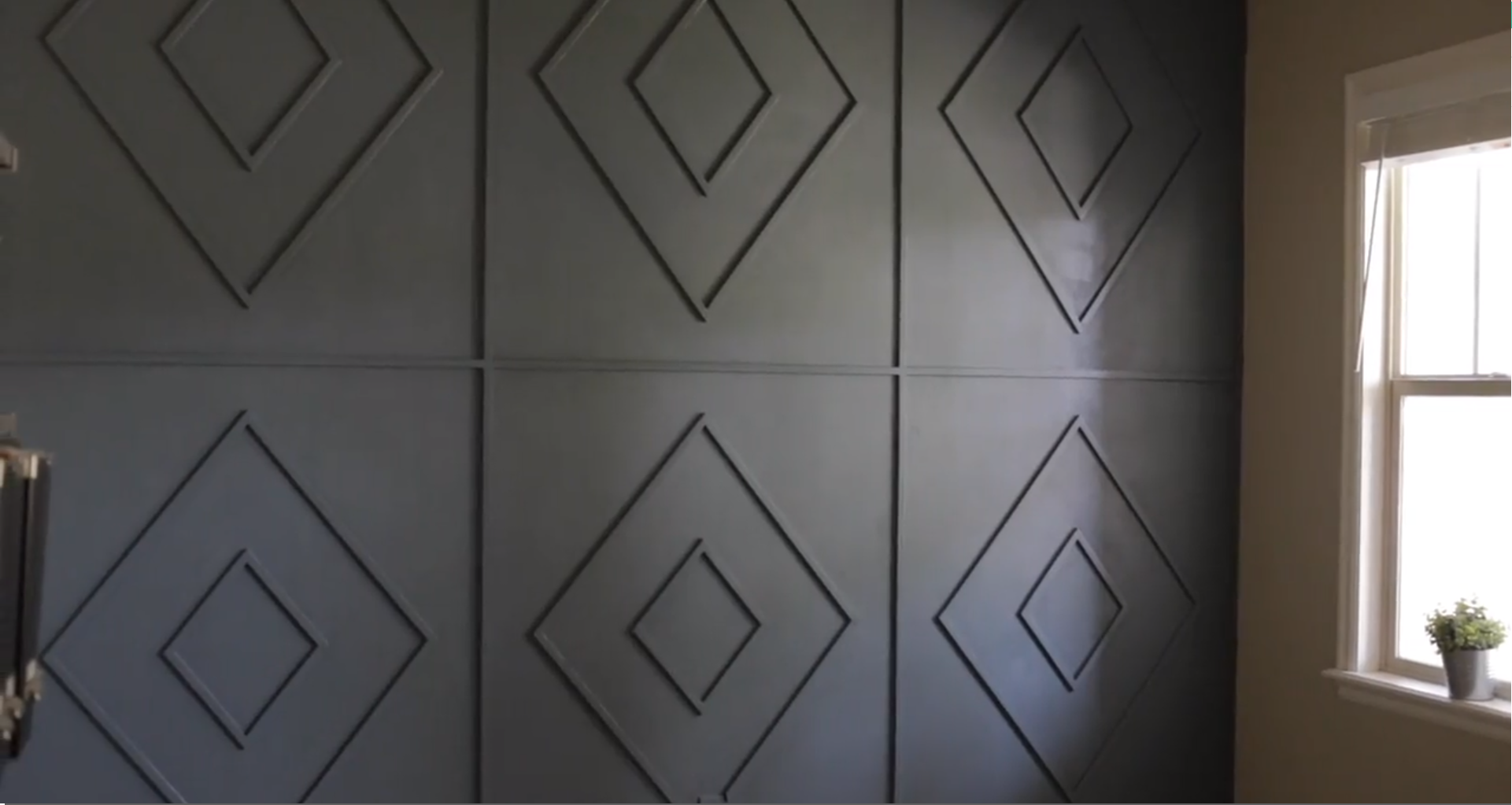 Step 1: Choose your wall and moulding
Identify the wall you will be working on and determine the style of moulding that would best fit the space.
Step 2: Measure everything
Make sure you measure the length of moulding you need before you buy it to ensure a great end result. For example, if you need a 8 ft long piece but buy 1 x 6 ft boards, you will have to combine pieces together and the end result will not be as smooth.
Measure the wall height and width, and make sure you take into consideration outlets, windows and light switches. This will help you get a feel for the board footage needed and where to cut your moulding. We recommend adding 10-15% board feet for waste and board cuts.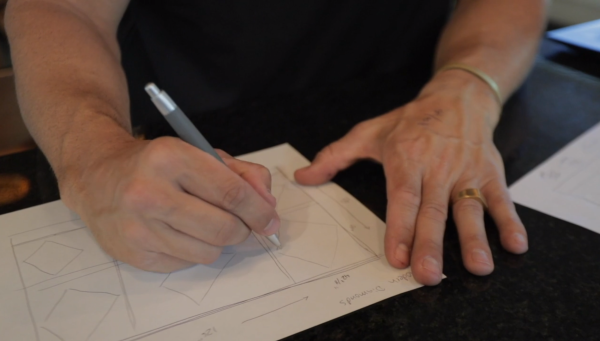 Determine your desired spacing for the rectangular boxes surrounding each diamond. You can create as many, or as little boxes as you want. We chose to split our wall into 6 rectangular boxes, and we applied two diamonds within each other in each box.
For the diamond design, we decided on a taller, more vertical diamond shape rather than making the diamonds the same length on every side. Feel free to change up the lengths to fit your preference.
Step 3: Mark it up
Mark the wall where moulding will be placed to get a visual of how the moulding will look. Don't be afraid to draw on your wall, since you'll be painting over it anyways. Using a laser level can help you project lines onto your wall.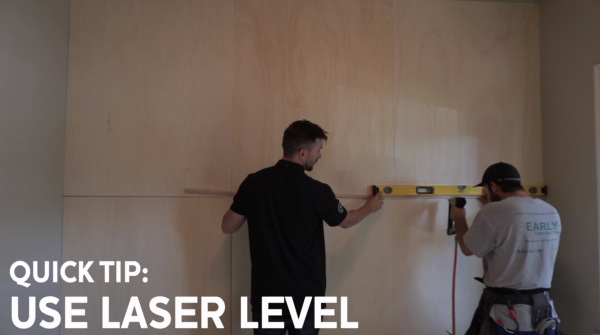 Step 4: Cut your moulding
Cut the moulding needed for your design, including the baseboard.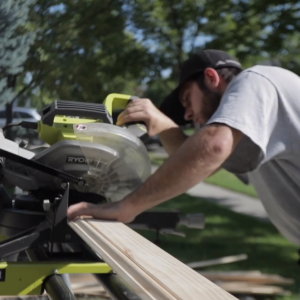 Step 5: Apply your baseboard
Start by applying your baseboard, as this will help you keep your lines straight.
Step 6: Apply the rest of the moulding to your wall
Apply the rest of the moulding to the wall by using a nail gun with finishing nails. We recommend using 2" nails to secure the moulding profile for long term wear and tear. Keep in mind you're going to have to finish the moulding with caulking and putty so the fewer nails the better for less work on the finishing process.
Step 7: Fill in the gaps
Caulk all the seams to fill in any gaps and apply putty to all of the nail holes. This ensures a completed look. Sand any areas if needed.
Pro tip: cut your caulking tip at a 45-degree angle for easier application.
Step 8: Paint your wall
If using a paint sprayer, keep 1.5 to 2" of space between you and the wall for consistent application. Be sure to apply paint in the corners and the underside of moulding profiles.
If painting by hand, pay extra attention to the bottom sides of mouldings and corners where mouldings meet.
Step 9: Enjoy your beautiful Victorian Diamonds accent wall!

Photo: Victorian Diamonds Accent Wall on 12 x 8 foot wall
Helpful tips when creating an accent wall
Choose a balanced, unobstructed wall that stands out.

Choose rooms or spaces where you want to make an impact. Bedrooms, living rooms and entryways are great spaces to create a custom look. Select spaces where guests will see it, or where you spend a good amount of your time.

Bold colors really make a statement. Dark greens, grey, black and blue are currently in.

White accent walls make a statement without being too bold.

Try to pick a style of accent wall that complements the look of your home and room; just because you like a modern style wall doesn't mean it's the best pick for a colonial style room.

Go in with a plan and draw out your design before beginning.

Find 2-3 moulding profiles that you think will achieve the look you're going for. Then, take each sample and place it on the wall to see which you like the best.

Create a jig if you have to repeat a cut. This will save time and help with consistency.

Use hot glue to apply moulding first so that you can adjust the moulding if needed. Then use finishing nails to secure the moulding.

Rent a nail gun, use your own or use an adhesive.

Once everything is in place, apply more nails to ensure it is long lasting.

Use putty to the nail holes rather than caulking for a better finish.

If using a paint sprayer, keep 1.5 to 2" of space between you and the wall for an even application.

Take your time in the finishing stage. The little details when you finish will make the wall look more polished.

We estimate that creating an accent on a 12′ x 8′ wall can cost around $200. This includes paint, moulding, tool rentals and other materials. You can save money by using tools from your home or borrowing from friends.
For more tips and home inspiration, follow us on Instagram, Pinterest and Facebook! @WeAreWoodgrain