Woodgrain's New Website
We are ecstatic to announce that our new and improved website is live. As Woodgrain continues to grow, it is only reasonable that we continue those efforts in all aspects of the business. In the last few months, we have performed a very detailed assessment of our current website and have applied several updates to our new website to present users with the most optimal user experience. The new design and layout is crisp and clean with clear functionally and navigability. This includes communicating that although Woodgrain consists of many different departments and products, we are One Woodgrain with a singular focus of providing superior products and customer service.
Homeowner, Builder, or Dealer/Distributor
Maximum accessibility and usability was one of our goals in this update is to ensure that our users find what they need, when they need it. We know that a lot of different people use our website, so we wanted to make sure we gave the appropriate information to guide people to the most relatable information for them. This was a key enhancement in our website update. The information has been reorganized and developed to assist in every user's journey throughout the website whether you are a Homeowner, Builder, or Dealer/Distributor.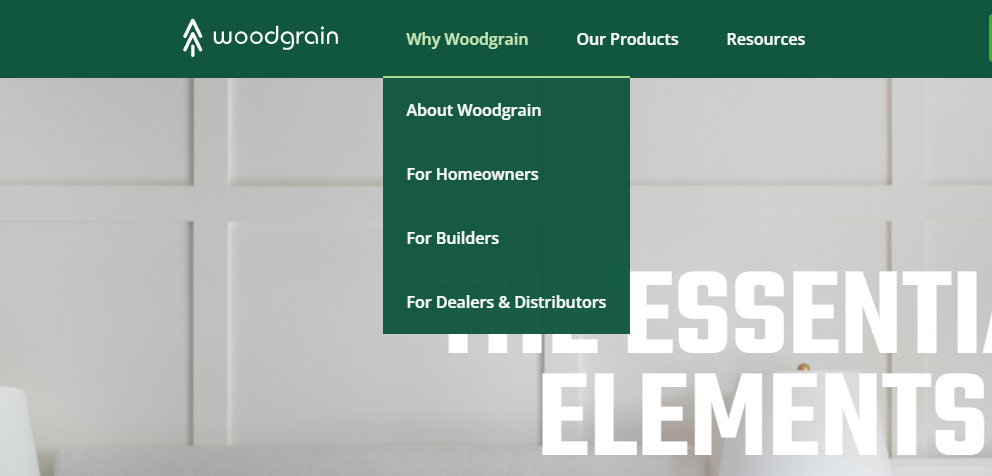 Improved Navigation
User experience was top of mind when designing the new layout of our website. Finding content needs to be navigable and locatable, which is why we condensed to one website and reduced our tool bar to reflect three categories: Why Woodgrain, Our Products, and Resources. This permits users to effortlessly learn more about our many different product lines which allows users instant, straightforward access to the most valuable information on the website.

Dealer Locator
Another upgraded function on our website is the Dealer Locator. Furthering our focus on the different types of people navigating our website, we have created two different Dealer Locater maps to provide the most relevant information for a Homeowner or Professional. Each map lists the appropriate locations that would be applicable to each group: Homeowners and Professionals.

A Source for Inspiration
Not only is providing easy access to product information essential in this website update, but being a source of inspiration has also been crucial. Under our Resources tab you can discover everything that you need to be inspired for your next renovation or project. Our Collections pages provide inspiration for your style of moulding and how to utilize that moulding; our blog is full of the most popular interior design trends, how to accent wall install guides, and Moulding & Door trends; and an array of videos are offered to help with potential accent wall installations and tips on how to accomplish projects with ease!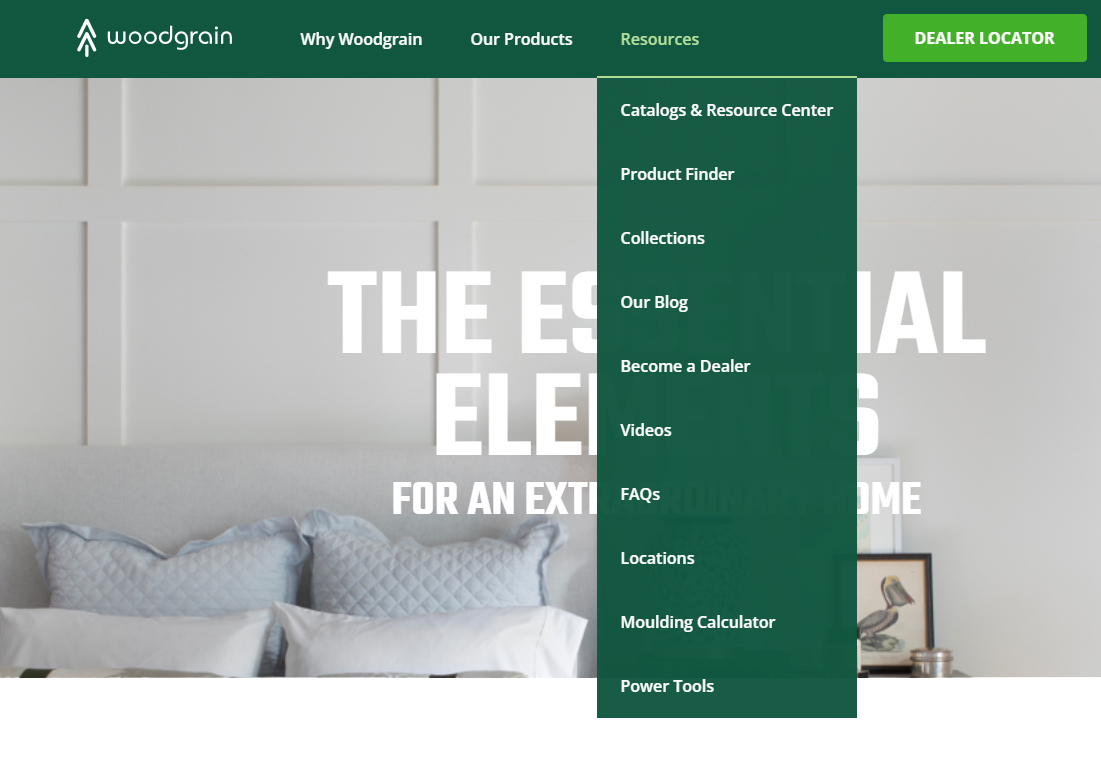 We will continue to update the website to ensure that we are providing the most accurate and up to date information on our products and partners, as well providing the most up to date inspirational resources. Check out our new website: woodgrain.com !
For tips and home inspiration, follow us on Instagram, Pinterest and Facebook! @WeAreWoodgrain