Woodgrain Wins Vendor of the Year from Home Depot 2019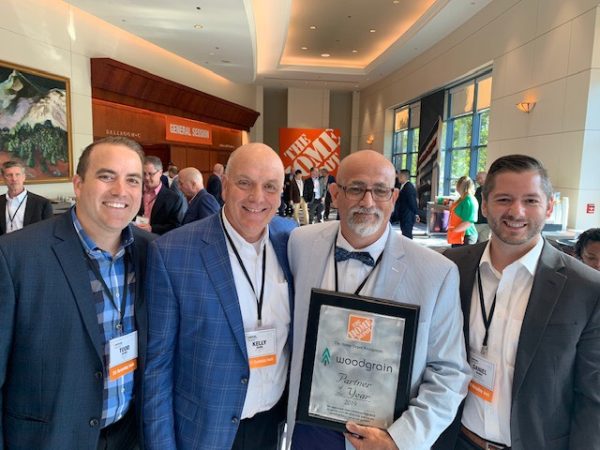 Vendor of the Year : Woodgrain
We are excited to announce that Woodgrain has been recognized as vendor of the year for 2019 for D30 Department at Home Depot. This is the 3rd time we have been recognized as the outstanding vendor in the twenty plus years of doing business with Home Depot. We are proud of the quality product and superior customer service our team delivers across all divisions.
"Congrats to the entire Woodgrain team. This was a team effort across the entire organization. As we strive to live our company values by being 'Customer Focused' there is no greater complement than be recognized as partner of the year. Great things to come in 2020!" – Todd Dame, VP of Distribution Division Woodgrain
Woodgrain is the largest commodity moulding supplier for The Home Depot, we service the largest geographic area in the United states and Puerto Rico. Woodgrain service 918 stores with 190 field service reps dedicated to servicing these stores.
Left to Right: Todd Dame: VP Distribution, Kelly Dame: CEO Tom Hales: National Accounts VP, Daniel Banks: National Accounts Manager