Woodgrain Millwork Races into Specialty Products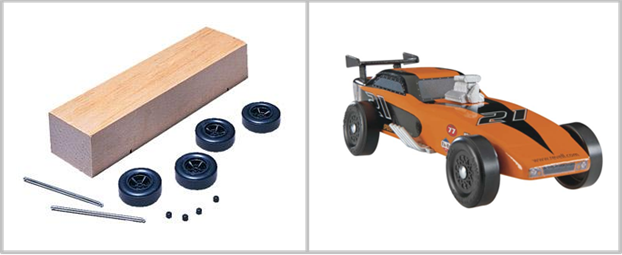 Since 2011, Woodgrain Millwork has supported the Cub Scouts of the Boy Scouts of America in the long-standing tradition of Pinewood Derby® racing. First created in 1953 by Cubmaster Don Murphy as a way for his Scouts to enjoy friendly competition, the races have since taken off and reached immense levels of popularity for families across the US.
During the Pinewood Derby, each Cub Scout is given a block of pine wood, four plastic wheels and four nails to build the car of their dreams. The finished product must meet weight and length requirements to be able to fly down their scout pack's track, but there are no limits on creativity. Scouts design their cars based on both speed and style, with models ranging from unfinished blocks to replicas of actual race cars. These wooden cars have been known to reach speeds of up to 20 miles per hour thanks to ingenuity and creativity.
Woodgrain Millwork helps make these races possible through the manufacturing of the pine blocks used to build the Pinewood Derby cars. The manufacturing process begins when our optimizer develops the raw stock. From there, the finishing detail is produced in one pass on our sash cell. The rectangle profile is completed on our moulder before passing through a double end tenoner to install the axles and precision end trim to length. Using this process, Woodgrain has manufactured approximately 5.7 million derby car blocks in the past three years. What started out as a few pallets of pine blocks has now blossomed into multiple truckloads of Pinewood Derby car business.
For more information on our specialty products and customized solutions, visit woodgrainmillwork.com.