Women in Millwork: Meet Liz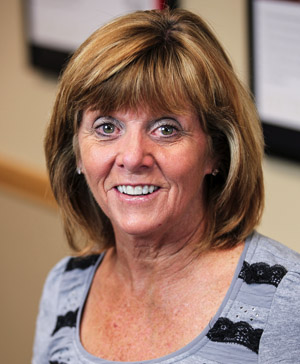 What made you decide to go into the millwork industry?
I always admired others who could make/build things in construction. I enjoy seeing what is being created by employees. The industry is fast paced with a variety of work and good people.
In a few words, describe what you do.
As HR Manager, I work closely with 400 employees. As a team, we direct the hiring and on-boarding process, administer and manage employee benefits, maintain all necessary employee records with tracking relevant information and maintaining the employee database system, resolve employee issues at all levels, work with worker's compensation program, manage and resolve day-to-day work issues within the workplace, promote safe production for all employees, work with management and others as needs arise to find solutions to issues that create an improved work culture.
Describe a typical day on the job.
Some days are about completing paperwork, maintaining records and working with managers on hiring and employee needs. Other days may be spending time on the shop floor and working with employees to service their needs. Other days may be creating consistency to ensure we are all on schedule and meeting the needs of the customers. Some days may be filled with meetings and generating plans to confirm all critical information is covered. At the end of the week, I am amazed at how we have worked through the week and accomplished all that needs to be done.
What do you love most about your job?
Helping employees and watching them grow in their roles and becoming contributors to the business.  HR thrives on excellent customer service to our employees.
What is your biggest career accomplishment to date?
Earning the SHRM Certified Professional Certifications. A few years ago, Corporate had some challenging HR goals with employees setting up personal work accounts to manage their time off and hours. We have come a long way, and I remind employees how well they have done with the new programs in place.
What do you like to do when you're not working?
I enjoy the outdoors: bicycling on the wonderful trail system in Iowa and tennis.
What are some of the challenges of working in this industry?
We want to have work available to all employees [but] business can sometimes be "seasonal." Turnover is challenging as the company grows and the need for good quality employees increases.
What advice would you give to women who may be interested in joining this field?
Learn as much as one can.  Do not take work personally. Be organized!