Windsor Windows Enhance This Modern Silo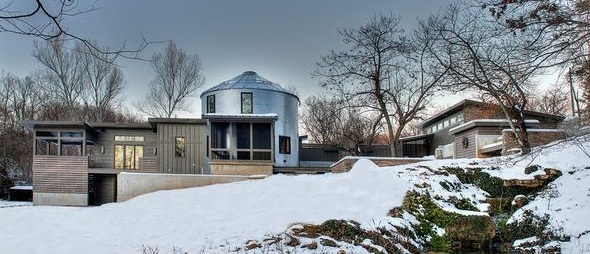 A galvanized grain silo is the focal point and core of the home which is otherwise modern in design and surrounds the silo. With both homeowners being designers, high design is evident throughout the home; from the galvanized clad spiral staircase, to the backsplash with a ribbon of randomly placed nickels.
The living space extends outside with two covered porches and many other patios accessible through any of the 6 patio doors. This offers many outdoor living spaces to enjoy the beautiful views of the natural Ozark hills. The window and doors were strategically designed into the home to capture the spectacular views.  Most openings were positioned with southern exposure to improve energy efficiency and utilize natural light.
With the central feature of the home being a round galvanized grain silo, it was a challenge for the builder and installer to devise a weather proof and aesthetically pleasing method to install flat windows into a curving wall section. To accomplish this, the builder devised extended window bucks that reached beyond the curve to allow for the windows to be installed onto a flat surface. The window bucks were then flashed in a bronze metal to protect the buck and fully flash the window while still complimenting the look of the galvanized silo.