Make Over Your Kitchen Island on a Budget
As most homeowners know, the most expensive room for a renovation tends to be the kitchen. While what's trendy and what's realistic for your budget may sometimes conflict, there are options for you to make a big impact without big spending. With a little time and effort, you can transform the heart of your home with a kitchen island makeover.
Great islands improve aesthetics, functionality and organization in one of the most popular rooms in your home. Whether you're working in an upgraded kitchen lacking an island or you're looking to give an entire outdated room a facelift, this kitchen island makeover is for you! This project may be one of the most impactful changes you can make for your friends and family. After all, what's a get-together without ending up in the kitchen?
Using boards, baseboard moulding, butcher block, plywood, and paint, you can build an entire island from scratch or transform an outdated one into something modern and useful. After construction is finished, add drawers and new hardware to complete the look!
Read more about this DIY tutorial to transform your kitchen: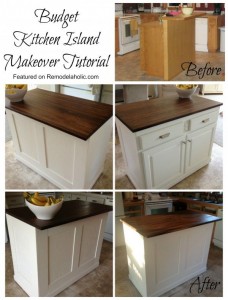 To learn about the products we offer to help you during upcoming home renovations, visit woodgraindistribution.com.