Know Your Moulding Applications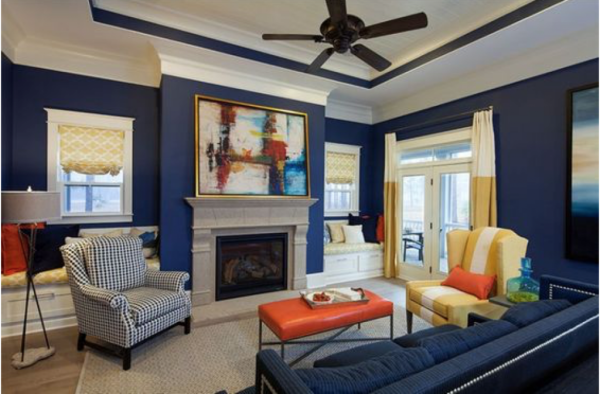 Chair Rail
Chair rail moulding gets its name because it was originally designed to protect the walls from getting damaged by furniture. Today, chair rail is more often used as a decorative divider to differentiate between two different types of paint, wallpaper or wainscoting (which we talk about later in this post). This wall moulding is typically applied a third of the way up from the floor. Chair rail is popular in dining rooms, formal living rooms, and master bedrooms (although you can install chair rail in any room). Here at Woodgrain, we offer a large variety of chair rail and wall trim products that are available at The Home Depot and other local distributors. Check out this article from DIY Network to learn how to install your own chair rail.
Crown Moulding
This is one of the most popular types of moulding. Crown moulding is an elegant, architecturally charming interior trim that's used where the walls and ceiling meet. Woodgrain manufactures a huge selection of crown moulding products, including our ultimate DIY crown moulding product, Ledgendary™ Crown. With Ledgendary™ Crown you can install gorgeous crown moulding easier and quicker than ever before. Check out our recent blog post to learn more. Find Ledgendary™ Crown online at The Home Depot.
Wainscoting
Wainscoting is typically a complete piece of decorative wood paneling (or MDF, plastic or plywood) that's at chair rail height (a third the way up your wall). In addition to adding architectural charm to your walls, wainscoting also helps protect your walls from scuffs and scratches. Check out this blog post by Wilder Publications about which wainscoting styles fit best in different rooms.
Judges Paneling
Judges paneling is often confused with wainscoting, but it's a bit different. While wainscoting is typically at chair rail height, judges paneling can fill up either a portion of a wall or the entire wall. Some common design elements include square or rectangle panels within a frame, like the image here.
Casing
This type of moulding is typically applied around the perimeter of doors and windows. Outside the home, casing prevents cold air from seeping through window frames. Inside the home, casing typically matches other types of moulding in the room to provide a finished, cohesive look. Casing is also used to cover drywall from window and door installations. Learn more about types of casing in this article from HGTV. Check out the different styles and species of casing we offer here.
Shiplap
Shiplap is a pattern of wall paneling where planks are laid out horizontally on the walls or ceiling. This type of design is common in a rustic, farmhouse or cottage style home. Woodgrain offers fully finished wall panels that can quickly and easily be installed in a classic shiplap pattern with our Rustic Accents line.
In addition to the moulding applications mentioned above, there is also base moulding (which you install between the floor and the wall), cove moulding (concave shaped trim that you install where the wall and ceiling meet), dentil moulding (wood trim that has blocks shaped like teeth), picture rail moulding (moulding from which you can hang pictures) and many more categories.
Additionally, don't feel like you have to use a particular type of moulding in the way it's specified here. Some of the most incredible designs we've seen are when people got creative and used moulding in non-conventional ways.
Woodgrain manufactures moulding to fit every application, whether it's inside or outside your home. Visit our website to learn more about our full list of moulding products and where to buy them.
We hope this guide is helpful as you embark on your next moulding installation project. Have questions or comments on a specific moulding product? Contact us.