Why Finished EleganceⓇ Is Right For Your Home + FAQ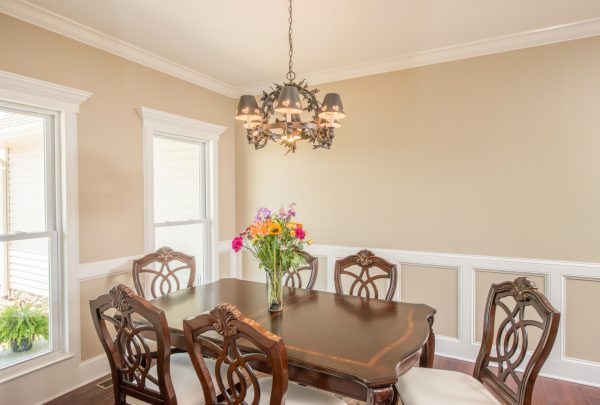 Finished Elegance® is the premier interior moulding line that is easy to install and requires no painting – a truly finished product. As the only moulding coated on all four sides with Eastman Cerfis™ technology, Finished Elegance offers the most superior durability on the market.
Easy to install with common woodworking tools

High quality, durable finish

No painting required! Just cut, install and fill

Resists dents, scrapes and moisture

Beautifully accents walls, shelving, cabinets and more
Step 1: Cut your moulding to fit your space
Step 2: Install with a nail gun and 2" finishing nails
Step 3: Fill/caulk the gaps to create a seamless finish. Pro tip: use Finished Elegance colored-matched caulk to seamlessly blend with the moulding.
This video by The Latina Next Door shows you how to install Finished Elegance baseboard, and you can use these same techniques to install other Finished Elegance profiles!
For additional inspiration, take a look at our Finished Elegance Pinterest board.
Frequently Asked Questions
How does Finished Elegance differ from traditional moulding?
The main difference is that Finished Elegance is coated on all four sides and requires no painting. It comes installation-ready.
How does the Finished Elegance coating compare to traditional painted millwork?
Finished Elegance is coated (not painted) on all four sides with Eastman Cerfis™ technology. Cerfis technology was developed and patented by Eastman Chemical Company, and Woodgrain Millwork is the only North American manufacturer to use this proprietary technology. The result is a precise, consistent and customizable coating that provides superior durability. If you need moulding that will hold up over time, Finished Elegance is exactly what you're looking for.
If Finished Elegance costs more than traditional moulding, how am I saving money?
Since Finished Elegance requires no painting, the upfront cost is offset by the time and materials you save.
What profile options do I have with Finished Elegance?
Finished Elegance has 55 unique profiles to complete any room in your home. Profiles include primary applications and decorative moulding applications such as build-ups, judges paneling and architraves.
Can I paint Finished Elegance?
While Finished Elegance requires no painting, it can be painted should you opt to change the color. If you are going to paint Finished Elegance, we recommend you do the following steps prior to painting:
Step 1: Scuff with general purpose scuff pad or equivalent (320 grit or higher)
Step 2: Wipe clean with damp towel/cloth and allow to dry before painting
Note: if you paint Finished Elegance, the paint can only dry from the outside-in due to the coating. Therefore, drying times may be longer than traditional millwork.
Where can I buy Finished Elegance?
Does Finished Elegance sound right for you? You can purchase Finished Elegance at your local Home Depot.