Huttig-Grip Fasteners: Now A Part of Woodgrain's Family of Brands

Fasteners for Every Application
In May, 2022, Woodgrain expanded its national footprint with the acquisition of Huttig Building Products. With the acquisition, Woodgrain's specialty products category now includes Huttig-Grip Fasteners, an exciting and significant addition to Woodgrain's family of brands. Huttig-Grip fasteners was initially a regional brand, stocked in the Pacific Northwest. In late 2016, the Huttig-Grip line was completely re-envisioned and re-launched on a national basis. Available from coast-to-coast and exclusively from Woodgrain, Huttig-Grip today is a complete line of nails, screws, and collated fasteners.
What makes Huttig-Grip fasteners unique?
A team of industry experts leveraged their knowledge and experience to solve the pain points with existing fastener programs. The product mix, the packaging, the point-of-purchase materials, even procurement, was intentionally designed to develop a complete line of fasteners that makes it easy; easy for a dealer/retailer to stock, easy for their customer to find exactly the fastener that they need. Eye-catching, informative packaging eliminates the guesswork from finding the right fastener. The labels were thoughtfully re-designed to lead customers to the general application, then to the type of fastener, and ultimately to the exact nail or screw. Customers can quickly find the following information on the label:
Color-coding groups fasteners by common applications.
Fastener type and size in large, easy-to-read font.
Actual-size fastener photo shows what is in the box.
Icons for finish, head, shank, and other attributes.
Background application photo provides application information.
Additional wording provides more specific suggested use.
Collated fastener packaging includes icons to match to proper tool.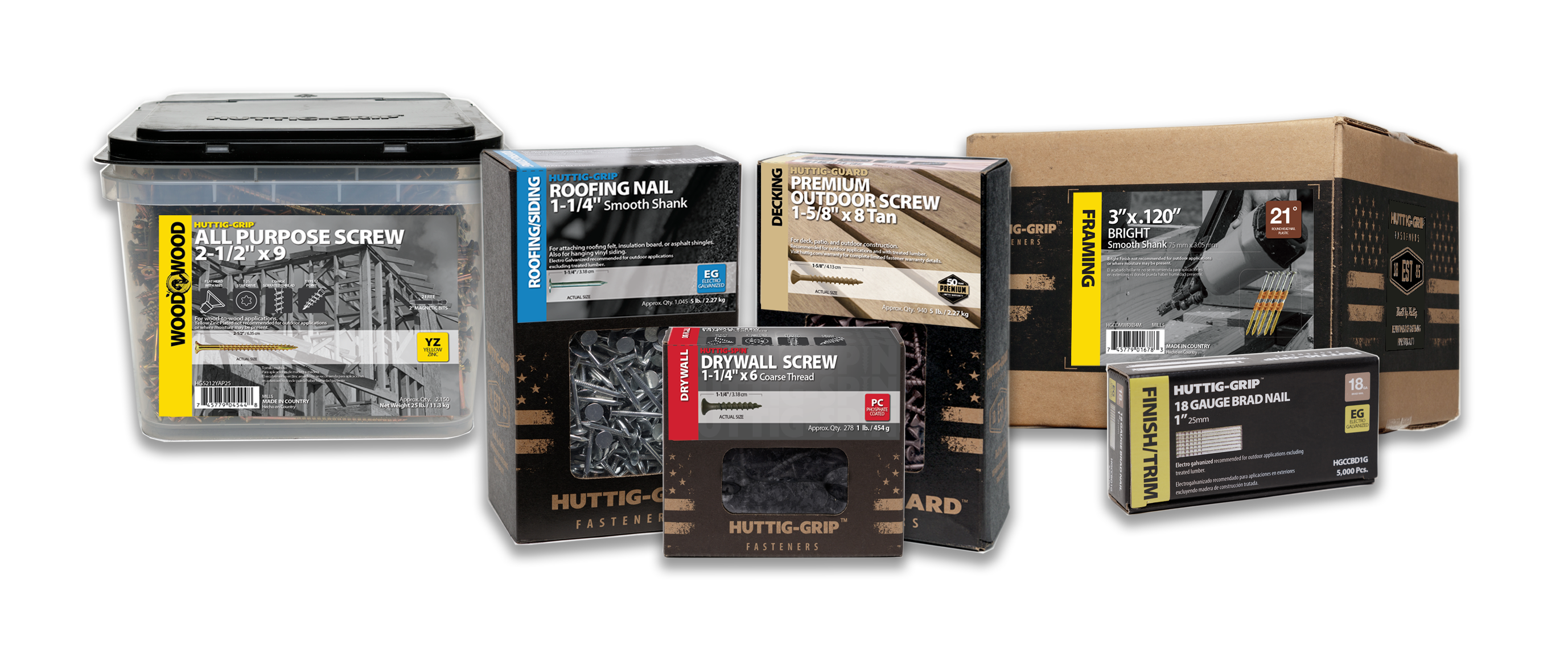 Nails, screws, and collated fasteners are all part of the Huttig-Grip line-up.
Huttig-Grip is the core brand for nails, screws and collated fasteners.
Huttig-Guard screws, nails, and collated fasteners are for use outdoors and in corrosive environments and carry extended warranties.
Huttig-Spin commercial drywall and steel framing screws are made from C1022 wire and must pass multiple rigorous testing standards.
All manufacturing facilities must pass a strict qualification process to review quality, procedures, and adherence to specifications.
Huttig-Grip fasteners are stocked by lumberyards, home centers, hardware stores, STAFDA yards, and many other pro and DIY retailers.
To learn more about Huttig-Grip fasteners, visit www.huttig-grip.com