How-to: Kitchen Edition
Known as the heart of the home, kitchens are where people cook and feed their loved ones, where traditional recipes are shared, and memories are created. Serving as the epicenter of the house, where family and friends come together to enjoy delicious food with positive company, it's no surprise individuals are investing a lot into kitchen upgrades. Since the pandemic, people have realized the importance of relationships which could be why kitchen renovations seem to be thriving in 2022. Let's look at what makes the perfect recipe for the kitchen renovation of your dreams.
Customizing Your Cabinets + Expanding Your Pantries
During the height of the pandemic, most found themselves looking for new ways to organize spaces while sitting at home watching new Netflix shows like The Home Edit or Tidying Up with Marie Kondo. Spending more time at home revealed that compromising spaces and storage is unacceptable. Post-pandemic kitchen renovations are not only taking place from our personal styles changing, but also from our need for expansions and extensions in our pantries and cabinetry.
Pantry space allows you to hide all the extra dishes, everyday essentials, baking goods, etc., rather than having your main space bare it all. Knocking out a wall to create more space in an old closet or adding shelves to an empty small room are a couple great techniques for utilizing unused space to create extra storage for all of your clutter. If you don't have extra closet space for a pantry, custom cabinets are the perfect solution, especially when you can add all the "bells and whistles" that help you keep your kitchen organized and decluttered.
Green Is the Color of Choice!
Green is taking over the interior design world in 2022, especially in kitchens! To incorporate this popular earthy tone into your space try featuring green marble countertops, green cabinets, or green appliances. These simple upgrades are sure to elevate any kitchen space. If you feel as if these may be unattainable, try welcoming plants into your kitchen. Live greenery serves as more than just an appealing decoration, they increase oxygen levels while removing toxins from the air, making it easier to breathe.
Reinventing Textures
Rattan, natural woods, and woven materials are making their way back into interior design, and we couldn't be more excited! During the pandemic we saw a rise in the use of natural materials, ranging from natural stone to wood, which is one of the finest examples of natural material. Think of Rattan barstools for your island, paired with light wood cabinets, and gorgeous woven lighting hanging above. Check out our blog post to see how you can incorporate rattan furniture into your home.

Not only are these elements used for sustainability, but they also provide a rich quality aesthetic that is easy to mix with other materials. To infuse a kitchen with warmth and comfort make sure to use natural wood, grained walnut, or white oak cabinets. For sustainable and eco-friendly furniture brands, see our blog post.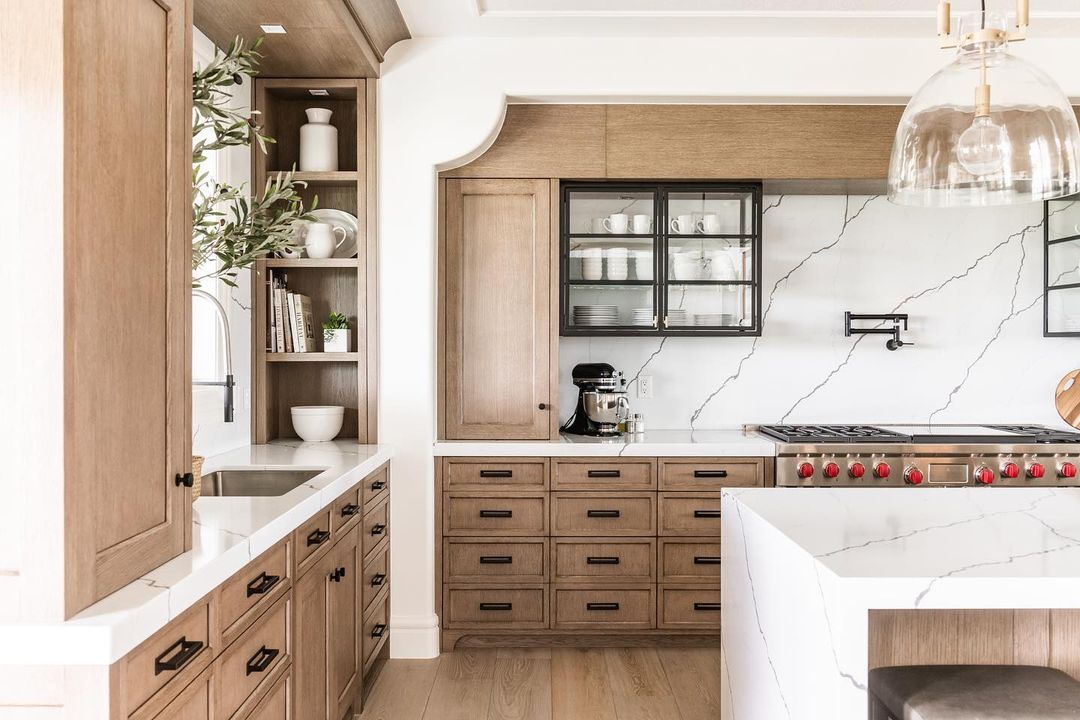 Backsplash
If you desire to make a bold statement in your kitchen, then a backsplash is the place to make this happen! With the right backsplash you can easily set whatever tone you want your kitchen to be, whether that's a timeless classic look or a bright fun feel.

For a timeless look in the kitchen, shapes–such as squares or circle–are the perfect backsplash to use; however, subway tiles are making a comeback in the kitchen, especially glazed tiles. These tiles can create a sleeker look for those who are shy of patterns, while also effectively reflect the light around the room. Not to mention, they're also very easy to clean. Tiles paired with natural or rustic wood create a beautiful contrast with their earthy tones.
Marvel at Marble
Topping the charts for kitchen counters and islands is the ancient beauty of marble. This material is undoubtedly one of the most timeless and luxurious stones to enhance any kitchen space. However, don't feel as if you need to limit marble to only countertops or on your island; this stone can easily be used as backsplash to create a seamless look.

Marble can be high maintenance and very costly, so if marble is not in the budget, white quartz and quartzite are great alternatives that still give you that marble "look." You can learn how to create the faux marble look here.
Check out our Kitchen Inspiration Pinterest Board for more inspiration and tag us in your pictures on Instagram, Pinterest and Facebook ! Follow us @WeAreWoodgrain