How to Create a Rustic Room
Rustic interior design is all about bringing the outdoors inside. It's about nature-inspired decor, exposed wood, warm earthy colors and organic elements. Whether you're building a new home or doing some remodeling, here are some design tips you can use to create a rustic room.
Wood Paneling
Wood paneling is arguably one of the most important and most popular design features of a rustic room because it adds an element of nature and warmth to your space.
This gorgeous rustic bedroom out of Denver features a shiplap ceiling with exposed wood beam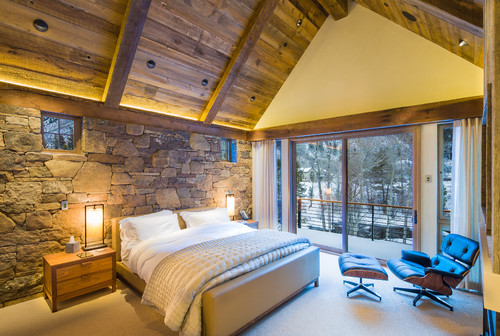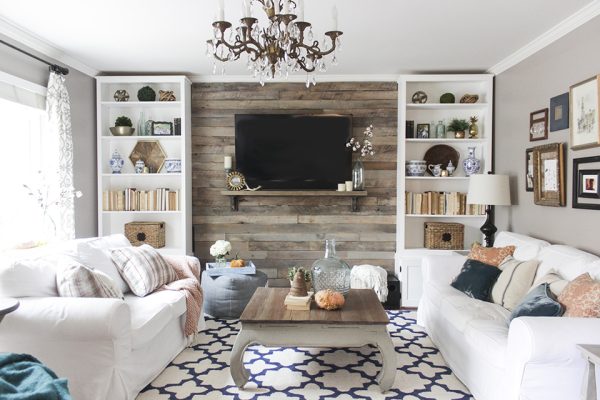 Rustic Accents by Woodgrain Millwork are fully finished wall panels that can be easily installed—either in a classic shiplap pattern or traditional no-gap pattern—as accent planks to add some rustic charm. We offer two colors, Weathered Gray and Rough Sawn Oak, that are now available at The Home Depot.
Barn Doors
Installing barn doors is another easy way to add rustic design to any room. These unique sliding doors, which resemble a door you would see in a barn, make you feel at one with nature while also doubling as an accent piece.
Barn doors really add warmth and beauty to this modern rustic bathroom.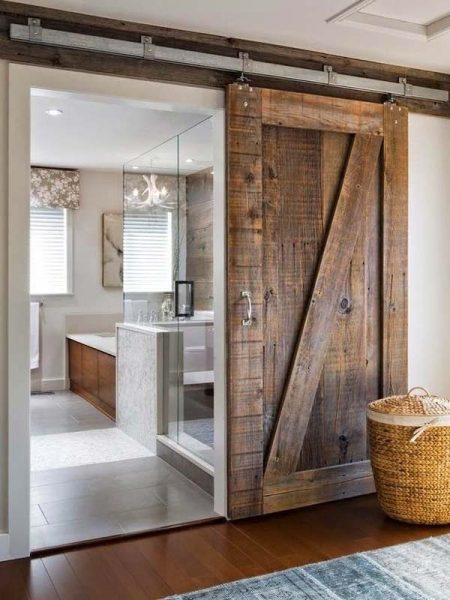 Here at Woodgrain Doors, we offer several barn door designs in multiple panel styles. You can check out our inventory here.
Rustic Decor
Design features like reclaimed wood furniture, animal-inspired textures, and industrial hardware can quickly transform a space into a rustic room.
A reclaimed wood desk, parquet wood floors, a neutral color palette and an industrial-style light fixture add character to this rustic office. We also love the use of wood wainscoting, as well as dark wood cove and crown moulding.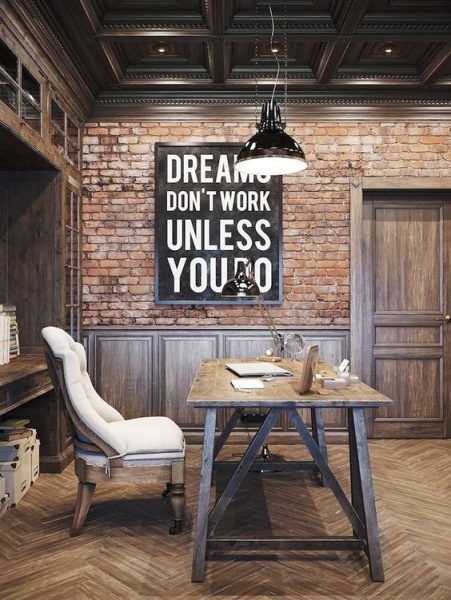 This beautiful rustic kitchen in Montana features a unique mix of natural wood and stone, as well as a vast array of rustic elements. It's got animal print bar stools, antler decor, industrial hardware, modern fixtures, a shiplap ceiling and exposed wood beams.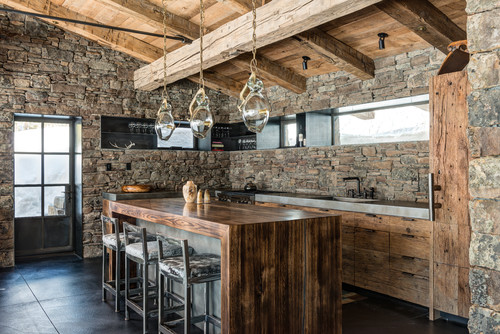 Want more rustic room inspiration? Check out our Pinterest board.