How Colorful Ceilings and Moulding Can Dramatically Transform Your Home
Painted ceilings are still used today to complement a variety of home styles—from traditional to contemporary. Homeowners that are in search of a way to transform a room without breaking the bank must give this pizzazz-inducing trip a shot.
Interiors expert Abigail Ahern said it best, "Paint is the cheapest and most transformative change you can make to any room. It's a game changer." If you're interested in adding a touch of color to your ceilings, check out some ideas we love below:
Sunny
Yellow ceilings are perfect for creating fun, cheerful spaces. Lemon hues work really well when the finishes and furniture in a space are white or monochromatic. We love how this bedroom combines yellow ceilings and walls for a playful, monochromatic look. The white moulding adds a nice contrast while shiplap panels give the room a modern farmhouse style.
Earthtones
Neutral-colored ceilings can display a sophisticated and comforting tone. The grey ceiling below is the epitome of elegance. It creates a balance against the white, black and grey interior décor. The white crown moulding provides a nice separation between the ceiling and wall in the living room and complements the all-white kitchen. The glass and wood panel doors add to the space's airy sophistication.
Dark
Dark ceilings add drama to an otherwise bland space. In addition to their aesthetic appeal, dark ceilings can also be an inexpensive way to hide eyesores such as piping. This foyer is a gorgeous example that shows how dark ceilings can dramatically enhance a living space. The white crown moulding beautifully frames the black ceiling for an elevated and regal effect. The white architectural accents, large windows and open space allows lots of natural light to brighten the area.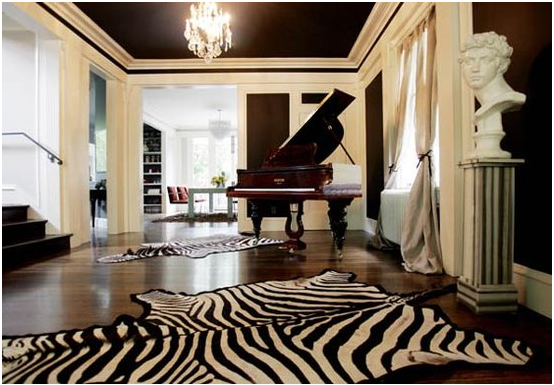 Want more color options and ideas to liven up your ceiling? Check out our Pinterest board.
If you decide to paint your ceiling, we'd love to see your handiwork! Make sure to tag us in your post on Facebook, Instagram or Pinterest.