Have A Spooky Chic Halloween
Spooky season has arrived! Personally, we believe October wins for the most entertaining month of the year. The leaves are finally turning red, yellow, and orange, the air is crisp, pumpkin spice is the flavor of choice; we could go on about all the wonderful things October has to offer! It's the only month when it's acceptable to dress up as someone other than yourself. Aside from costumes, the most exciting part is decorating your home.
Let's dive into how you can prepare your home to be the spookiest yet chic for Halloween this year.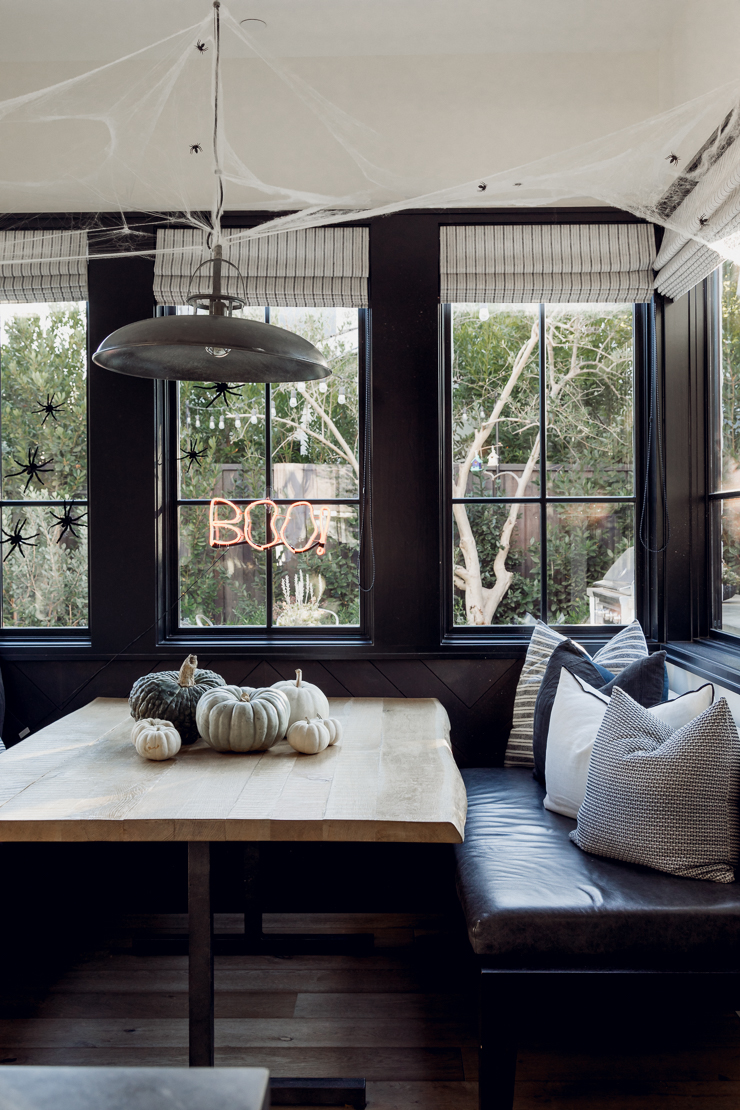 Pumpkins, Ghosts, & Bats, Oh My
As mentioned earlier, pumpkin everything! Pumpkins are the perfect decoration for Fall, allowing you to keep them out even after Halloween ends. It's their time to shine and no better way than displaying them on your porch or using them to decorate your tablescape. Make them chic by painting them matte black, carving out a spooky face, or putting spiderwebs around them! Before the season comes to an end, make sure to take a trip to the pumpkin patch with friends and family to scout the perfect pumpkins for your home.
To really elevate your Halloween game this year, consider buying skeletons to sit on your front porch or make room for them at the dinner table! Have fun with them by using spiderwebs to create a funky hairstyle. Your skeletons are guaranteed to be the center of conversation for guests.
Have fun with your walls by creating a chic bat wall! Use any exterior or interior wall with empty space and carefully place your bats to look like they're flying around your home. For a more extravagant style try placing black crows around your home! Grab any old vintage vase, fill it up with branches from outside your yard and then perch faux crows on them!
Trick-or-Greet
Create a stunningly, creepy front porch that is guaranteed to impress any trick-or-treater seeking candy. Draw them in with the pumpkins, skeletons, wreaths, and bats!
Add a Festive Wreath
Dress up your front door with an easy, DIY Halloween themed wreath!
It wouldn't be spooky season without spiders, bats, skeletons, or anything else that's dead, dried flowers make the perfect hanging wreath for your front door. Give them an eerie touch by adding plastic spiders or bats!
When creating these wreaths, you want to stick to a Halloween color theme so dark orange, yellow, or red hues.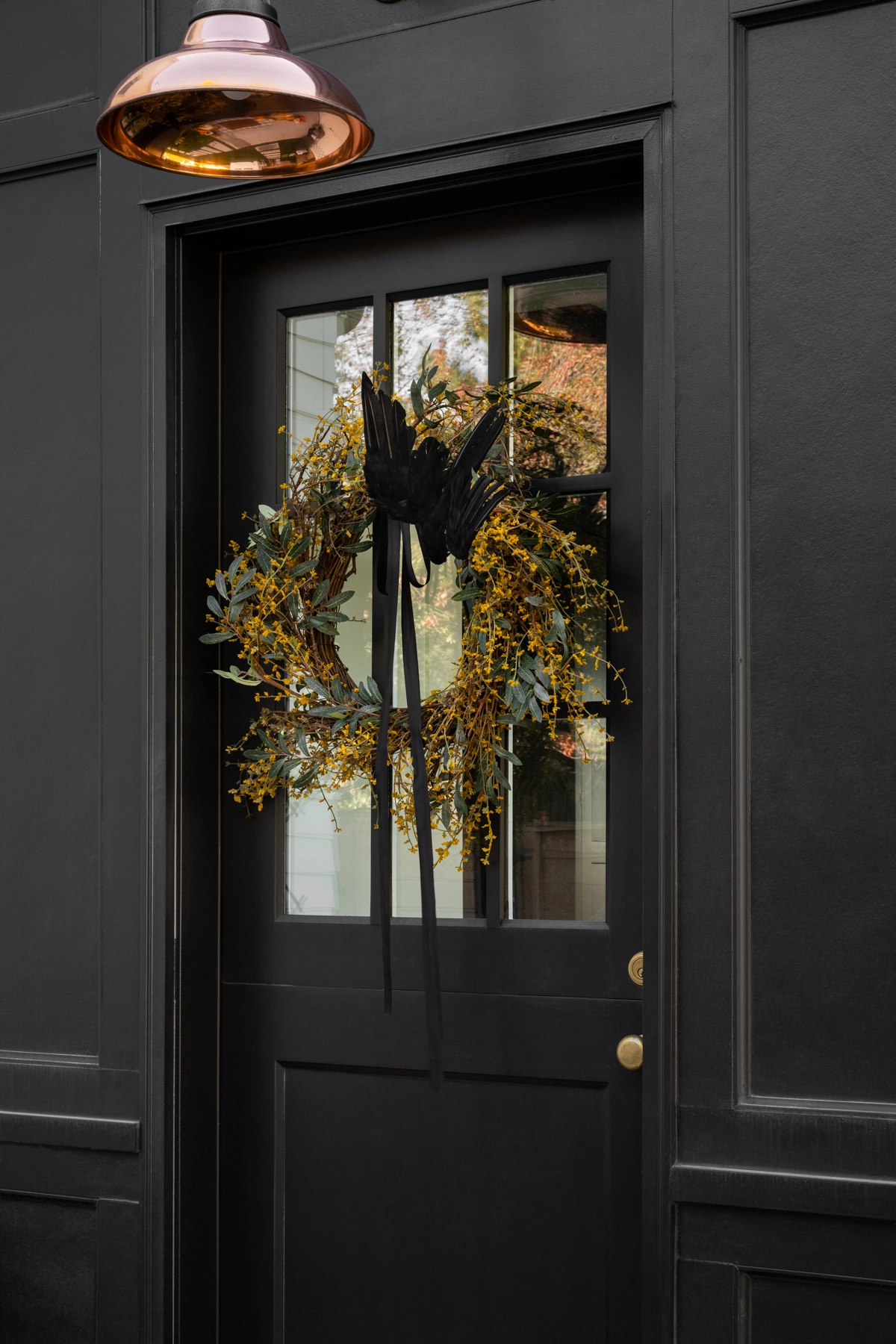 DIY:
Nestle dried flowers and branches into the wreath form (be sure they are secure by weaving them into the wreath base). Start with larger items and add smaller, thinner items on top. Then, wire the dried fruit on last with floral wire by threading through the holes and wrapping it around the wreath (you may need hot glue if the dried fruit you are using has no holes). Glue on plastic spiders for that additional touch.
If you prefer simple more sophisticated details, consider covering a wreath form with dripping moss and suspending it from your front door. Add a black ribbon for an elegant understated creepy decoration.
Spice Up Your Front Porch
Make an eerie first impression without overdoing your Halloween décor! To keep things chic, layer pumpkins with faux hay, or set them near current flowers you may have out. Don't forget to greet guests with a welcome mat! Target has a chic welcome mat that has the perfect Halloween color scheme. Make guests excited to step into your home by elevating your front door with decorative bats around your entryway.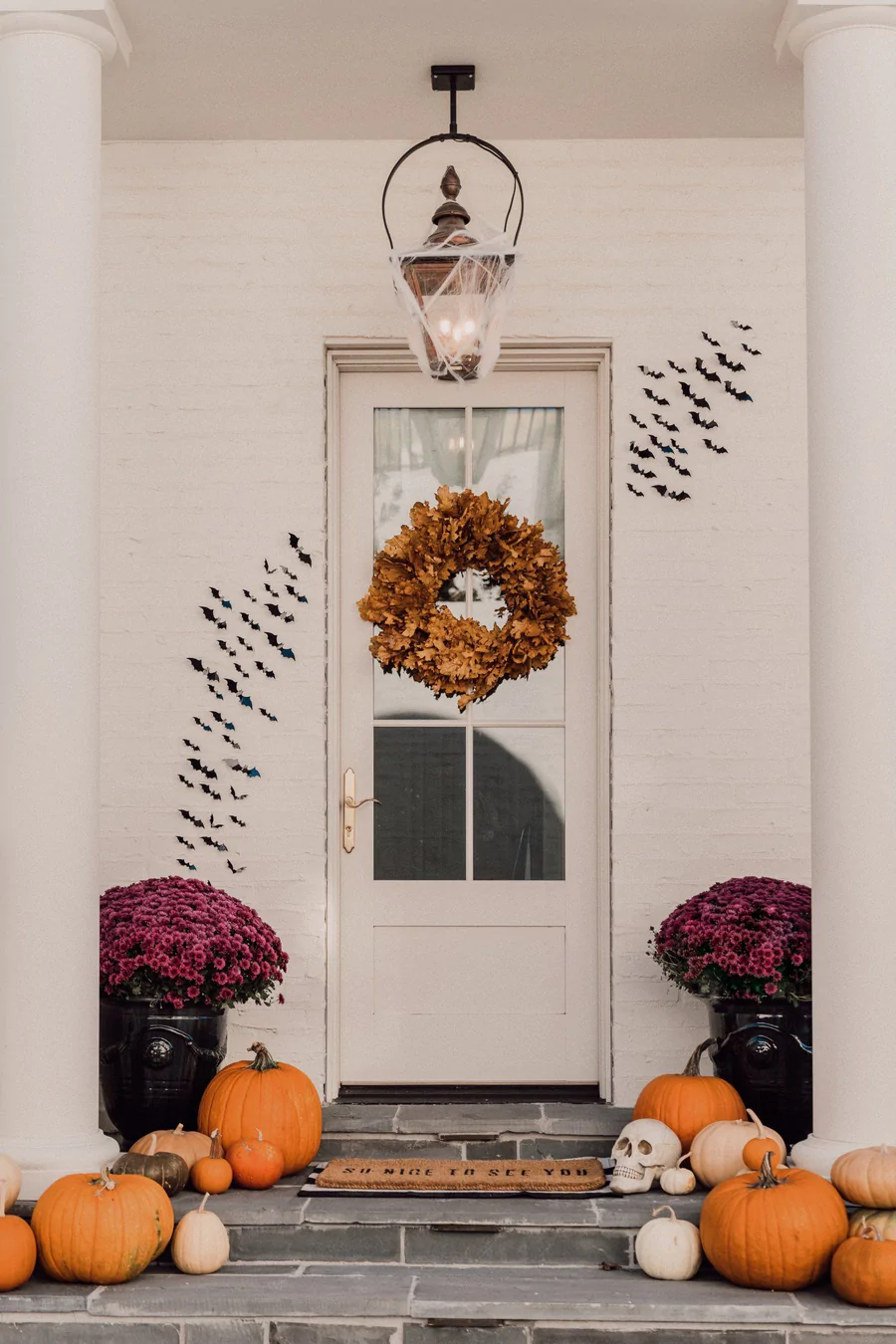 A Boo-tiful Mantel
If you have a fireplace, dress up your mantel with Halloween décor! Break out the brooms and set them on the side of your fireplace. Add more pumpkins because you can never have enough! Don't forget your creepy candles to light up the night! A fireplace mantel is the perfect place to showcase all your festive candles. Layer them around spooky skulls and spiders crawling around. You could even add Spanish moss if you want to go with a more witch-like style.
Spooky Details
Let's not forget the classic spiderwebs and bats! These are classic decorations for any haunted house. Place them around your fireplace as well as your front door or windows. Add fake spiders to truly give off an eerie feeling guaranteed to scare guests. Bats aren't the only creepy flying creatures this season. Black crows are just as eerie if not more than bats! Scatter some Spanish moss on your mantle to create a bird's nest for your fake crows! These give a moodier goth feel that's spooky yet chic.
If pumpkins and spiderwebs don't sound appealing to you, but you still want to celebrate the spirit of Halloween, consider trying a gothic interior design. This moody style is elegant yet full of drama. Think of the show The Addams Family. Guests will feel as if they're walking into a vampire's mansion.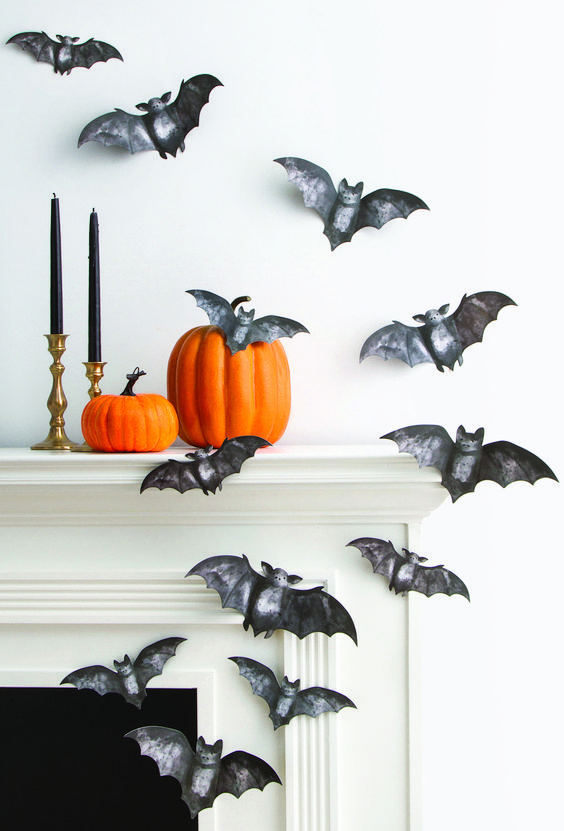 Halloween is the time to have fun so enjoy decorating your home any style you want. Choose anything from chic and spooky, to glamorous witch or just the traditional Halloween décor!
For inspiration check out our Halloween Inspired Pinterest Board and make sure to follow us on Instagram, Pinterest and Facebook ! Follow us @WeAreWoodgrain