From Old to New: DIY Upcycled Home Improvement Ideas
Upcycled Spoon Hooks
Want to spruce up your kitchen? Here's a unique idea from This Old House that will turn heads. Simply take an old piece of crown moulding and board and paint any color you want. Once the paint is dry, you can glue the crown moulding to the board. Then, collect a couple of old spoons (or grab a few from your local thrift store) and nail the spoons to the board. Voila! You have a fun piece to hang on your wall to store your kitchen linens.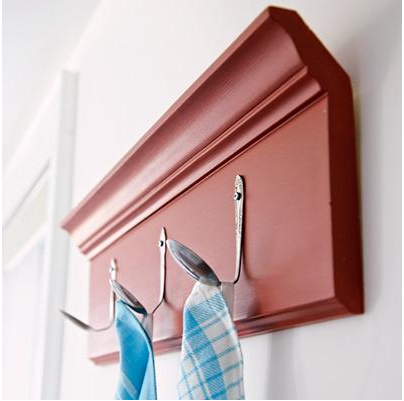 Upcycled Door Headboard
We found an upcycled door headboard from Interior Frugalista that adds a cozy and classic touch to your bedroom. If you happen to have some extra moulding, you can add it to the door to complete this antique look. Another tip: You can find this type of door at a salvage yard or an antique shop.
Repurposed Book Shelf
Do you have an old bookcase hanging around the attic or basement? If you have extra moulding, you can attach it to the top of the bookcase to create an elegant look like the example we found on A Brick Home. Also, adding a couple of wooden "feet" at the bottom gives any dull bookcase a custom look and prevents it from rocking back and forth.
Want more upcycling ideas? Check out our previous upcycling posts here, here and here. You can also check out our upcycling board on Pinterest.
We would love to hear about some of your favorite upcycling projects as well. Tag us on Facebook, Instagram or Pinterest to share your DIY inspiration.