Creating the Look with GordonDunning Interior Design: "Fresh Traditional" Bedroom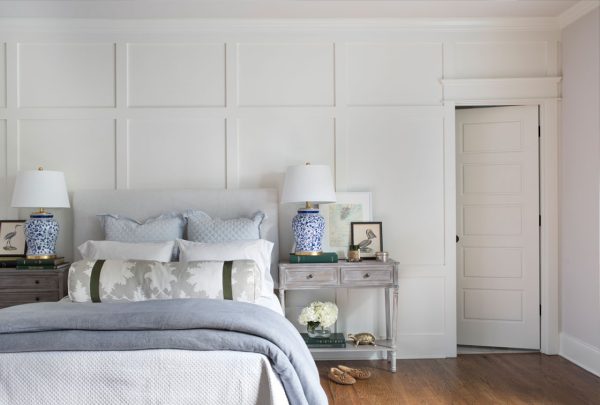 HH: Let's talk about this beautiful bedroom that you put together.
Lathem: This space is quintessentially Southern fresh traditional.
We started with the moulding. There's a detail to it, there's an interest to it, but it's updated.
Cate: The bedroom almost has a nautical sense to it. It could travel up and down the East Coast. You could see this in Virginia. You could see it in the Hamptons. You could see it in Charleston. It's very fresh traditional, for lack of vocabulary here.
Lathem: You didn't even need artwork on the wall. The paneling spoke for itself.
Cate: I wouldn't mind a taller headboard.
Lathem: We didn't get to pick that but we got to reupholster it. When you have a situation like that you put your punch into other things, like layering different textures in the bedding and the lamps where you get the color.
Cate: Shades of blues and greens are always going to be there because of nature. People don't seem to get tired of them. Plus, those colors are really pretty.
HH: What's your favorite element in this room?
Lathem: The Boom Pow pillow. That's the big roll with gray and green on it. It makes everything look finished to have a giant pillow on there. Even if you didn't make this bed, if you just jumped out of it and threw the pillow back on, it looks like a magazine shoot just because the pillow is so awesome.
Cate: It's hard for me to breathe without being surrounded by blue and white. We sit here with our blue and white lamps on our desks, blue and white mugs in our hands and blue and white mugs that hold all of our pens. We can't really live without it. It's just such a classic. It's rooted in so many different historical interior designs. So, yes, it's a color punch, but you're never going to get tired of that.
Lathem: And then, I love the antique bird prints. I mean, they just add such sophistication. I love anytime that you can bring nature into a room.
Thank you so much Lathem and Cate for sharing your inspiration behind this bedroom and all the gorgeous spaces we've featured in our blog.