Bohemian Interior Design for Beginners
Even if you didn't know the name for it, you've definitely seen bohemian-style interiors all over Instagram or at your local Anthropologie. Commonly shortened as "boho," bohemian style is popping up in retail stores everywhere and is a popular design choice for young professionals.
We'll walk you through the history of bohemian interior design, why it's so popular and how you can incorporate this style into your home.
A brief history.
Bohemian interior design was brought to life in early nineteenth century Paris, France by artists, writers and other creatives. Tired of conforming to societal norms, they pursued a free-spirited approach to both their lifestyles and home decor. Gone were the days of structure and rule-following, and in its place, a relaxed and carefree design style was born.
Today, bohemian interior design is one of the trendiest design styles for its unconventional, yet voguish vibe. While there are no real rules to bohemian design, it is easy to teeter the line between chic and sloppy.
If you are struggling to achieve a more fashionable boho look, keep reading for tips on how you can jazz up your space.
Bring in a variety of textures.
Technically, this can apply for most design styles. The difference here is that with bohemian design, you can really combine as many textures as you want — Seriously, the more, the better.
If you have hardwood floors, contrast it with a shaggy or woven rug.
If you have a smooth pine table, find wicker chairs or plush chairs to go with it.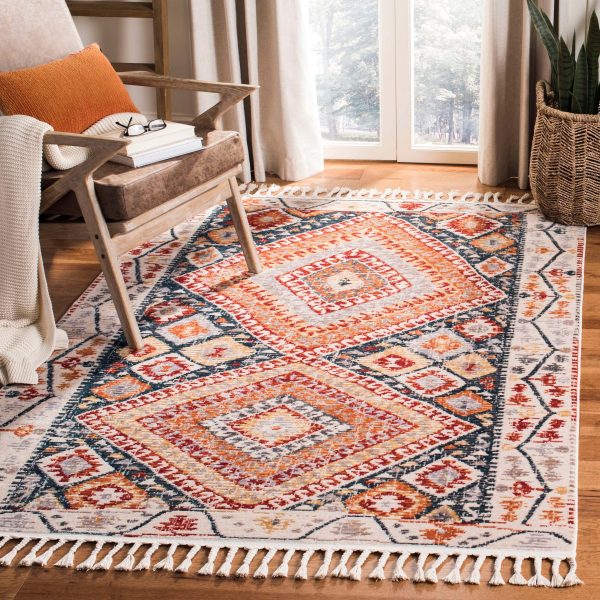 This Safavieh Farmhouse Kimberli Boho Tribal Polyester Rug from Overstock looks amazing paired with distressed wood chairs and wicker baskets.
Mix and match furniture styles too.
Worried that your modern lamp won't go with your rustic side table? That's okay — put them both in your living room!
Found a beautiful Moroccan-inspired rug but unsure if it will match? Unapologetically pair it with a leather contemporary sofa.
You may be wondering, "When is it too much?" That brings us to our next tip.
Lean towards natural textures and colors.
This will make your space look more cohesive amongst the randomness and will add a natural, warm feel.
While it's okay to choose metal elements, it's best to keep those to a minimum. Instead, lean towards wood, leather and woven pieces.
Similarly, opt for natural colors for most of your decor. Using varying shades of beige, brown and sienna will bring a little bit of structure to your space and keep your room from looking disorganized.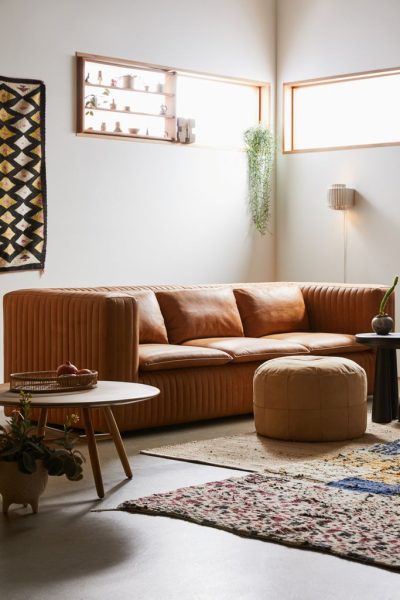 This Mesa Leather Sofa from Urban Outfitters is one of the many natural textures featured in this space, and the designer's liberal use of browns and beige creates a sense of completeness.
But remember: it's crucial to sprinkle in bold prints and rich colors.
At its core, bohemian style is bright, bold and fun. It's essential to sprinkle in some bold prints, colors and pieces to keep your space looking vibrant.
Deep oranges, fuschia and mustard yellows are popular in bohemian-style homes, and they are great color choices for chairs and patterned rugs.
Bold prints can be incorporated subtly as whimsical wall art featuring your favorite patterns, designs or even famous figures.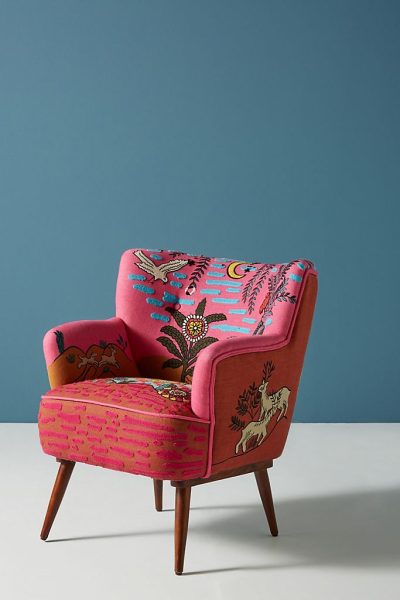 This Imagined World Petite Accent Chair from Anthropologie has both bold prints and colors and is a lovely accent piece for your boho home.
Lastly, bring greenery to your space.
A little foliage goes a long way, and big, leafy plants will tie everything together.
Not only do indoor plants visually brighten up your home with touches of green, but they have the added benefit of reducing stress levels and improving your mood. Plants help create a zen-like space that's perfect for those who want a relaxing and chill bohemian vibe.
What do you think of the bohemian interior design trend? Is this a style you'd like to incorporate into your home?
Check out our Bohemian Interior Design Pinterest board for inspiration and tag us in your pictures on Instagram, Pinterest and Facebook!
For room-by-room inspiration, check out Porch.com's Ultimate Guide to Create a Cozy Boho-Chic Home!