All About Windsor Windows & Doors
Windsor Windows & Doors, a Woodgrain company, is dedicated to providing custom-built windows and patio doors to architects, builders, contractors and homeowners. In the midst of the current building boom, Windsor is growing in a variety of ways. An expansion of its manufacturing facility in Monroe, North Carolina is planned for 2021. There will also be investments in new equipment to automate manufacturing processes and improve efficiency at all production facilities.
In addition, early in 2021, Windsor will introduce an expanded Pinnacle Impact offering for the coastal markets that require more robust construction techniques. Another exciting offering to anticipate is pre-finished stained interiors, which will make wood windows more cost-efficient for the builder and ultimately the homeowner. And with the remodeling of homes being more popular than ever, Windsor also recently expanded into the window replacement market with its Revive pocket replacement windows.
What is Windsor Windows & Doors?
Founded in 1946 in Des Moines, Iowa, Windsor Windows & Doors is a manufacturing company committed to crafting quality windows and patio doors while delivering the best value in the industry. Windsor's team of professionals creates windows and doors to your exact specifications, bringing your vision to life while ensuring products are durable, strong and energy-efficient. It starts with using the highest quality materials, from natural wood in its Pinnacle products to highly resilient cellular PVC and so much more. Windsor has a wide selection of materials, sizes and decorative accessories to choose from to create custom and durable products unique to your home.
Windsor remained a regional wood window company until purchased by Woodgrain in 1987. Since joining Woodgrain, Windsor has streamlined its manufacturing processes, invested in state-of-the-art equipment, engineered innovative new designs and expanded its product offerings.
What products does Windsor offer?
Windsor manufactures four distinct product lines: Pinnacle (wood windows & patio doors), Legend (cellular PVC windows), Next Dimension (vinyl windows & patio doors) and Ashworth (patio and entry doors).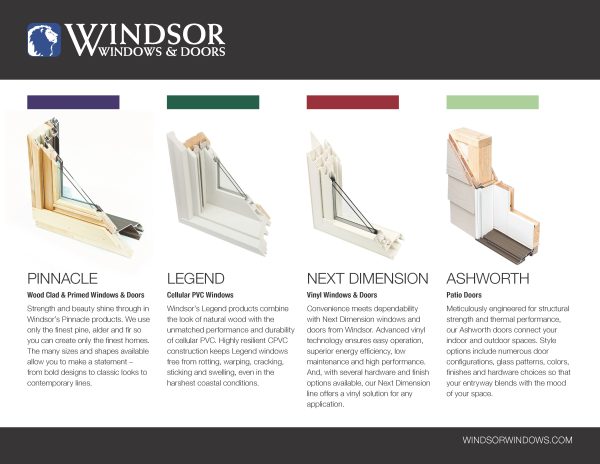 Pinnacle products use only the finest pine, alder and fir so you can create the finest homes. The many sizes and shapes available allow you to make a statement – from bold designs to classic looks to contemporary lines.
Windsor's Legend products combine the look of natural wood with the unmatched performance and durability of cellular PVC. Highly resilient CPVC construction keeps Legend windows free from rotting, warping, cracking, sticking and swelling, even in the harshest coastal conditions.
Next Dimension products are built with vinyl extrusions that ensure superior weathering, durability and color retention. They also use Edgetech Super Spacer technology and Cardinal LoE 366 glass, which provide a glazing system that's top-of-the-line in energy efficiency.
Ashworth doors are meticulously engineered for structural strength and thermal performance. Style options include numerous door configurations, glass patterns, colors, finishes and hardware choices so that your entryway blends with the mood of your space.
How can I purchase Windsor products?
Windsor products are sold by select dealers located throughout the United States, Mexico and Canada. To find a Windsor dealer in your area, visit the Windsor Dealer Locator.