A Crash Course on Hellenistic Interiors
Crash Course on Hellenistic Interiors
We're heading back to ancient Greece, the time when gladiators battled, the great philosopher Aristotle wrote, and the Hellenistic style thrived. It was a time none of us alive now could ever truly appreciate, but we can experience a taste of this era by adding sprinkles of the Greco-Roman style that adds instant luxury to our living spaces.
The Hellenistic style emerged in the 18th century with cultural inspiration from philosophy and mythology expressed in art, architecture, and design. Intricate ceilings with soul-moving artwork adorn the top of the room; sculptures radiating almost perfected human emotion; and hues of bright colors described the current rambunctious culture of the Romans and Greeks.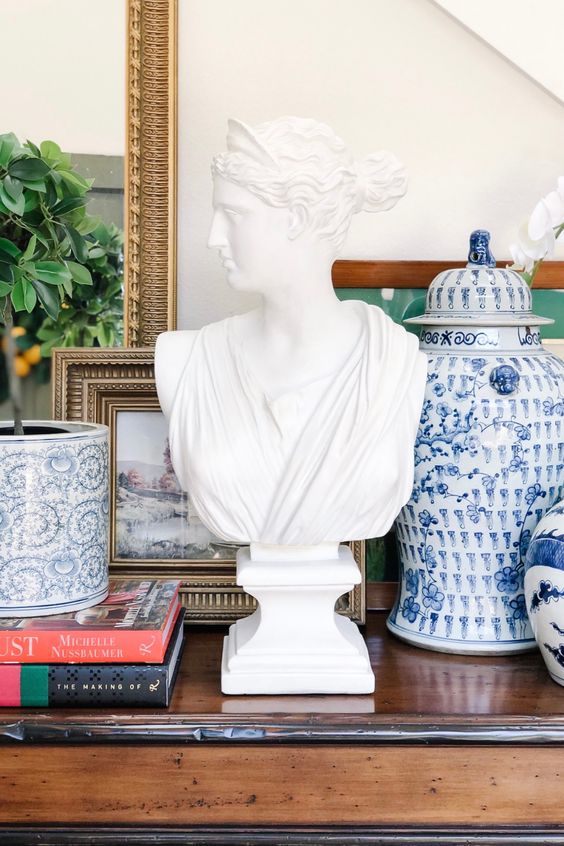 Let's discuss how you can recreate this Hellenistic revival!
Architecture
Hellenistic revival is heavily influenced by ancient Greece, boasting Corinthian columns, ornate woodwork, and symmetrical designs. A style popularized in America in the 19th century often mimicked ancient Greek temples. It was the first architectural style that reached the west coast and also became increasingly popular through the well-known designer, Gianni Versace's mansion. Typically, Greek revival homes in America had white exteriors, wide porches, and large fluted-like columns. Aside from the exterior, these homes are easily recognized by a few interior characteristics.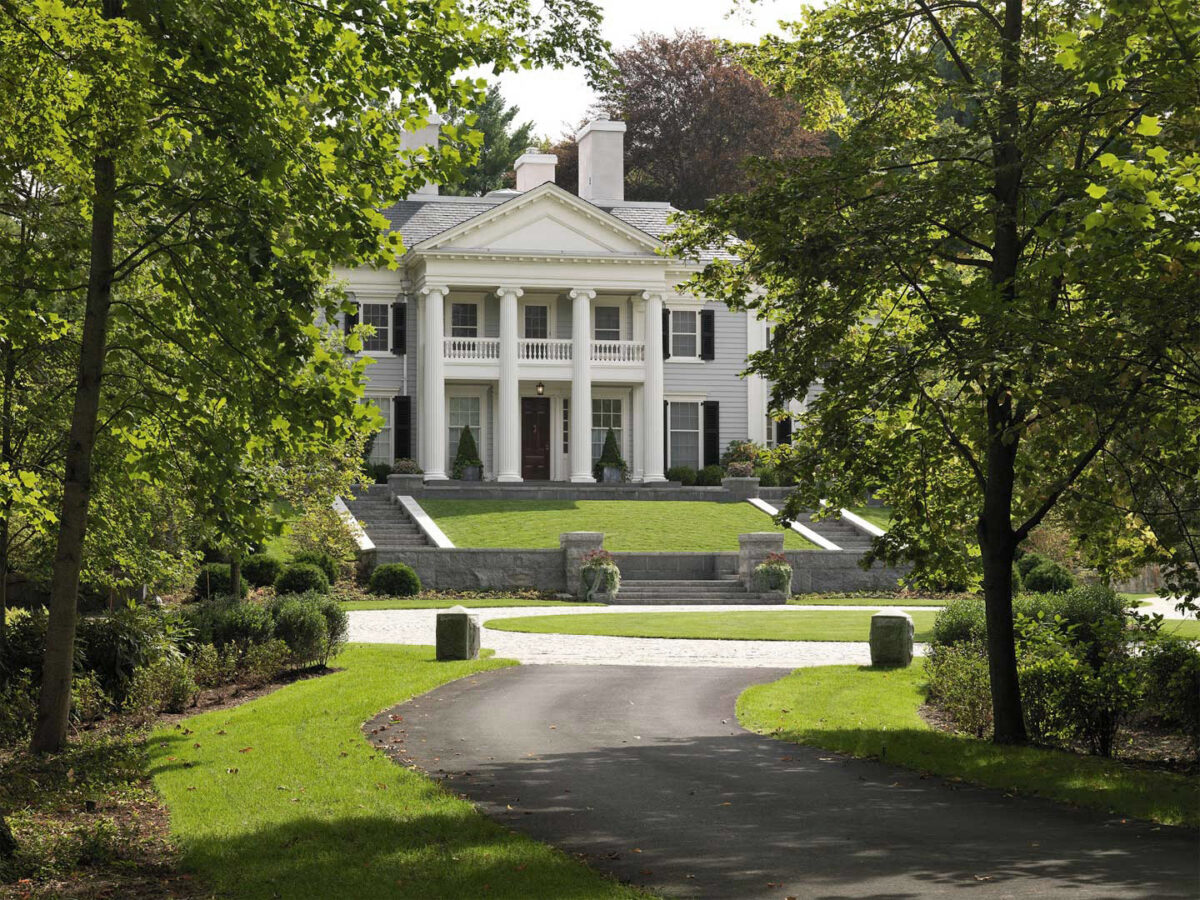 If you can't buy the perfect Greek revival home, don't fret! Hellenistic interior design is recognizable through its intricate woodwork, open floor plans, and symmetrical designs. If you can't incorporate fluted columns, add fluted casing to your doors instead! Decorative moulding in homes was found amongst the wealthy; in every corner of an affluent Greek home, intricate and detailed moulding laced the walls. Try adding dentil crown molding or decorative trim to your space for a more modern feel. Use our unique combination of elegant designs from our DecraMold® & BlockShop® lines to add instant opulence.
Colors + Pattern
In this era of classical revival, colors are neutral but also elegant. Greek interiors commonly incorporate colors from the natural world like Ivory White or Faded Terracotta. Pops of colors were added for character and interest. Vibrant Mediterranean Blue or Deep Green promotes decadence, while inspiring joy. Aside from monotone colors, patterns were essential in this design style. Add Mason Toile Blue Drapery for an old luxurious feel in your living space. Keep your interior walls earthy tones, like beige or cream, and add chinoiserie patterned wallpaper for a bold alternative. Neoclassical printed wallpaper gives off a timeless look that expresses wealth. When talking about Greek interiors, you can't leave out the iconic Greek Key print. The Greek Key is one of the most notable and recognizable prints hailing from that time period. A budget-friendly option is adding the Greek Key print to your curtains yourself. Check out this tutorial from the DIY Décor Mom!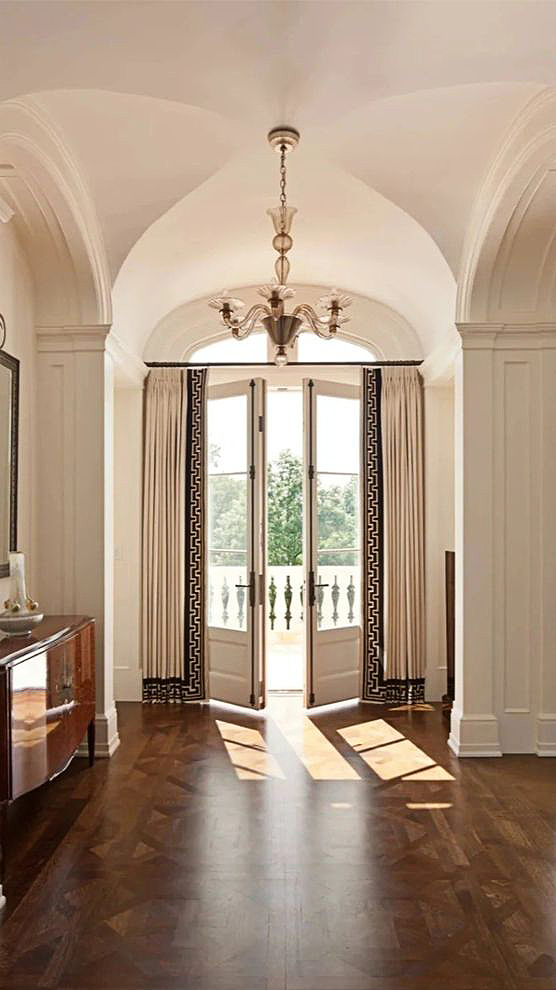 Furniture + Décor
To complete this style in your home, you must add a little flair to emulate Grecian luxury! Rest assured, you do not need to buy authentic Corinthian columns, because switching upholstery and adding Greek sculptures will add that Grecian flair you're looking for!
Furniture
This luxurious style boasts grandeur and upscale furniture. The chaise chair was a symbol of high social status. If you had the time to lounge, you were wealthy! A chaise lounge or curved chair in a monochromatic color resembles the Grecian reclining chair and radiates relaxation in a modern home. Utilize the patterns like Greek Key, chintz, or chinoiserie when picking your furniture. You may even find yourself looking for vintage Hollywood Regency furniture like these Greek Key chest drawers. You can introduce this style subtly or go all in!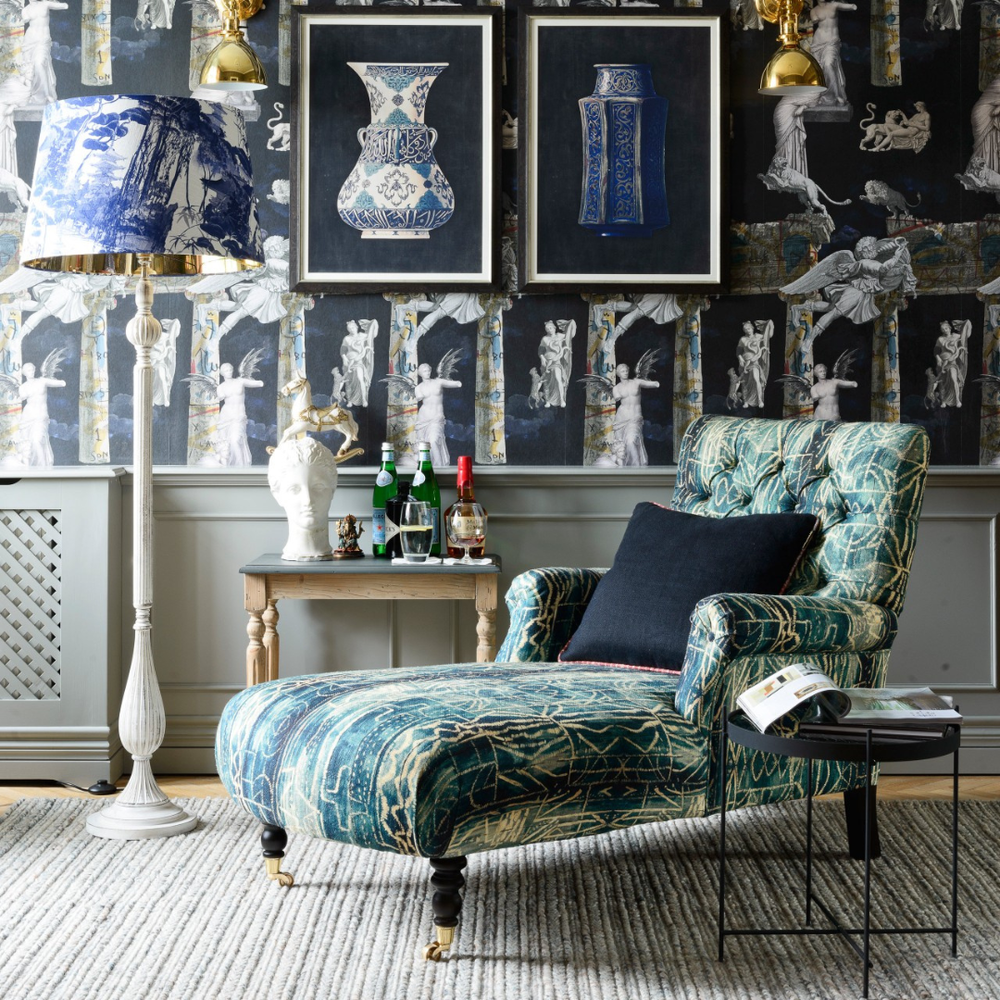 Décor
The Greco-Roman style embraces grandiose showcases of wealth. When we think of the Hellenistic style we think of elegance, status, and luxury. Statement pieces like glamourous chandeliers, pristine sculptures, or Anthropologie's Gleam Primrose Mirror embody the style perfectly. Think of antique gold accents, marble finishes, or stone compositions. The iconic Statue of David isn't a necessity; you can easily add small statues like an Apollo Bust from Neiman Marcus. Or consider adding more pops of color with this chinoiserie printed Langley Ceramic Pattern Lamp from Pottery Barn!
Art
Last but not least, the art! Purchasing art doesn't have to break your bank. Hellenistic artwork is expressive, realistic, emotional, and includes ornate details. Budget friendly options are printing a copy of a painting like the Apotheosis of Hercules, then scour your local thrift or antique store for the perfect ornate gold frame. This combination instantly adds decadence to your living space. For an easier approach, opt for wall art that allows you to experience the elegant atmosphere like this depiction of the Birth of Venus.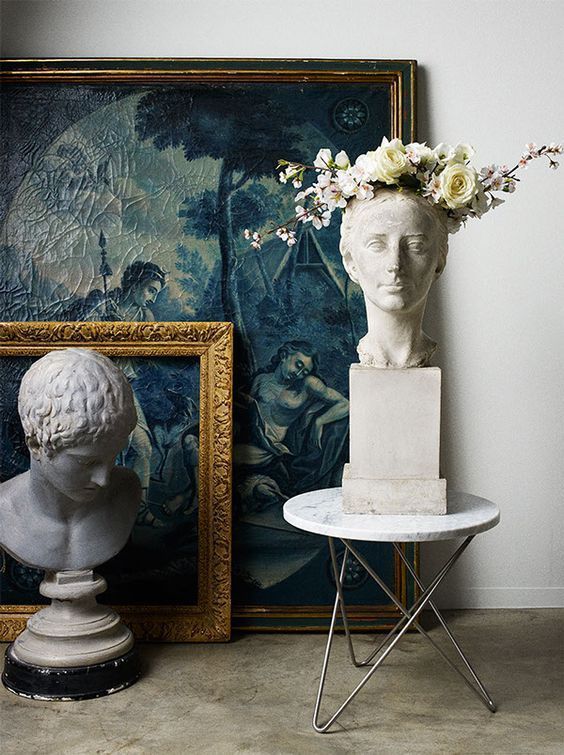 As you can see, creating a luxurious home doesn't have to be expensive. Last year, it was predicted that the Hellenistic style was coming back. In 2023, it's still going strong! Mix and match simple yet grandeur pieces in your home to create the perfect opulent atmosphere you desire!
For Inspiration check out our Hellenistic Interior Design Pinterest Board and make sure to follow us on Instagram and Facebook @WeAreWoodgrain!