5 Ways to Add the Herringbone Pattern to Your Home
Did you know the herringbone pattern is inspired by the bone structure of the herring fish? Made using repeating V shapes, the herringbone pattern has become a go-to for adding texture to homes because of its simple and classy look.
Here are 5 ways you can add the herringbone pattern to your home!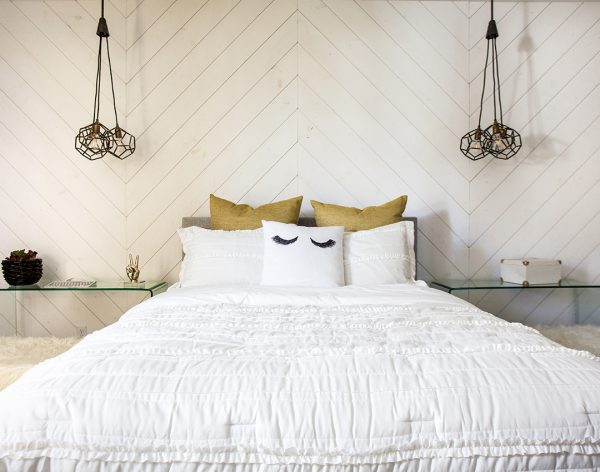 Make an accent wall.
Accent walls are all the rage these days, and it's no surprise that the herringbone pattern is a popular accent wall design. The simple, repetitive pattern is easy to assemble with moulding and makes for a beautiful statement wall.
This guide by Itty Bitty Farmhouse walks you through how you can add a herringbone accent wall to your home
Add it to your floors.
If you're feeling ambitious, you can tackle redoing your floors with the herringbone design. This pattern will look amazing on both tile and wood floors, and you won't be disappointed by the end result.
The more affordable (and way less labor-intensive) way to add the herringbone pattern to your floors is to simply buy a rug! This pattern is perfect for modern living rooms because it will fill any empty space without looking cluttered. 
Tile your bathroom.
Everyone upgrades their living rooms, but upgrading your bathroom will really wow your guests while increasing the value of your home! Choose white, gray or blue tiles to make the herringbone pattern look extra clean and pristine.
Add a kitchen backsplash.
If you're obsessed with the modern farmhouse look, a herringbone kitchen backsplash is definitely the way to go! Extra points if you use white tile.
Transform your fireplace.
Want to make your fireplace more than just an accessory in your room? Add the herringbone design to your fireplace surround or mantel for a beautiful, textured look.
Love these ideas? Check out our Herringbone Trend Inspo Pinterest board!
Let us know what you think about the herringbone trend in the comments below and tag us in your pictures on Instagram, Pinterest and Facebook!