Stunning Interior Door Styles
If you're building a new home, remodeling or just interested in discovering new ways to change up the look and feel of a room, these interior door styles are all wonderful options.
Barn Doors
These unique sliding doors add functionality to any space while also doubling as an accent piece. Barn doors are perfect for creating a modern, industrial or rustic look. They look great in master bedrooms, bathrooms, pantries, and kitchens. Check out this article from Houzz.com to help figure out if barn doors are the best choice for your space.
Here at Woodgrain Doors, we offer seven barn door designs in two-panel styles. Learn more about our barn door options here.
Decorative Glass Doors
Modern and attractive, glass doors are a great choice if you want to brighten up any room in your house. Glass doors come in a variety of styles and clarity. Clear glass doors allow maximum natural light, while frosted glass doors (like what you might see in the shower) allow some light while still maintaining a semblance of privacy.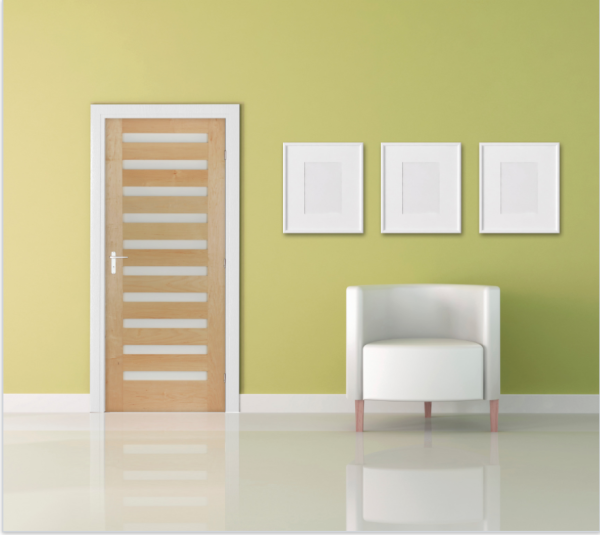 Glass doors work well in dining rooms, living rooms, offices, master bedrooms, and bathrooms. Woodgrain Doors offers an extensive line of both traditional and contemporary glass door designs. Click here to learn more about our glass options.
Louver Doors
Louver doors are both functional and eye-catching. Designed to provide privacy and ventilation, these attractive shutter-like doors are a great option for closets, utility rooms, hallways, storage rooms or any other space that requires maximum air circulation.
Woodgrain Doors offers a variety of louver door designs. Click here for our full list of door options.
MDF Primed Router Carved Doors
Made of medium density fiberboard (MDF), these doors resist shrinking, warping and expansion. Plus, they are environmentally friendly. We especially love these doors because they are extremely customizable. They don't have a grain so you can paint them whatever color you want.
Woodgrain offers a seemingly infinite number of carved MDF design options. Click here to learn more.
Want more interior door design ideas? Visit woodgraindoors.com to see our full product offering or check out our Pinterest board.